*This site contains affiliate links, which means I receive a commission when you buy. See my full disclosure.
I've said it before. If Barcelona didn't have the Sagrada Familia, Park Guell, or La Pedrera, the city could probably stand alone as a top destination. Why? The other modernist buildings – combined – is an alluring attraction. Who can resist the romantic facades of the Eixample district? Undulating lines, swirling forms, and intricate floral motifs: these Modernist structures add elegance to the city – and make Barcelona architecturally distinct from Spain's other major cities. I've always gazed the Modernist buildings in Barcelona and even gushed about the beautiful Passeig de Gràcia and of course, the Basilica of the Sagrada Familia. So when I was invited to go on a Context tour, Barcelona was luring me to learn more about the history and heritage of Modernist architecture.
I'd heard about Context Travel because other travel bloggers have raved about their tours. They're led by subject-matter experts like architects and Ph.D. scholars. So I grabbed my imaginary pen, notebook, and nerd glasses – and joined the Context Travel Barcelona Gaudi Architecture Tour. Keep reading to find out more…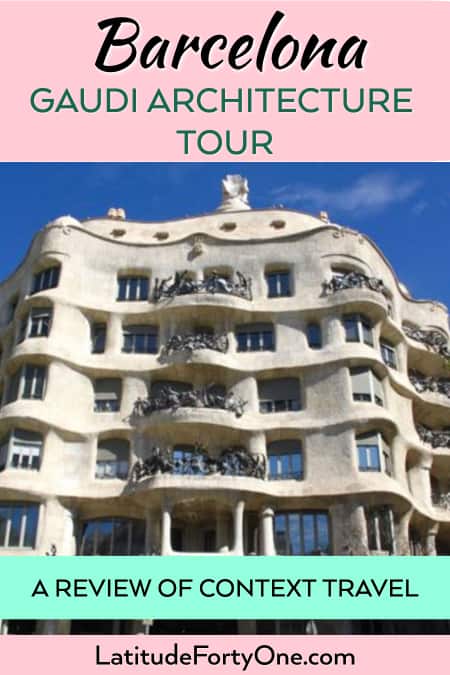 Review of a Context Tour: Barcelona, Gaudi and Modernism
What the Gaudí Architecture tour is about
Gaudi Architecture Tour in Barcelona: Gaudi in Context is an expert-led tour that explores Barcelona's Modernist architecture for 3.5 hours. It's an interactive tour for curious visitors who want to immerse themselves inside the architecture of Antoní Gaudí and his peers and learn about the works that led up to Gaudí's architectural contributions. Context Travel's tour guides aren't called "tour guides" but "docents", a word that usually refers to guides in museums, universities, or art galleries. You'll meander around the major avenue of Passeig de Grácia, the heart of the Modernist mecca.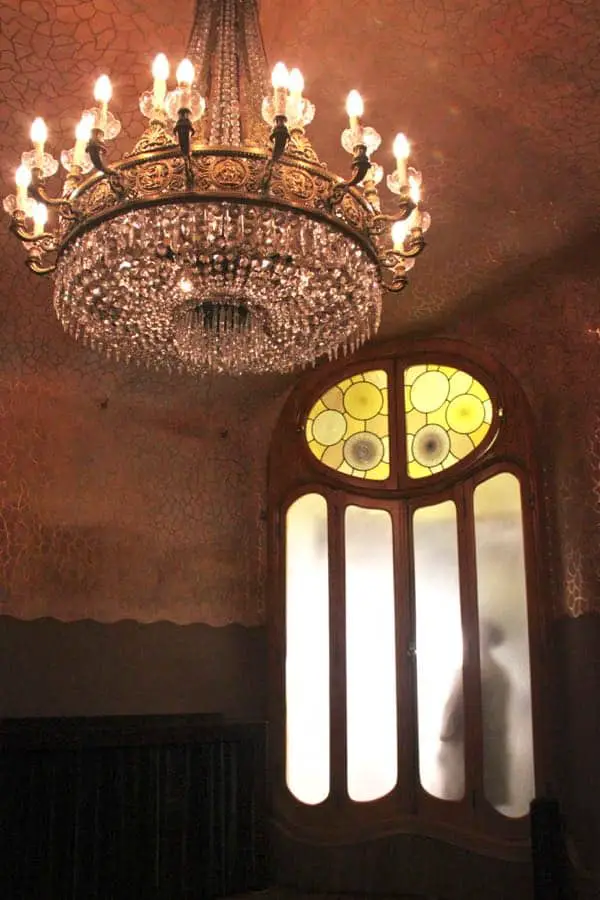 Who the Gaudí Architecture Tour is for
– First-time and repeat Barcelona visitors who want to learn about the Catalan modernist architecture in an in-depth way
– Architecture buffs seeking a sophisticated tour to gain knowledge of Barcelona's urban design and know more architects like Lluís Domènech i Montaner and Josep Puig i Cadafalch
– Gaudí enthusiasts who want to learn more about "God's architect", Casa Batlló, and his personal life
– Relaxed travelers who prefer tours in small groups. They're limited to groups of six people. Private tours are also available
The Architecture Tour Experience
The meeting point of our tour was at the elegant Casa Fuster, which is currently a luxury hotel. My guide was Mónica, who was there to lead our small group of five. Having worked with the Barcelona City Council, schools, and the Casa Batlló, Mónica is a certified expert and architecture historian with special knowledge in Gaudí and modernism. (Seriously, her LinkedIn profile is impressive!)
Taking it back, back, back to the "Expansion" age
Mónica spent the first moments giving us a comprehensive mini-lecture on Barcelona's development of the Eixample district – some of which I had covered in my post of the urban design of the Eixample.  I really wish I had a pen and paper in hand because there was so much to be schooled on! I was drawn in, learning about how Modernist architects were commissioned to make grandiose homes for well-to-do families in Barcelona. In a way, I see at it as a kind of (bourgeoisie-style) suburban sprawl around the late 19th century. The city's Richie Riches got their McMansions-to-the-10th-degree custom built outside the urban, dark, and compacted Ciutat Vella.
We took a closer look at some buildings that I'd actually taken photos of before, not knowing what they were – like here at the Casa Comalat below. We looked at it from a distance as an influence of Gaudí's works, and we touched the building's stone and ceramic facade up close.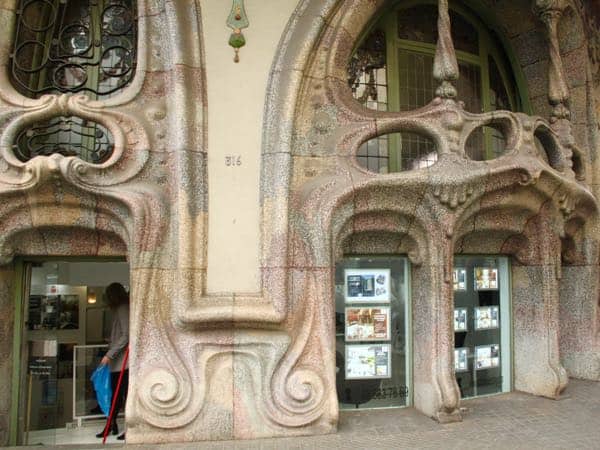 Modernism: A Mix of Styles
Another place we visited was the Palau del Baró de Quadras by Catalan architect Josep Puig i Cadafalch. I had actually been admiring this building for a few weeks prior to the tour! (My bus always stopped right in front because it's on the way to my regular physiotherapy appointments.) The neo-Gothic and neo-Arabic elements of the facade and foyer are intricate and decorative.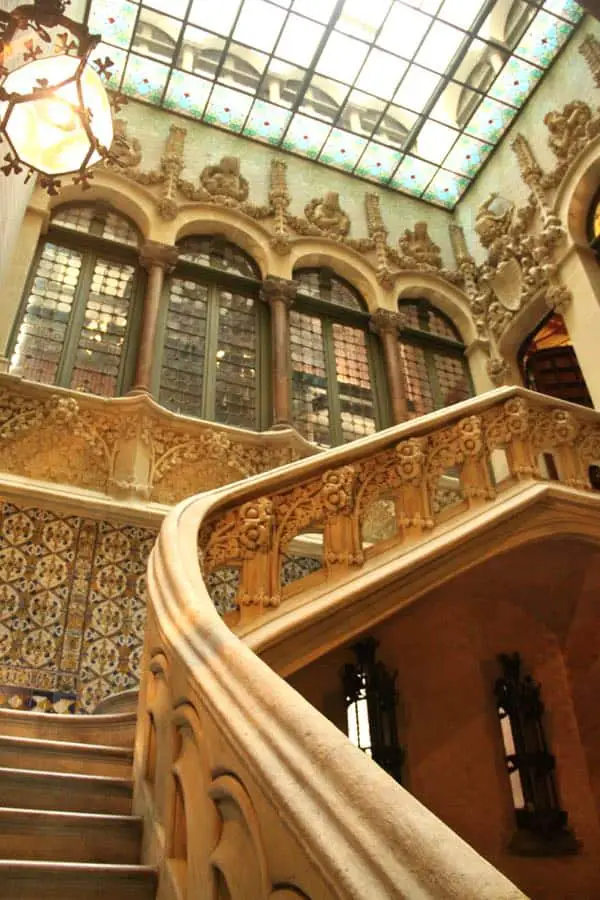 We observed the monumental Casa de Les Punxes, which was owned by three sisters. References to their ownership can be found in the small details on the facades. Monica also explained how modernism draws on medieval styles. I'm going back on my own to explore the Casa de Les Punxes further!

Leading up to Gaudí
We finally touched on Gaudí, looked at the Casa Milà, also called La Pedrera. I found out some facts about him that I didn't know:
– Gaudi didn't get along with the Guell family, who commissioned him to build La Pedrera. They weren't crazy about the design
– At some point, he fell very ill and had an epiphany that he should build the Sagrada Familia
– Everything he designed was a sort of experimentation to help him create his piece de resistance, the Sagrada Familia
– When he got run over by a tram, he suffered for two days on the street, unfound. People thought he was a beggar, so he was brought to the poorest hospital, where he died a few days later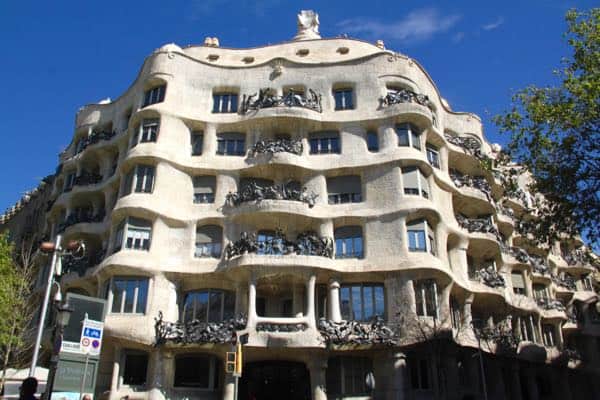 Going inside Casa Batlló
The next hour, we explored the Casa Batlló. Mónica spilled the beans on why it's been given nicknames like "House of Bones" (and that it's merely an interpretation!). Casa Batlló was under construction, so we couldn't see the real facade. In fact, the temporary facade looks like a cheesy Las Vegas casino, IMO. Sigh…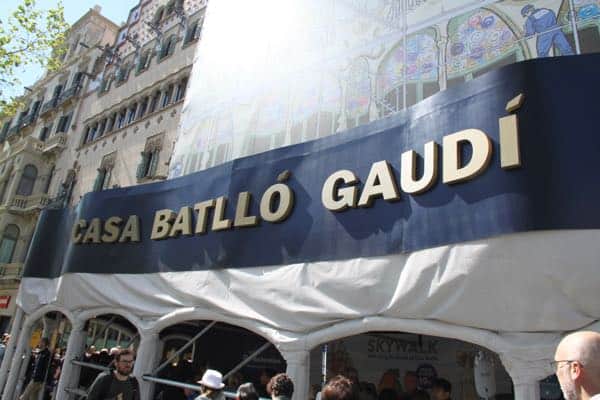 But I was excited to go inside. (Pro tip: If you're not taking this tour, buy your Casa Batlló tickets in advance. The queues to buy tickets were long! ) At first glance, the under-construction interior looks chaotic, but workers impressively do renovations as visitors are visiting. We observed the light, colors, and shapes of the staircase, the Atrium, the famous "fireplace seat", and the Noble Room.
Unfortunately for me, I had to leave 15 minutes early because I had some real-life duties at home. My tour ended abruptly on the terrace. Fortunately, I had been to the Casa Batlló before, so I was already familiar with the sights. Because I'm sure if I had finished it, I would have gotten so much more out of it!  Boo! The other three hours were already packed with information.
I would love to sit down for a lecture in one of Mónica's class one day to get a whirlwind lesson on Modernism and Gaudí.
Conclusion (TL;DR)
When most people see the beautiful facades of the Eixample, the Context Travel Gaudí Architecture Tour dives deep and gives an engaging and comprehensive tour. To be honest, I was a bit antsy to get to Gaudí 's Casa Batlló right away when the tour first started. But I can see why learning about Cerdà's urban plan and Gaudí's less-famous peers FIRST was important – as they contributed to Gaudí's unique works in Barcelona. Also, seeing Casa Batlló at the end gives you an opportunity to take more photos or hang out on the roof terrace if you want. 
Also as a long-time resident in Barcelona, I also learned why Catalans often proclaim "Catalonia is different" – as their Catalan identity is strongly tied to everything: their literature, history, and architecture. It really was interesting to see how modernist architecture is related to the current context.
While many people don't have time to study up on Barcelona, visitors can get an insightful and educational experience through this tour to learn about Modernism and Gaudí's work. I'm pretty sure I got lucky with Mónica – as she could probably tell you about Gaudí in her sleep.
More Info
Book your tour on their website: Context Travel Gaudí Architecture Tour in Barcelona: Gaudí in Context
Tours run every day, but book in advance. They go on rain or shine. 
*These are my own opinions. If you want to know more about Gaudí and modernism, hop on a tour.
Is this the type of tour you'd try?