*This site contains affiliate links, which means I receive a commission when you buy. See my full disclosure.
One of the most visited museums in Spain, the Teatro-Museu Dali is a bizarre, immersive journey through Salvador Dalí's artistic and personal life. And "bizarre" barely describes it! When Dalí helped plan the museum in 1974, he wanted the spectator to experience surrealism through the visit. It is definitely surreal! It's also magical, outrageous, and even disturbing. After my visit, I felt puzzled by a few pieces – I'd wished I'd known more about Dalí before my visit! So, read on to learn what to know beforehand, what to expect, and how to prepare before visiting the Dalí Theatre-Museum. Get the most out of your museum visit!
Tips before visiting the Dalí Theater-Museum
– Guided tours by the Museum are not available. Audioguides are not available either. Dalí wanted the spectator to have his own experience of the surreal. This is why you should study up on Dalí before you go or buy an informative book. This is a book that was written by Dalí's friend and former director of the museum, Antoni Pitxot. It's probably the most informative book on the works and history behind the museum
– Kids will have a fun experience at the Dalí museum because many of the art pieces are interactive.
– Parts of the museum are hard to access because of stairs. Coming with a stroller or wheelchair may be a challenge.
---
Make it easy!
Get tickets for Dalí Museum, Figueres & Girona. Include is a live guided tour from Barcelona with Hotel Transport! Check out this tour and pickup here.
---
Inside the Dalí Theatre-Museum
In 1973, Salvador Dalí, who was already world-famous, wanted to create a museum with his most renowned work. He chose the old municipal theatre of Figueres, his hometown. He became involved in planning the museum.
Inside the museum, you'll realize Dalí wasn't just a painter. He was a prolific multimedia artist. His art collections include drawings, sculptures, paintings, holograms, stereoscopes, photography, jewelry, and engravings, and more! The museum carries about 1,500 art pieces.
The self-curated museum is not organized in any thematic or chronological order because that's how Dalí wanted it. We're supposed to have a surrealist experience, remember? The rooms are numbered so that you can properly see all the 22 rooms without missing any pieces. (See an official brochure and a PDF of the museum map. Download it before you go! I don't think they'll be handing out any pamphlets in this post-Covid situation.
The Facade
You get a taste of Dalí bizarro world from the outside of the museum. From Pujada de Castell street and Carrer Canigó, the building has pink walls, evenly covered with rolls of bread. Bread has always been one of Dalí's "oldest fetishist and obsessive subject matters". It's a staple in the Spanish pantry and, like art, it is always something to be devoured. You'll also see the famous carbs in the famous painting from 1945, The Basket of Bread.
On the roof sit humongous eggs and Oscar-like statues. Eggs are also a common subject of his art, which represents new life, hope, and love. You'll also see the egg repeated in his artwork like Eggs on the Plate (Without the Plate).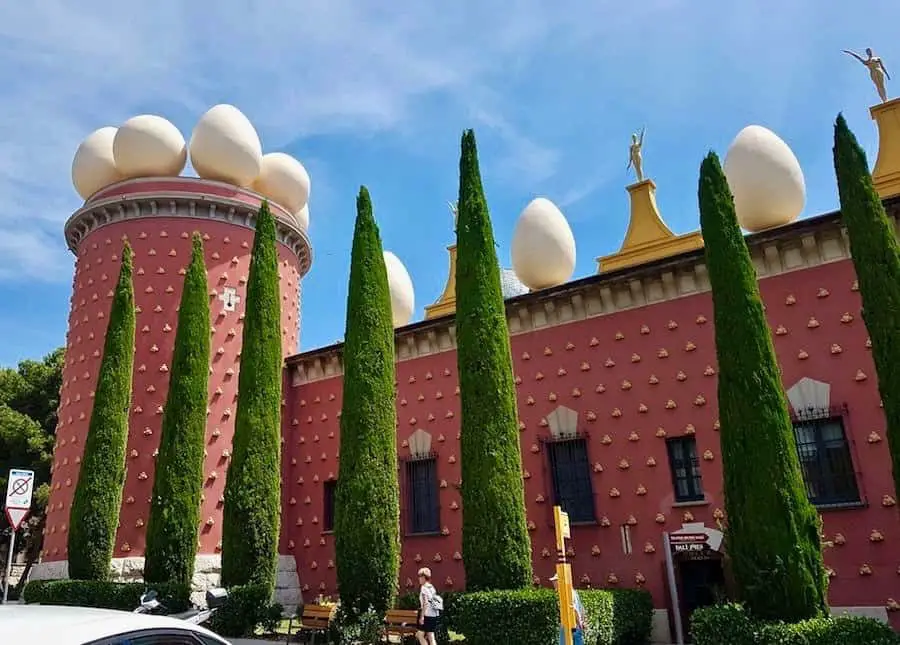 Plaça Gala-Salvador Dalí
Plaça Gala-Salvador Dalí, the square right outside the museum, has a number of sculptures showing his Dalí's wide range of interests like science and Catalan philosophy. Below you can see the sculpture dedicated to Catalan philosopher Francesc Pujols. On the steps leading to Carrer de la Jonquera, Dalí's sculpture pays homage to the brilliant scientist, Isaac Newton.
In the photo below, we also see the facade of the museum, which was completely rebuilt. It used to be the old Municipal Theater of Figueres. The theater burnt down after the Spanish Civil War.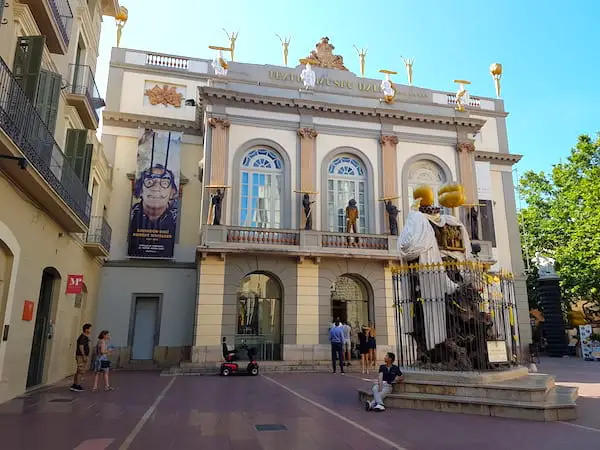 The Courtyard
The courtyard used to be where the seating was in the old theatre. Waving Oscar-like statuettes look down below.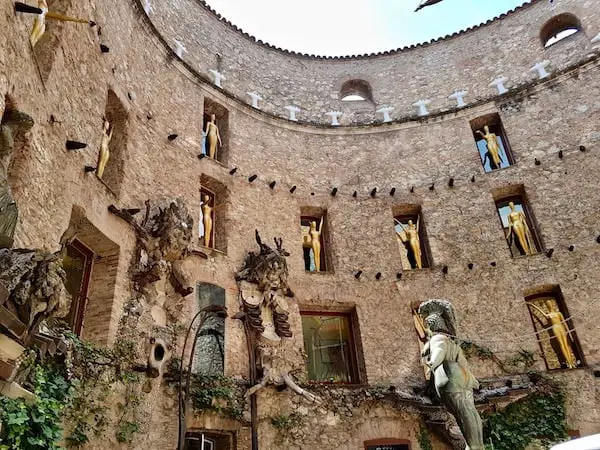 Below is the Taxi Plujós, or "Rainy Taxi", which showcases the real Cadillac that Dalí and Gala used when traveling in New York City. They also drove it from coast to coast. There were only six models of this Cadillac, and this model was given to Gala. (You can place a coin in the slot on the front right-hand wheel, and it will start to rain inside the taxi.) His inspiration for the rain? Dalí and Gala were looking for a taxi when in Verona, Italy. Dali said, "The chances are that it will rain inside the taxi, now that it's stopped raining outside".  Inside the taxi are a chauffeur and two mannequins in the back seat.
On top of the Cadillac is a sculpture by Ernst Fuchs. It's one of a full-figured Queen Esther chained to a column of tires.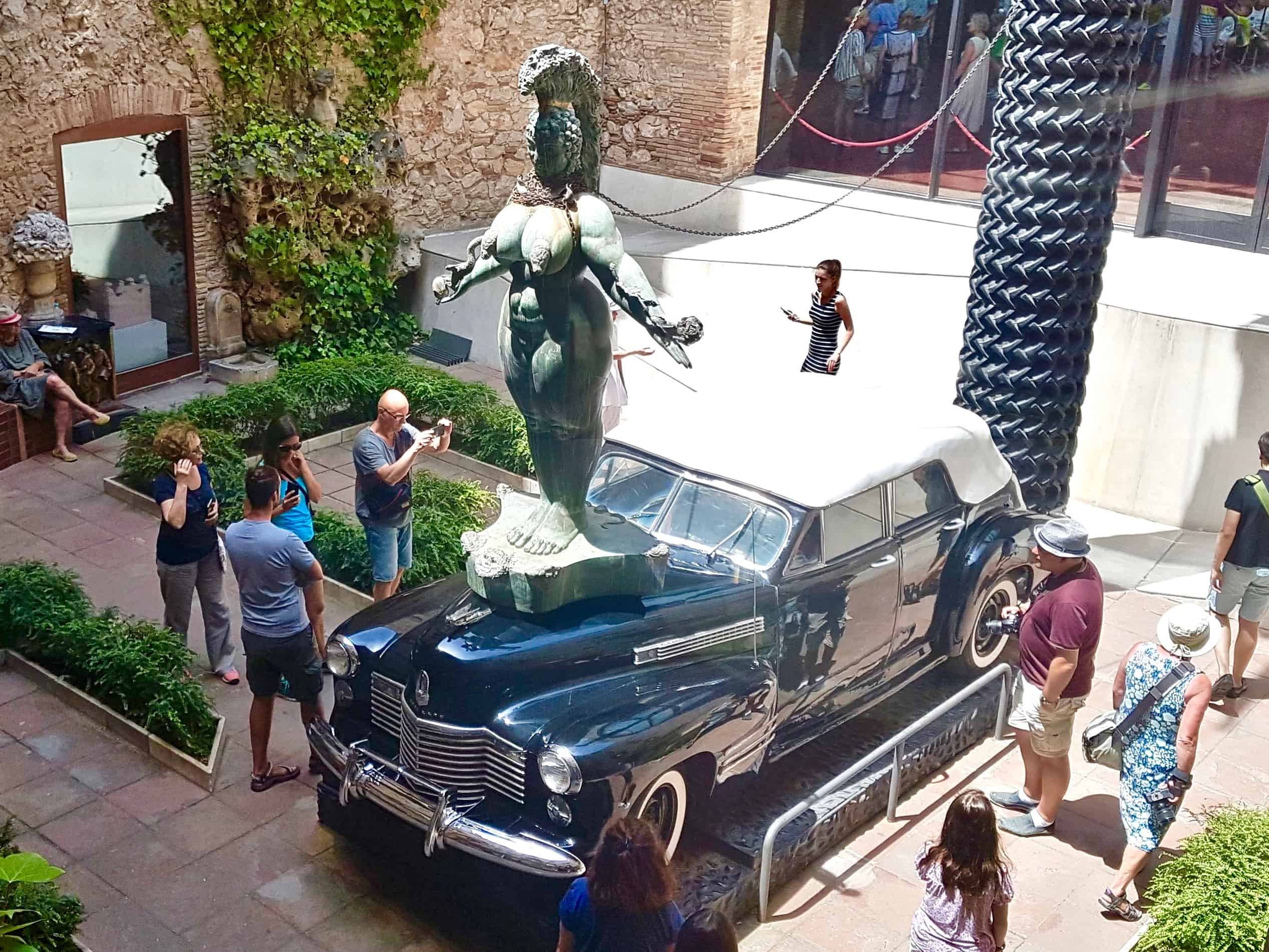 The Cupola
A geodesic dome caps the stage / cupola area. Below this floor, Dalí is buried.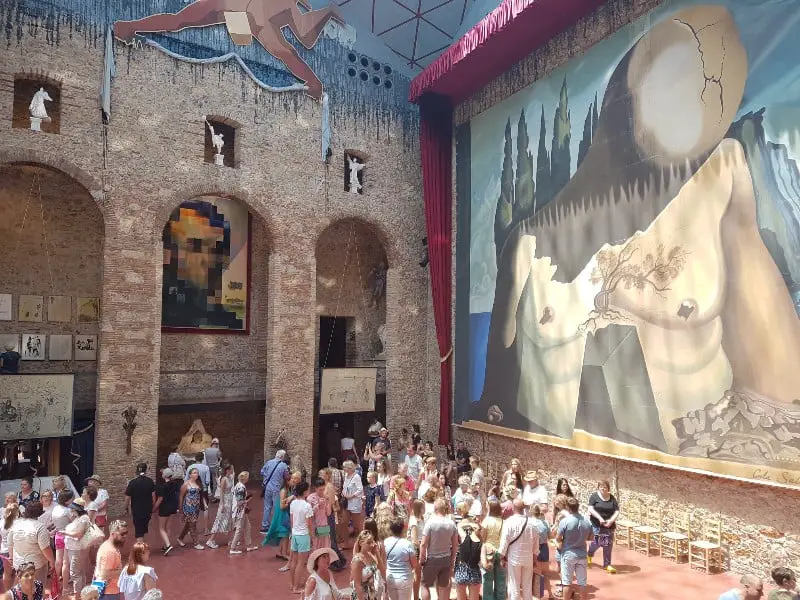 Below, Dalí created this incredible painting with an overbearing title: Gala Nude Looking at the Sea Which at 18 Metres Appears the President Lincoln.
Dalí was interested in perception, playing with the optical scales to create several images in one. Dalí also learned that if you step back, your depth of field flattens and you can recognize the face of Abraham Lincoln. (We recognize the image from a 5-dollar bill, but Dalí was inspired by researcher Leon Harmon's pixelated image of the 5-dollar bill portrait.) But if you go closer, it's clear you see an image of the Gala's nude backside as she gazes outside a window. It's fascinating. Read more about it here.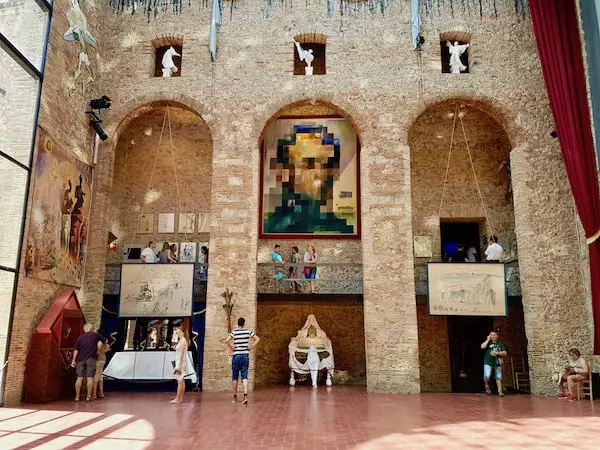 The Sala de Peixateries (Fishmongers' Hall)
This room has oil paintings and a very interesting stereoscope that adults and kids alike will love. You sit down and look at two images. A new image is created, in your mind, based on your vantage point. There also a few other optical games around the museum.
Pictured below is Retrat de Picasso, an unbecoming portrait of Pablo Picasso, whom he admired. The two Spanish artists clashed on political views. And Dalí even called Picasso, "a destroyer of art". Nevertheless, the two famous artists reconvened later in life.
Gala Dalí: his wife, muse, and business manager
Below is a painting called Dalí Seen from the Back Painting Gala from the Back Eternalized by Six Virtual Corneas Provisionally Reflected by Six Real Mirrors. 
Interesting story. Dalí met Gala while she was visiting Spain with her then-husband, poet Paul Éluard. She left him to be with Dalí. She moved in with Dali and was often the subject of his paintings. Among many accounts, Gala was not a nice person and many men in the surrealist group despised her. (Read this interview with Dalí's former assistant on his thoughts on working with the couple.) To be honest, the more I read into her life, the more confused I got whether she was truly a muse or just misunderstood. Nevertheless, she was a forward-thinking artist and performer who catapulted Dalí into fame and fortune. Without her, surely, he would not have the same influence that he does today!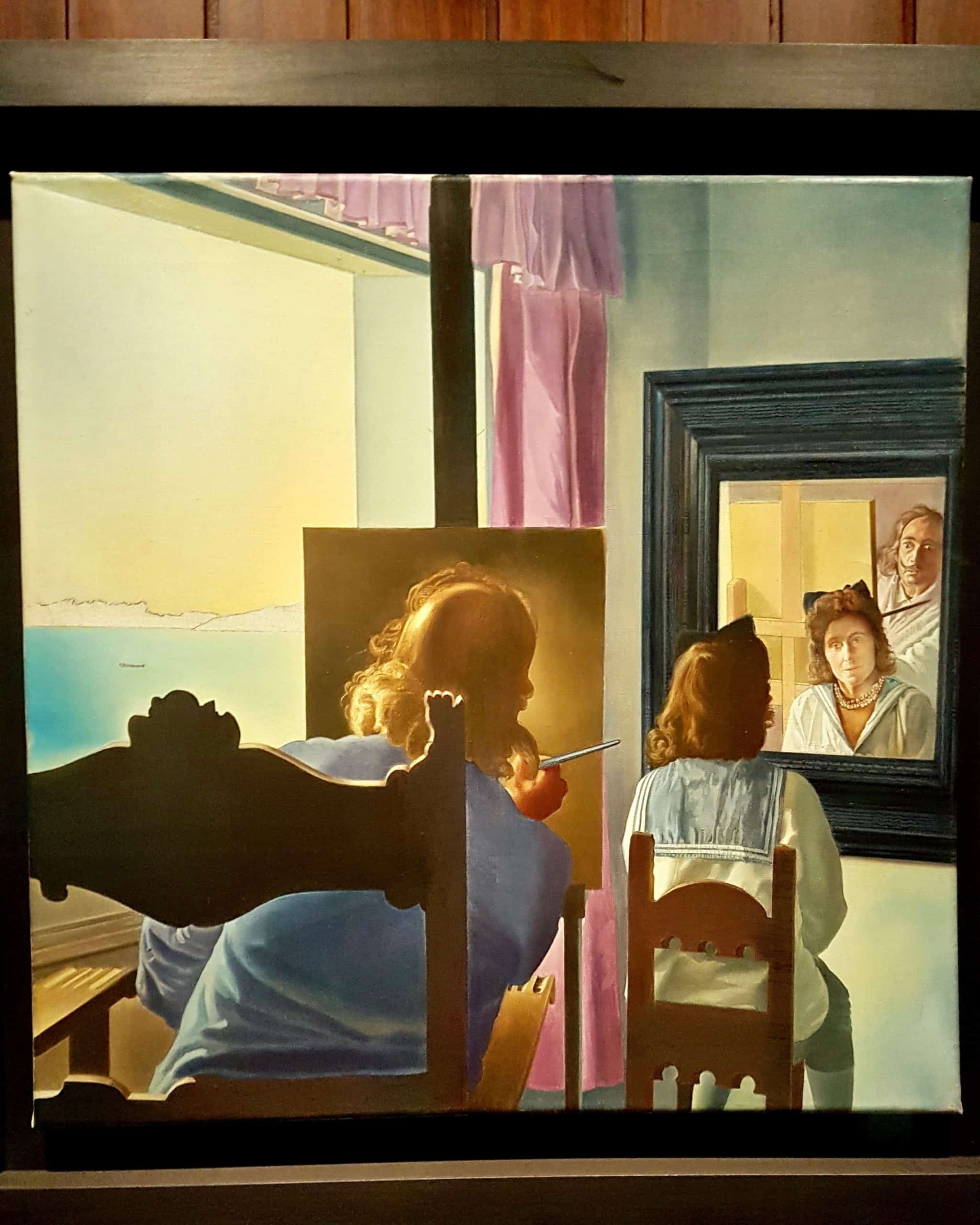 Mae West Room
This is brilliant! The Mae West room has a furniture installation of a red sofa, paintings of eyes, and a double fireplace for a nose. You climb up a set of stairs, and from your vantage point, they're organized into the face of famous Mae West. Also, note that the "curtains" is a hair installation was created by the famous hairdresser, Lluís Llongueras. In fact, the hair started to deteriorate after 25 years of the original installation. Llongueras was asked to replace the beautiful golden hair.
Ms. West was a scandalous yet talented actress, singer, and comedian, who expressed sexual independence, starting around the 30s. Her celebrity was reflective of Dalí's own public persona. She was actually quite powerful in Hollywood!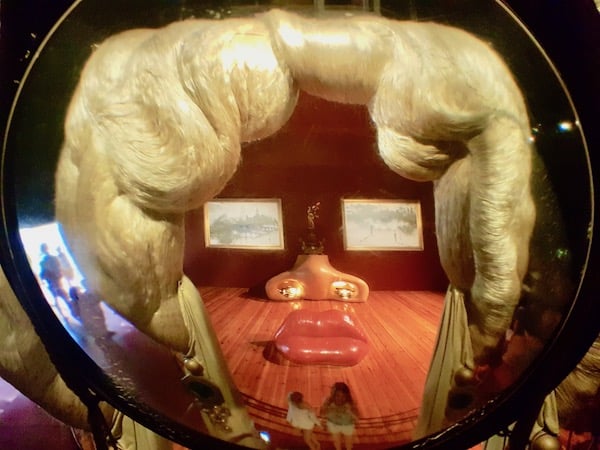 Palau del Vent (Wind Palace Ceiling)
In the room of the Palau del Vent, a ceiling painting is based on the poem by Joan Maragall, "L'Empordà", a region of Catalonia. This painting represents a unique perspective of Salvador Dalí and his wife, Gala, reaching for the heavens. We can also see elephants with thin insect legs and silhouettes of the Spanish royal couple. You also see open, empty drawers in his Dalí's body, a common symbol of a sort of emptying or emptiness of oneself.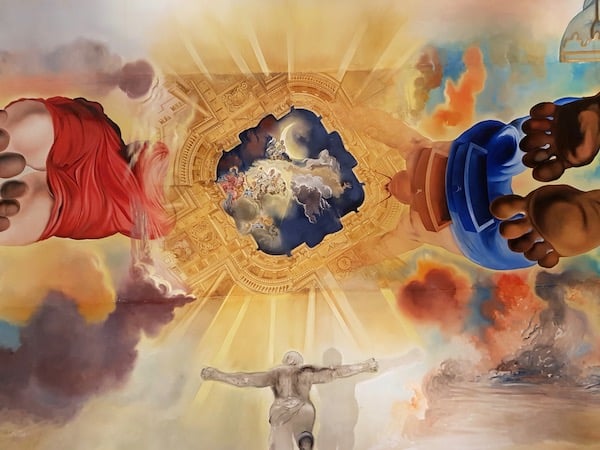 Below, a tapestry of the Persistence of Memory, shows the melting pocket watches. The painting was originally an oil painting on canvas currently on display at the MOMA in New York City.  This tapestry hangs over a baroque bed (which was not Dalí's). Below it in the corner is a golden orangutan skeleton staring from a corner of the room.
Dalí says that the clocks represent the "hardness" and "softness" of time. Time has no function in the unconscious world. Without time, we can enjoy the present. He thought of the idea of melting watches when watching Camembert cheese melt in the sun. In the background of the painting is the Catalonian landscape around the Cap de Creus and Roses.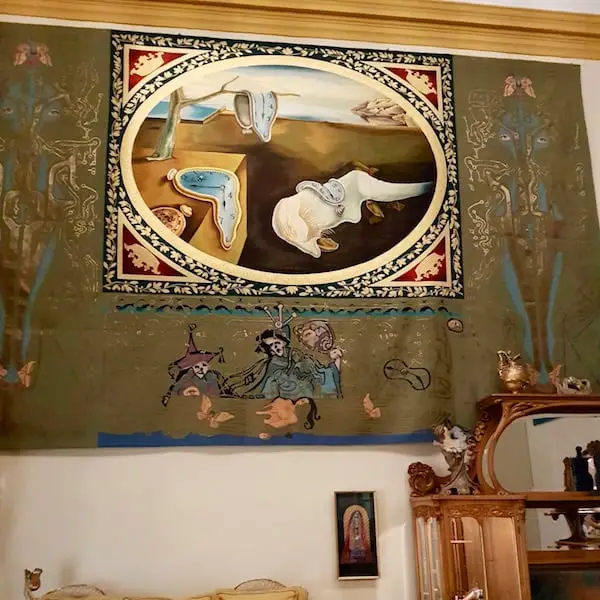 The Crypt of Dalí
In another part of the theatre-museum is the crypt of Dalí. You can visit this section and pay homage to the artist himself. The room is dark and unassuming, but the plate reads the words "Marqués de Dalí de Púbol", a noble title given to him by King Juan Carlos in 1982. It seems many people seemed to miss this tiny room.
Dalí Joies
Dalí exhibition is next door from the Dalí Theatre-Museum called Dalí Joies (Dalí Jewels). It's right next to the museum, but it's included in your visit. They include a gorgeous collection of precious stone and gold jewelry.
FAQs
How far is the Dalí Museum from Barcelona?
The Dali Museum is located north of Barcelona in Figueres in the province of Girona. It's about  143 km from Barcelona.
How long does the Dalí Museum take?
It takes a minimum of 1.5 hours to visit the Dalí Museum. That's my opinion, though. I could probably spend a good three hours to really take it in!
Is the Dali Theatre-Museum worth visiting?
Yes! People who find museums to be boring will not be bored here. If you are coming on a day trip from Barcelona, it does take 2-3 hours to arrive by train (see Transportation tips below). So, unless you are an art fanatic, it may not be worth it. The town of Figueres is also very residential, so there is nothing very interesting – aside from a few art installations sprinkled throughout.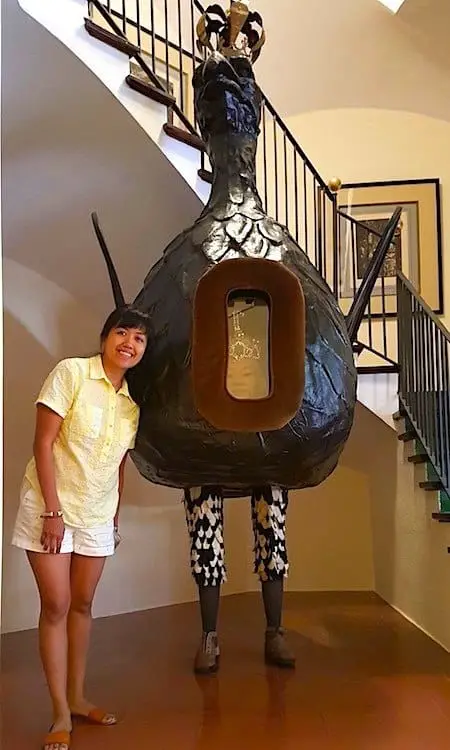 ---
Want to discover more outside Barcelona? Check out my detailed, practical post on Barcelona day trips!
---
How to get to the Dalí Theatre-Museum from Barcelona
By train
From Barcelona, the fastest way to arrive is by taking the high-speed train, called the AVE. The trip is between 2-3 hours, depending on departure times. Visit the RENFE website for details.
By bus
By bus, it takes about 3 hours, so it might not be worth it if you want to visit for the day. The bus leaves from Estació del Nord in Barcelona. It takes you directly to the museum. See the private bus schedule on the Sagalés website.
By car
You can arrive by car, which is 140 km, and takes about 1.5 hours. Compare lowest car rental rates on Auto Europe.
More info
Dalí Theatre-Museum (Google map)
Plaça Gala i Salvador Dalí, 5, 17600 Figueres, Girona
General ticket price: 0 – 13€, Children under age 14 enter free
Telephone number: 972 67 75 00
salvador-dali.org
Opening hours – Varies on the season. See the website.
The museum is one of three different museums called the Dalí Triangle (along with the Salvador Dalí House-Museum in Cadaqués and Gala's Castle in Pubol). It's about 146 kilometers north of Barcelona, and it's well worth a visit if you're an art lover.
Where to eat in Figueres
Granada Vins – We asked a museum employee where to go, and we found the right choice! Granada Vins is a tapas bar, serving traditional Catalan and Spanish food. And definitely try a porrón here! Carrer de la Muralla, 1, Figueres
Where to go in Figueres
Walk around this small town, and you'll see other cool Dali-esque installations. Also, if you have kids (or not), the Museu del Juguines also has a nice selection of vintage toys and books.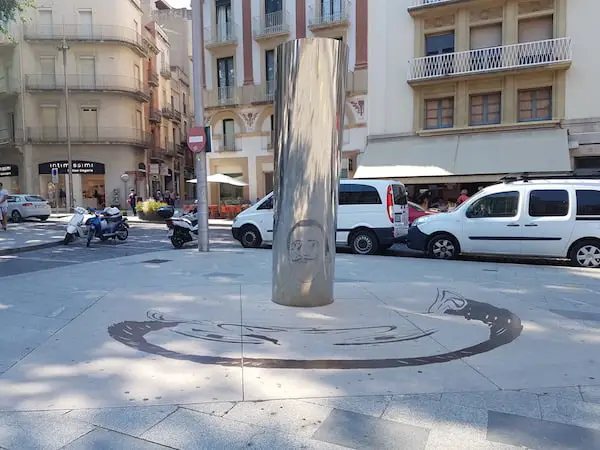 Useful and interesting facts about Dalí
Salvador Dalí was born on May 11, 1904. He was given the name Salvador after his brother, who had passed away before him. He thought he was the reincarnation of his brother. Enter his obsession with the egg, a symbol commonly found in his art!
In 1929, he met Gala, an intelligent and business-minded Russian woman

. She became his wife, muse, and business manager. She worked with gallerists, negotiated contracts, and managed finances. She played a

hugely significant role in his success

because she knew the 

power of self-promotion.
The couple moved to New York City in 1940. Dalí gradually because famous in the US for his outlandish art and character. He was also commissioned to create art and design furniture, jewelry

, and

paintings

. He was on the cover of

Time

magazine and even worked with Walt Disney on a short film. Yet, people thought Dalí's peculiar behavior was due to him being insane or because he was on drugs.

As Dalí gained fame and notoriety in the United States, he was a laughingstock amongst his peers.

French poet, Andrê Bretón, a colleague in his surrealist circle of friends, gave Dalí the nickname

"Avida Dollars"

(or "avid dollars"), an anagram for his name. Dalí didn't seem to mind.

After the death of Gala, he was devastated.

Dalí isolated himself at the Púbol Castle, where Gala lived. (Yes, they lived separately sometimes. They had a bizarre relationship.) He nearly died in a fire nearby and

moved to the Torre Galatea at the museum,

where he was cared for by nurses. He died of heart failure there in 1989 at the age of 84. And he's

buried in the crypt of the museum

!

Dalí endured attacks for his flagrant commercialism, but he was nevertheless still held as one of the most notable pop culture figures of his time. He was also considered a joke figure – and not a genius. Today, revise him as a 20th-century trailblazer who still intrigues and shocks the public.
Visiting Salvador Dalí's memorable museum for the outlandish art that runs along the theme of one man's extraordinary life. It's an extension of himself and a comprehensive and total giving of himself and his art! The more I learn about Dalí and Gala, the more I'm intrigued. I genuinely wonder what kind of mental illnesses he suffered personality disorders and psychotic illnesses.
Have you ever been to the Dalí Theatre-Museum? Was it worth visiting? Let me know in the comments!