*This site contains affiliate links, which means I receive a commission when you buy. See my full disclosure.
Entrepà
An entrepà (in Catalan), or bocadillo (in Spanish) is a sandwich that is popular all over Spain. It is typically made by filling a crusty roll or baguette with various types of meat, such as ham, chicken, or even tortilla de patatas (Spanish omelette. It's rare to have vegetables like lettuce, tomatoes, and onions. The sandwich is then usually dressed with aioli (a garlic-flavored mayonnaise) and sometimes with ketchup, mustard or alioli. The entrepà is often served as a quick and convenient meal, and it can be found in many cafes, bars, and sandwich shops throughout Spain. Some variations of the entrepà include the entrepà de pernil (ham sandwich) and it is a staple in Spanish cuisine.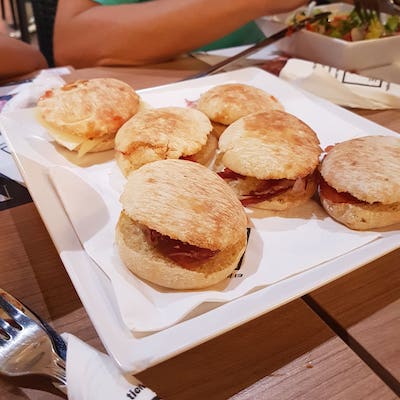 Croquetas
Croquetas are a popular tapa (appetizer) in Spain. They are small, fried balls of dough that are typically filled with a savory mixture such as ham, chicken, or codfish. The dough is usually made with a béchamel sauce base, and the filling is made by mixing the main ingredient with the béchamel and then shaping them into small balls. They are then breaded and deep-fried. The texture of croquetas is creamy inside and crispy outside. They are often served with a variety of dipping sauces, such as aioli or tomato sauce. Croquetas are a popular dish at bars and pubs, and can be found throughout Spain. They are also a popular party food and can be found in many supermarkets as frozen food to prepare at home.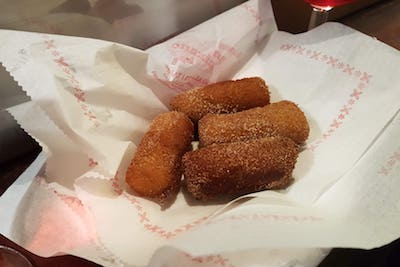 Tortilla de patatas
A tortilla de patatas, also known as a tortilla española or Spanish omelette, is a traditional dish eaten all over Spain. It's a thick and hearty omelette made primarily with potatoes and onions, although some variations can include other ingredients such as peppers or chorizo. The ingredients are diced and sautéed in a pan before being mixed with eggs and cooked until set. The tortilla can be served either hot or cold and is usually cut into wedges for serving. It is a very versatile dish that can be eaten as a main course, a side dish, or as a snack. It is considered a staple of Spanish cuisine and can be found in most bars and restaurants across the country.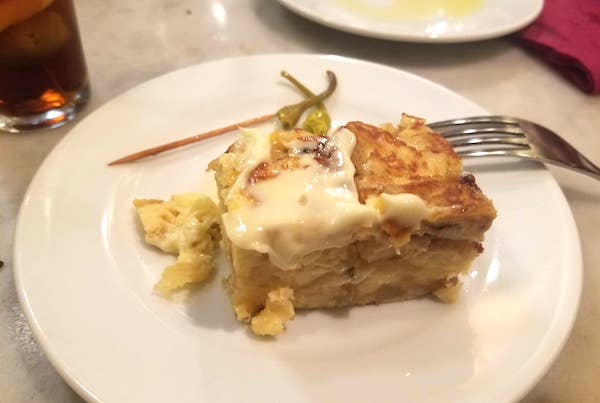 Xistorras
Xistorras (in Catalan), chistorras (in Spanish), The chistorra is a traditional sausage from the Basque Country in northern Spain. The origins of this delicacy can be traced back to the Middle Ages, when shepherds and farmers would mix pork fat, garlic and spices together to create a delicious snack. Chistorra is now enjoyed throughout Spain and beyond, with each region having its own unique recipe.