*This site contains affiliate links, which means I receive a commission when you buy. See my full disclosure.
When you think of Barcelona, you probably picture the surreal works of Gaudí, the vibrant streets of Las Ramblas, and the picturesque beaches of Barceloneta. However, you definitely will not want to miss the traditional Barcelona food! While Barcelona has a diverse food culture, it also holds its traditional dishes dear and change very little over the years. Let's dive right in and explore the traditional Barcelona food that will make your mouth water!
Entrepà
An entrepà (in Catalan), or bocadillo (in Spanish) is a sandwich that is popular all over Spain. It is typically made by filling a crusty roll or baguette with various types of meat, such as ham, chicken, or even tortilla de patatas (Spanish omelette. It's rare to have vegetables like lettuce, tomatoes, and onions. The sandwich is then usually dressed with aioli (a garlic-flavored mayonnaise) and sometimes with ketchup, mustard or alioli. The entrepà is often served as a quick and convenient meal, and it can be found in many cafes, bars, and sandwich shops throughout Spain. Some variations of the entrepà include the entrepà de pernil (ham sandwich) and it is a staple in Spanish cuisine.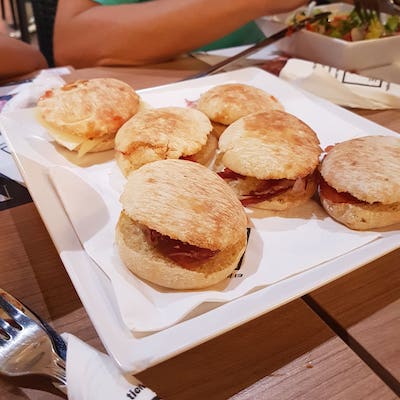 Croquetas
Croquetas are a popular tapa (appetizer) in Spain. They are small, fried balls of dough that are typically filled with a savory mixture such as ham, chicken, or codfish. The dough is usually made with a béchamel sauce base, and the filling is made by mixing the main ingredient with the béchamel and then shaping them into small balls. They are then breaded and deep-fried. The texture of croquetas is creamy inside and crispy outside. They are often served with a variety of dipping sauces, such as aioli or tomato sauce. Croquetas are a popular dish at bars and pubs, and can be found throughout Spain. They are also a popular party food and can be found in many supermarkets as frozen food to prepare at home.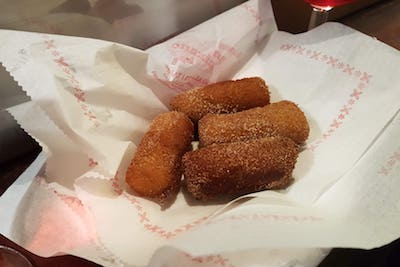 Tortilla de patatas
A tortilla de patatas, also known as a tortilla española or Spanish omelette, is a traditional dish eaten all over Spain. It's a thick and hearty omelette made primarily with potatoes and onions, although some variations can include other ingredients such as peppers or chorizo. The ingredients are diced and sautéed in a pan before being mixed with eggs and cooked until set. The tortilla can be served either hot or cold and is usually cut into wedges for serving. It is a very versatile dish that can be eaten as a main course, a side dish, or as a snack. It is considered a staple of Spanish cuisine and can be found in most bars and restaurants across the country.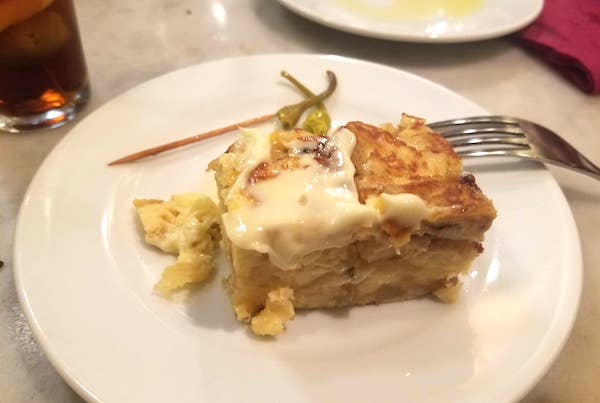 Xistorras
Xistorras (in Catalan), chistorras (in Spanish), The chistorra is a traditional sausage from the Basque Country in northern Spain. The origins of this delicacy can be traced back to the Middle Ages, when shepherds and farmers would mix pork fat, garlic and spices together to create a delicious snack. Chistorra is now enjoyed throughout Spain and beyond, with each region having its own unique recipe.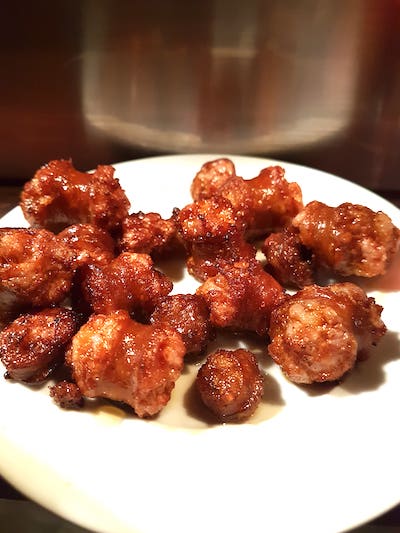 Paella
Paella is a classic Spanish dish, and Barcelona has its own variation known as Paella de Mariscos. Made with a combination of seafood such as shrimp, mussels, squid, and clams, this dish is cooked with saffron-infused rice and vegetables. You can find it in many restaurants across the city, but for a truly intimate experience, try La Mar Salada, a small family-run restaurant, located in Barceloneta, that serves fresh and delicious seafood paella.
Escudella i carn d'olla
Escudella i carn d'olla is a hearty stew made with vegetables, beans, and various meats like chicken, pork, and beef. It is a traditional Catalan dish that is usually served on special occasions such as Christmas or family gatherings. If you want to try this comfort food, head over to La Cova Fumada, a small local bar located in Barceloneta which is famous for this dish.
Crema Catalana
Sweet treats should never be left out, and the Crema Catalana is no exception. This dessert is similar to crème brûlée with a Catalan twist. It is made with milk, cream, cinnamon, and lemon zest, and then topped with a caramelized sugar crust. You can find this delicious dessert in almost any restaurant, but we recommend Can Culleretes, the oldest restaurant in Barcelona serving traditional Catalan dishes since 1786.
Cava
Cava is a sparkling wine that is produced in Catalonia, and it is a great accompaniment to any meal. It is made in the same way as champagne, but it is less expensive. Many restaurants and bars offer cava by the glass or bottle, and you can try different varieties such as brut nature, brut, and semi-seco. If you want to have a cava experience that you will never forget, visit the Freixenet wine house in Sant Sadurni d'Anoia, only 45 minutes from Barcelona.
So, pack your bags, and head to Barcelona to feast on the delicious traditional Barcelona food that will tantalize your taste buds!