*This site contains affiliate links, which means I receive a commission when you buy. See my full disclosure.
Even though I'm not Vietnamese, I'm a snob when it comes to Vietnamese food. I'm from Southern California, which has an official "Little Saigon". It's where the first of hundreds of pho restaurants in the US opened. Pho restaurants called "Pho 79" and "Pho 23" saturate the streets of Orange County. I adore Vietnamese food – and all Asian foods, frankly. I miss it and crave it while I'm living here. So when I came to Barcelona in 2008, I was constantly disappointed by the Asian restaurants I tried. And a Vietnamese restaurant? Barcelona barely had any. Now, there's been a recent wave of modern, and supposedly authentic Asian restaurants that's opened in the past few years. To be honest, I've tried very few because I don't want to blow money on food I crave, then be disappointed.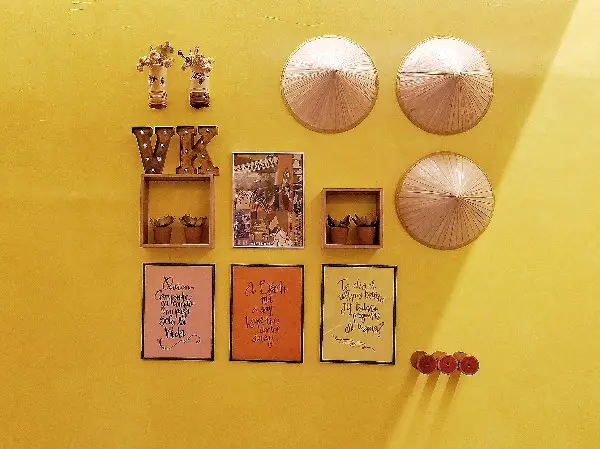 So since I was kindly invited to try Viet Kitchen, I knew there was nothing to lose. Read on to see what I thought about it…
An Authentic Vietnamese Restaurant, Barcelona
If you haven't had Vietnamese food, you should feel major FOMO. Vietnamese cuisine is a symphony of flavors and textures that uses ingredients like piquant chilis, crunchy bean sprouts, oxtail-infused beef broth, salty fish sauce, and nutty coriander leaves. It's light and healthy and uses very little oil in their cooking.
About Viet Kitchen
Viet Kitchen is a Vietnamese restaurant in the neighborhood of Eixample, Barcelona, and is owned by Hoang and Emanuele. They lived in Amsterdam for a few years and decided to open up a restaurant in Barcelona. Hoang is the chef who shares many of his recipes from his Vietnamese mother.
The interior of Viet Kitchen is modern and small, not like the hole-in-the-wall Vietnamese eateries that I'm used to at home. It's cozy, clean, and welcoming. Emanuele and Hoang are super passionate about Vietnamese food and their restaurant.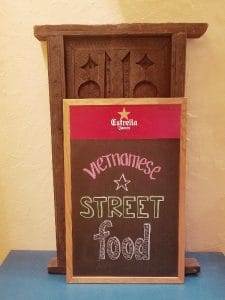 Who Viet Kitchen is for
Anyone having a major craving for a rich, full-bodied bowl of warm phở
Anyone who wants to have an authentic bánh mì sandwich (that you can order for delivery)
Foodies who want to try something different and lighter from the Mediterranean flavors
The Dishes
Spring rolls / Gỏi cuốn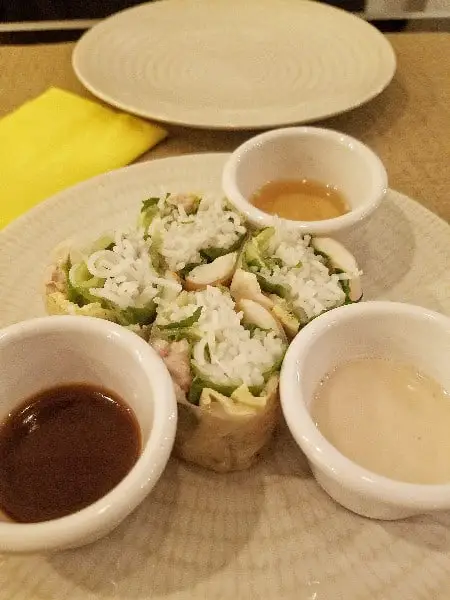 These babies are fresh spring rolls made with vermicelli noodles, pork, shrimp, lettuce and other vegetables. It came with three different sauces: a peanut sauce, fish sauce, and hoisin sauce. The peanut sauce wasn't what I expected, as I'm used to a thick, peanutty-hoisin sauce. But this starter dish was tasty but light, just enough to whet the appetite. According to their menu their English menu, they're "hand-wrapped with love". I tasted that.
Chicken skewers / Gà Xiên Nướng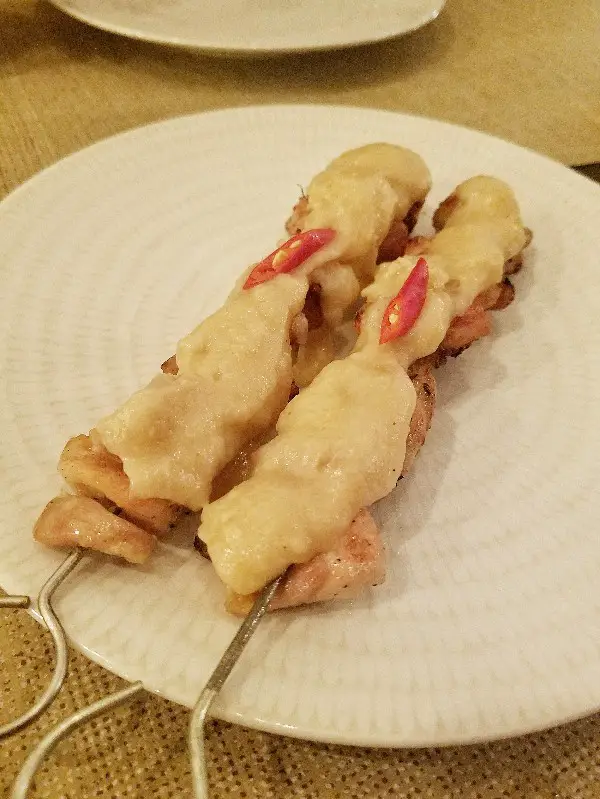 This was my husband's favorite dish. The barbecued chicken is exactly how I love it: smoky and charcoaled, but still juicy on the inside. It's served with a peanut sauce. Again, I'm used to a stronger flavor, but it was still tasty. You can also choose a sweet and sour sauce.
Noodle salad / Bún

This was my husband's dish, which I completely forgot to taste. This bun dish consists of vermicelli noodles, barbecued pork, fried egg rolls (my son loved them), pickled carrots and cucumbers, mint and coriander leaves, bean sprouts, crushed peanuts, and a fish sauce. Like a voracious carnivore, my husband ended up eating all the meat at first and was left with a salad at the end.
Vietnamese noodle soup / Phở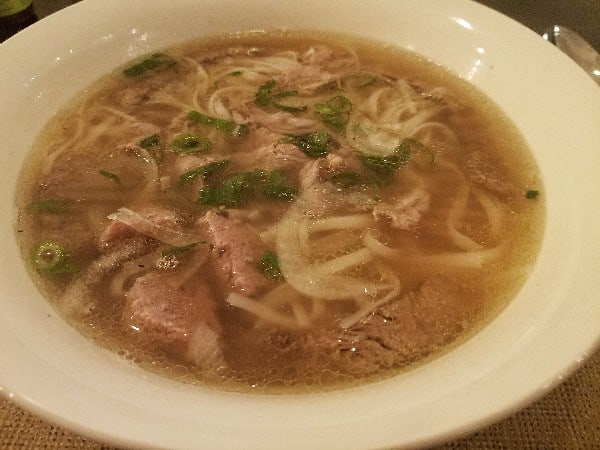 The closest English-speaking pronunciation of phở is "fuh". Phở is a classic Vietnamese soup, and its broth is the heart of the dish. It comes to life using long-simmered beef or chicken bones (or both), oxtails, flank steak, charred onions, and spices like star anise, ginger, and other secrets that vary from kitchen to kitchen. That's the general idea, and I don't know what Hoang's secret recipe is.
My personal favorite flavor, which I ordered, is the beef phở. There's also chicken and vegetarian. With the flat rice noodles, it comes with thin cuts of beef and is garnished with onions, bean sprouts, and coriander leaves. Personally, I'm used to loading my phở with tons of herbs, ripping up the leaves and throwing a tiny garden in my bowl.
I didn't share my phở with my husband. I stuck my head in the bowl, slurped my chewy noodles, drank my steaming broth, and didn't participate in any conversation – like the Asian I am.
Vietnamese Sandwich / Bánh Mì
After unbuttoning my first button on my jeans, we were also offered authentic Vietnamese street food, bánh mì. Viet Kitchen is the first restaurant in Barcelona to offer a selection of bánh mì! Bánh means bread in English. Hoang and Emanuele get their bánh specially prepared in Barcelona by a local bakery, using a recipe they've crafted. Bánh is unique from the French baguette – it should be crispy on the outside and light on the inside.
Now, to the fillings: The flavors inside this bad boy made me all nostalgic. The classic bánh mì is an explosion of varying flavors and textures, making it a standout sandwich. It has cha lua (a special pork sausage), coriander, their special patê, pickled carrots and daikon, ham and spicy jalapeños. My husband wasn't a huge fan of the different flavors. I, personally loved it.
Next up: Desserts I can't pronounce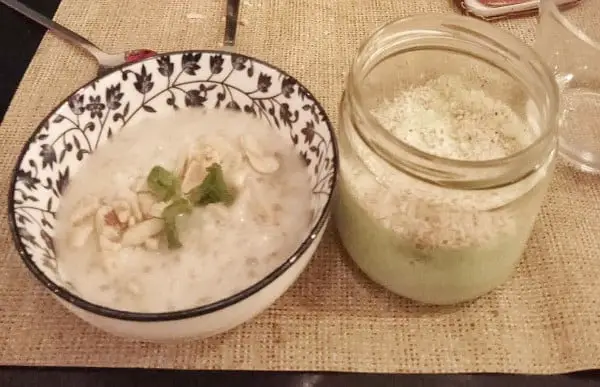 On the left is chè chuối (banana pudding), a traditional dessert of banana and coconut cream with tapioca pearls, served warm. It's also topped with crushed peanuts. We both really liked it even though I usually don't enjoy peanuts on my dessert.
And on the right is kem lá dứa (pandan leaves cream), Viet Kitchen's signature dessert that Hoang created in his kitchen. It's a soft, almost pudding-like confection made of cream, biscuits, pandan, and coconut. If you'd never heard of pandan before (like me), basically they're long leaves and are likened to vanilla flavor in the Western world.
One more thing – the Vietnamese coffee was outstanding! Viet Kitchen serves traditional Vietnamese coffee, using a special filter called a phin, which was imported from "their dealer in Vietnam", Hoang's mom. The coffee is strong, but it's a delicious, non-bitter brew and is served with condensed milk. If anything, come to Viet Kitchen for the coffee!
Conclusion
All in all, I highly recommend Viet Kitchen in Barcelona. Comparing it to authentic food in Little Saigon, California, they've got it right. What I appreciate is the effort they put into getting all the right ingredients and tools to create the comforting dishes of Vietnam.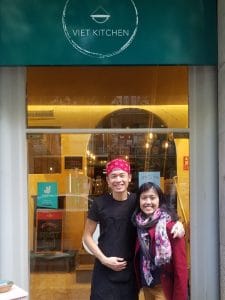 Tips
The bánh mì sandwiches are only available for lunch. Lunch idea: Order one of these to go and have a picnic!
If you have a wheelchair or stroller, be prepared. It has a few steps to get inside the main dining area.
Weekends can get pretty busy, they say. So go early for a seat.
Parents, they have a highchair. Woo-FLIPPIN-hoo!
If you go to the bathroom and are perplexed on how to get the water to come out, there's a foot pedal. I was so confused.
You can order your food delivered to your home. So when you don't want to move your ass and you're craving a vietnamita a domicilio, Barcelona has you covered.
More Information
Viet Kitchen, Carrer d'Aribau, 137, 08036 Barcelona, 931 09 00 41