*This site contains affiliate links, which means I receive a commission when you buy. See my full disclosure.
In Barcelona, the trends of food trucks, brunch spots, and hip restaurants with Instagram-ready neon signs don't seem to be dying off anytime soon. While these modern hot spots are all fine and good, nothing compares to eating at a local family-run restaurant that's outlived all the latest crazes. You know, those restaurants that serve food for the soul. Well, those are the types of restaurants that Eye on Food Tours selects. More accurately, I'm talking about their Sips, Sites, and Bites Food Tour, to which I was invited. Read on to know more…
Sips, Sites, and Bites Food Tour in Barcelona
Adrian, the owner and tour guide of Eye on Food Tours,  is a self-proclaimed history buff. He is a natural gift for turning boring history lessons into exciting tales of bravery! Romance! And passion! While he does know his facts and figures by heart, he's nailed the how in giving an unboring walking tour. Read on to see if this tour is for you…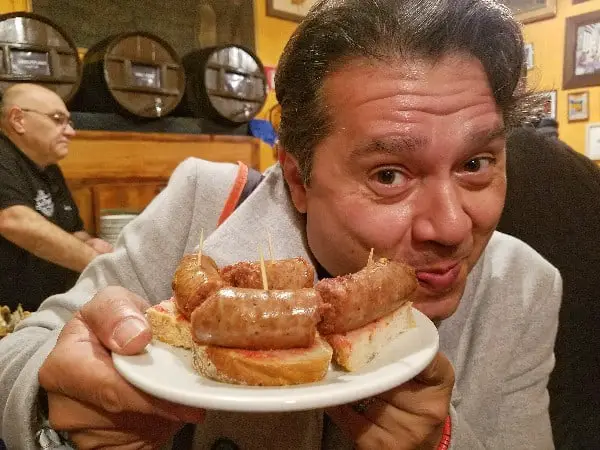 What it is
Sips, Sites, and Bites is a 3.5-hour walking food tour in Barcelona. You'll roam Barcelona's ancient streets and taste Catalan and Spanish tapas and drinks at family-owned restaurants in the Ciutat Vella. 
Who it's for
First-time visitors of Barcelona who want to immerse themselves in the local food culture and taste locally sourced tapas
Hungry history buffs who want to learn the true tales of Barcelona's historic past in an entertaining way
Introverted travelers who want to experience the Catalan and Spanish "eating out" rituals, but may be intimidated to speak in another language – in a crowded bar, for example
Carnivores – and vegetarians alike (you can specify if you don't eat meat)
The experience
Our first stop on the tapas train was a miniscule bar in La Barceloneta. At 5:30pm, this place is packed. Apparently, it's nothing compared to how it gets later. We squeezed through a narrow corridor, brushing against guests chatting away and already noshing on their tapas. Adrian found us a small nook (unfortunately, the only spot available was by the WC), but I immediately felt like we were already part of the cool kids' crowd.
Our eats and drinks included jamon serrano (a MUST if you come to Spain) and a sparkling rose wine. We learned about the process of these spirits and the history of this no-frills local joint. After we left, I realized I had to pace my consumption for the rest of the tour.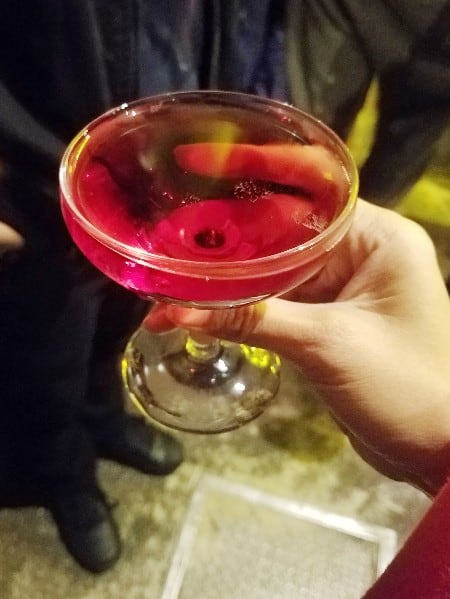 Next stop: An iconic Barcelona cellar and restaurant. Like true Catalan locals, we devoured dishes like la bomba (fried potato and meat 'bomb'). The tapas went down smoothly with a refreshing house red wine.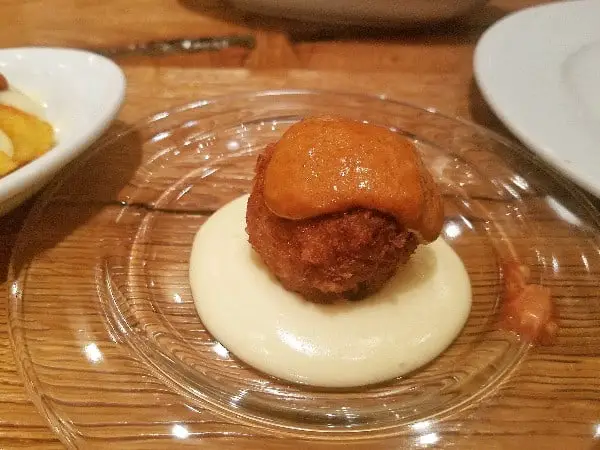 As we digested and walked from hot spot to hot spot, we learned about overlooked but interesting details about Barcelona's streets. For example, below, these plaques scattered throughout the Old City mark that an establishment has historical importance.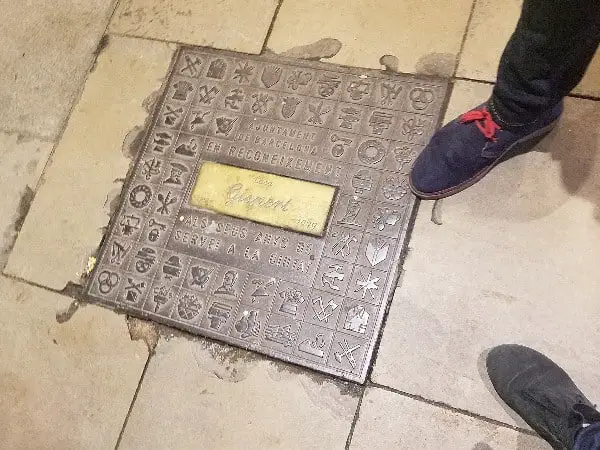 It's Christmastime in Barcelona. So we stopped at the Christmas market at the Santa Llúcia fair, laugh at the caganers, and meandered through the historic streets. Those tales of bravery, passion, and romance were told. We listened, we laughed, we learned.
Stop #3: A traditional restaurant with old-world interior of wine barrels and marble tables. Our grub included banderillas (anchovy, olive and pepper skewers) and other delicacies.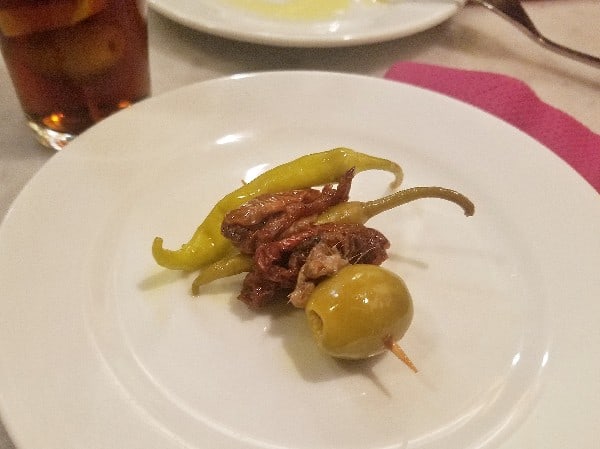 Next stop: A long-standing corner bar in Barcelona. This beloved family-owned restaurant only serves a few dishes, and it's still going strong. Adrian passed around a mini porrón, a wine pitcher that pours a thin stream of wine. You get to practice the festive way to drink wine: tilt the porron and pour the wine directly into your mouth. We also the freshest tomato salad and more local specialties. Our tour-mate refused to have any more food as he was stuffed, but we peer pressured him into having just one or 7 more bites. 
That was our last stop on the "we're-stuffed-with-delicious-food" train. We said our goodbyes, and Adrian told us to contact him if we had any more questions about Barcelona, needed help, or had questions about the sites that we visited. Afterward, Eye on Food Tours even sent me via email a list of places, food, and drinks that we had! (They do this for everyone.) I'm sure for first-time visitors, they'll find that comforting. Sometimes, you need a little hand-holding when you're in a foreign country, and Eye on Foods just does that.
At the end of the food tour, I was over-satiated by so much food. Perhaps if I were to do it again, I would have paced myself more with the amount of meat I consumed. It was a lot of food! And I wouldn't have finished all my drinks either. Or not. 
Tips on taking the Sips, Sites, and Bites tour
Bring a bottle of water for hydrating on the go. We got the chance to buy a bottle at the mini-market at our meeting point. Go early to do this, or BYO-bottle.
You won't have any room in your belly after the tour, so don't bother making dinner plans afterward. Unless you are a horse.
Some shops where Adrian will take you might be crowded (like a nut shop we visited). You may want to buy something, but there won't be enough time. Remember the place or take a photo of it! There are places you'll want to return to.
With some tapas, you'll have to dip your own fork into one shared dish, which is customary of eating of tapas all over Spain. Technically, you don't share any spit but it is all on one dish with no serving spoon. If you have a problem with germs, be aware of that!
Conclusion DR;TL
Sites, Sips, and Bites is a fun, soul-filling, and tummy-filling tour. It's a fantastic way to get to know Barcelona's history, gastronomy, and restaurant culture. Also, Adrian, your tour guide, has a great rapport with the bars and shop owners, where first-time visitors will feel comfortable and taken care of. (Tour guests have even invited him for drinks afterward.)
If you want to see a visual taster of what a food tour with Eye on Food Tours, here's their promo video:
Adrian says he changes up the tour every few months, so if you do take this tour, your stops might be different. It's conducted in English and Spanish if needed.
More Info
Eye on Food Tours website
Opinions of this tour are my own. Take it for yourself and see.
Have you ever taken a food tour? Do you think you'd take this one?