*This site contains affiliate links, which means I receive a commission when you buy. See my full disclosure.
Make sure you double check the schedules/timetables with the websites first!  
EL BORN CENTRE DE CULTURA I MEMÒRIA (BORN CULTURAL AND MEMORIAL CENTER)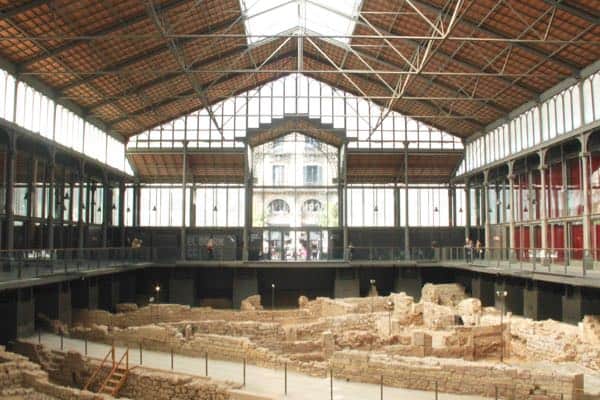 That's just to the center itself, the place where you can look at the building. They also have free audio guides to visit the archaeological site from the balcony.
Free admission
Born Cultural Center, Plaça Comercial, 12, 08003 Barcelona
CASTELL DE MONTJUÏC (MONTJUIC CASTLE)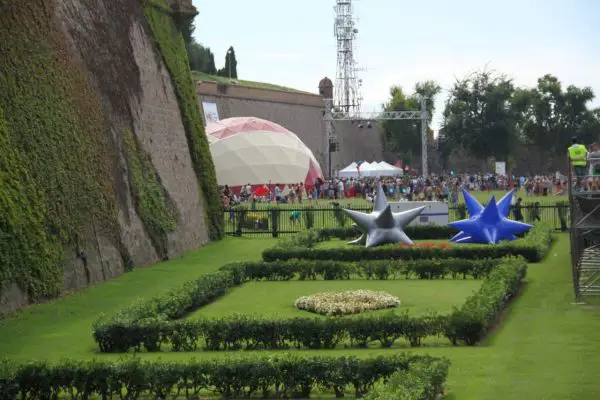 An old 17th-century fortress and military prison, the Montjuic Castle gives you a swift throwback into medieval times in Barcelona. Expect Instagrammable views of the port, the cityscape, and the Mediterranean. Enter the museum to learn more about its history. Parents, expect some trudging up stairs if you have little ones.
Free admission: Sundays after 3pm and first Sunday of each month.
Castell de Montjuic: Carretera de Montjuic, 66, 08038 Barcelona, Spain
CCCB –  CENTRE DE CULTURA CONTEMPORÀNIA DE BARCELONA
Celebrating urban and art culture, the CCCB is an art space that puts on lectures, exhibitions, shows, festivals, talks, and more. The events change frequently, so this place can be hit or miss. Located in this old monastery in Raval, CCCB's a space covers 15,000 square meters of multiple rooms. Plus, you can look through the 5th-floor glass mirador (lookout point). From there you can see the sea, the Barri Gòtic,Montjuïc, Tibidabo, Ciutat Vella, and the Collserola tower.
Free admission: Sundays from 3pm to 8pm.
CCCB: Carrer de Montalegre, 5, 08001 Barcelona
MUSEU DE CULTURES DEL MÓN (MUSEUM OF WORLD CULTURES)
Overshadowed by the Picasso Museum across the street, the Museum of World Cultures displays curious artifacts across Asia, Africa, and Oceania. It's spacious, organized, and uncrowded. Skip Picasso and see the … and ….
Free admission: First Sunday of each month from 10am to 8pm. Every Sunday from 3pm to 8 pm.
Museu de Cultures del Món, Carrer Montcada, 12, 08003 Barcelona
MUSEU DEL DISSENY DE BARCELONA (DESIGN MUSEUM OF BARCELONA)
This is the center for things design-y. The museum focuses on product design, space design, fashion, and information design. Browse the fashion collections (clothing, textiles, etc.) decorative arts  (furniture, lamps, etc.), or graphic arts (wallpapers, typographies, signs, etc.).  It's housed in the DHUB building, often called "la grapadora" ("the stapler") because of it's office-supply likeness. Its cafe, Cafeteria Sauleda, is also a gem.
Free admission: Sunday afternoons, from 3 to 8 pm, and the first Sunday of each month.
Museu del Disseny, Pl. de les Glòries Catalanes, 37-38, 08018 Barcelona
MUSEU NACIONAL D'ART DE CATALUNYA MNAC (NATIONAL MUSEUM OF CATALAN ART)
With over 260,000 articles, you could probably spend two weeks here going through each piece. It's one of those all-encompassing museums that cover 10th to the 20th centuries. Don't fret, it's divided quite nicely. If you like Roman frescoes, you can enjoy the largest collection of frescoes in the world! Other than that, it also displays Gothic art, Renaissance, Baroque, and Modernist art. If you don't care about history and art, you're in luck. The building itself is majestic: the Palau Nacional of Montjuic sits atop a hill – so you get a stunning view from the front entrance.
Free admission: Every Saturday at 3pm – 6pm October to April / 3pm to 8pm May to September. First Sunday of every month. 
Museu Nacional d'Art de Catalunya, Palau Nacional, Parc de Montjuïc, s/n, 08038 Barcelona
MUSEU PICASSO (PICASSO MUSEUM)
To better understand Picasso's art, this is the place to see his 4,000+ artwork during the formative years. You won't find any key famous pieces, but a presentation of his dabbling of portraits art during his Wonder Years to he had the Blues (everything he painted in blue). The museum is in a former palace, so be prepared to be whisked away to move on to his cubist paintings, oils, and then several renditions of Las Meninas by Vasquez. Don't expect any cubism though, you'll have to look elsewhere.
Free admission: Thursday afternoons from 6:00pm to 9:30pm and first Sunday of each month, from 9am to 7pm.  Free for those under 18 years old.
Museu Picasso, Carrer Montcada, 15-23, 08003 Barcelona
MUHBA PLAÇA DEL REI (MUHBA PLAÇA DEL REI)
If you've been around Barcelona for awhile, you may have spied a window with an underground world. That is, the Roman ruins of Barcelona once called Barcino back in its Roman heyday. Explore Barcino's laundry and dyeing workshop, its winery, or fish salting factory. Gives you an in-depth peek of what a Barcelonans' daily life was like acrooss 4,000 square meters.
Free admission: F irst Sunday of the month; all other Sundays free after 15:00. 16 and younger free everyday.
Plaça del Rei, Plaça del Rei, s/n, 08002 Barcelona
MUHBA Via Sepulcral Romana
Let's take you back to 1AD, Yes, you can visit a Roman burial ground contrasted with the modern urban playground, Decathlon, and gelateria. If you're in the area, take a quick peek here, it's worth witnessing the strange contrast below from a walkway. Enter the small museum to discover Roman Barcino history – Enter the museum, and you'll learn about the burial and funeral rituals of Roman times, a beautiful commemmoration and memory of the city that present-day Barcelona is built on.
Free admission: first Sunday of the month; all other Sundays free after 15:00pm.
MUHBA Via Sepulcral Romana, Pl. De la Vila de Madrid, 08002 Barcelona
MUHBA El Call
El Call means A small Jewish museum, in a two-story home of a Jewish weaver Life of the Jewish quarter. History, objects, Discoer the parts of Barcelona Jewish quarter in the Gothic quarter, how it ended in 14th century led to its demise, artifacts and interactive screens to discover more.
Free admission: First Sunday of the month; all other Sundays free after 3pm.
MUHBA El Call,Placeta de Manuel Ribé, s/n, 08002 Barcelona
La Rambla El Gotic
MUHBA Vil·la Joana
If we're stopping by the Collserola nature park. It's by the Parc de Collserola information center, you'll notice this farmhouse. A 1500 farmhouse by poet Jacint Verdaguer. Dedicated to literature a memorial space with information about the poet, bedroom, and more. Far off the city.
Free admission always.
MUHBA Vil·la Joana, Ctra. de l'Església, 104, 08017 Vallvidrera, Barcelona
Sarrià – Sant Gervasi
MUHBA Oliva Artés
An old metal parts factory. The transformation of a city. How a city, which was the strongest industrial area oin the mid-19th century has transformed. It's divided into 12 areas, such as industrialization, immigration, Discover how Barcelona has changed through cartographs and artifacts. Even how a fancy toilet (yes!) from the posh Guell family or an iron stall from the Sant Antoni market, reflect on the modern-day, ever-changing metropolis of Barcelona. Reflects on the past, present, and future.
Free admission every day it's open.
MUHBA Oliva Artés, C. Espronceda, 142-146 (Parc del Centre del Poblenou), 08018 Barcelona
Poblenou
MUSEU ETNOLÒGIC DE BARCELONA (ETHNOLOGICAL MUSEUM OF BARCELONA)
IF you have an appreciation for the local Catalan people and traditions, this is a place to see how they've evolved throughout the years. Not a huge museum, Perhaps for the outside tourist on the hunt for Gaudí, its not the place. But if you want a historical understanding of the evolution of the Catalan human, this is a quaint museum to stop by. Over 5,000 artifacts including the capgrossos (big heads) and other artifacts. Explanations are a bit scarce, but passing through for free is worth a visit. If anything, passing through the Montjuic area is lovely. The building is beautiful in 6 hexagon squares. Catalan people can recognize pop culture items, as it's a reflection of culture. Religious festivals, instruments, anything and everything Catalan.
Free admission: Sundays after 4pm and first Sunday of each month.
Passeig Santa Madrona, 16
 | 
Parc de Montjuïc
, 
08038 Barcelona, 
Spain
Montjuic
MUSEU FREDERIC MARÈS (FREDERIC MARÈS MUSEUM)
A sculpture museum, this large museum based on the huge collection by Frederic Marès.
Huge collection of art and sculptures from the 12th to the 19th century. religious articles such as in the ancient, Gothic, Romanesque, Baroque, and nineteenth century. After you've fully digested all the historical details, head to the Cafè d'estiu  has an idyllic courtyard worth visiting. Read more in my post about the Museu Frederic Marès here.
Free admission: Sundays after 3pm and first Sunday of each month.
Museu Frederic Marès, Plaça Sant Iu, 5, 08002 Barcelona
El Gotic
MUSEU MARÍTIM DE BARCELONA (MARITIME MUSEUM OF BARCELONA)
Free admission: Sunday after 3pm
Museum Marítim de Barcelona, Av. de les Drassanes, s/n, 08001 Barcelona
MUSEU DE LA MÚSICA (MUSEUM OF MUSIC)
Free admission: Sunday from 3pm, and the first Sunday of every month.
NATURAL MUSEU DE CIÈNCIES (NATURAL MUSEUM OF SCIENCES)
Free admission
MUSEU BLAU (BLUE MUSEUM)
Ah, one of my favorite museums .
Free admission
JARDÍ BOTÀNIC DE BARCELONA (BOTANICAL GARDEN OF BARCELONA)
Free admission: Admission is free every Sunday from 3pm, and first Sunday of every month
Jardí Botànic de Barcelona, Carrer Doctor i Font Quer, s/n, 08038 Barcelona
REIAL MONESTIR DE SANTA MARIA DE PEDRALBES (ROYAL MONASTERY OF SANTA MARIA OF PEDRALBES)
Worth visiting in a non-touristy part of town. The surrounding area is beautiful. A tranquil site of contemplation and beauty, the Pedralbes Monastery has a cloister of 3 floors with arched terracing. It really is a peaceful place to enjoy the central pond with koi fish and lily pads. The cloister, the chapel of Sant Miquel, the church, the cells, and the kitchen all give you a sense of peace. It's a different place to take the family and enjoy the silence. It's a part of Barcelona you can enjoy without the thick crowds.
Free admission: First Sunday of the month 
Reial Monestir de Santa Maria de Pedralbes, Baixada del Monestir, 9, 08034 Barcelona
LA VIRREINA CENTRE DE LA IMATGE (LA VIRREINA CENTRE OF THE IMAGE)
If you're walking down the Rambla, head to the baroque palace that houses this low-key art museum. The goal is to present new cultural experiences using images – shown through its seminars, talks, courses, workshops, cinema, video, music, and performances. It's not so much a visually loud museum, but a museum that challenges cultural images and experiences.
Free admission: Every day it's open. 
La Vierreina Centre de La Imatge, La Rambla, 99, 08001 Barcelona