*This site contains affiliate links, which means I receive a commission when you buy. See my full disclosure.
Beget, Spain, is a tiny village set in the peaceful Catalan mountainside, boasting a snail's-pace way of life. In this overconnected world, Beget's isolation and solitude are something to envy. It's nestled in the Pyrenees mountains in the Girona province, and its 30 stone homes surround an ancient 12th-century Romanesque church. On a normal day, cows and sheep graze along a mountain, breathing the fresh mountain air.
It's the destination for travelers who crave a digital detox. You have no choice – but to be disconnected once you arrive to Beget. You can't even get a Wi-fi signal!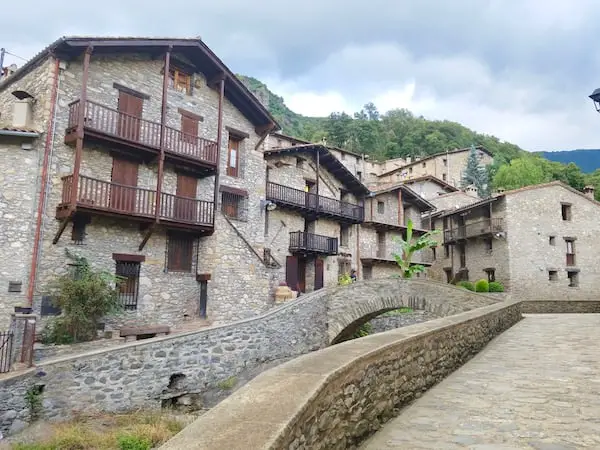 I chanced upon Beget while vacationing in Sant Pau de Segúries, near Camprodón this summer. After lunch, my father-in-law had an impromptu idea of taking a short excursion to this small village. I hadn't even heard of Beget. My nephew taught me it's pronounced "bay-zhet".
We'd have to drive through a winding road from Sant Pau de Segúries to Beget on the GIV-5223, a road replete with nauseating curves and hairpin turns. Spoiler: the drive there was worth it.
Useful and interesting facts about Beget, Spain
 In 1860, the population in Beget was 1300.

Today, there are no more than 20 inhabitants who live in Beget all year round! The others who have homes here use it as their vacation home.
Beget was declared a Cultural Asset of National Interest in 1983.
It sits at 541 meters above sea level where the air is fresh and crisp.
Beget is in Alta Garrotxa region in the province of Girona, about 2.5 hours north of Barcelona.
Like many ancient cities in Spain, its origins stem back from the Middle Ages.
Beget's 30 houses are eccentric stone buildings with heavy wooden doors.
The area is sprinkled with bucolic farmhouses, villages, and hermitages (small dwellings where Christians would retreat).
It was isolated until the mid-1960s when a road was laid. A proper road was laid in 1980, which is currently the winding road that goes through the mountains.
As I mentioned, you couldn't get on the Internet if you tried your hardest. A warning sign lets you know once you enter the village.
For sightseeing, you can explore Beget in about 1-2 hours. But it truly is a gem!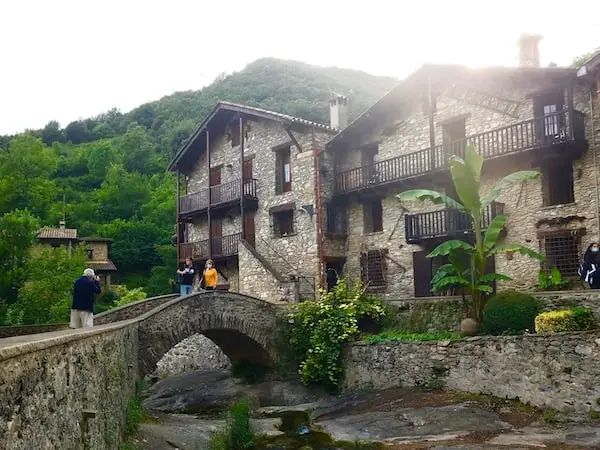 What to do in Beget
Visit the 12th-century Church of San Cristòfol
The ancient Romanesque church of Sant Cristòfol (St. Christopher) is the most iconic monument of Beget. The four-story tower has a small bell tower and a sculpture of Jesus Christ, the 6-foot "Majestat de Beget". It's a polychrome wood carving dating back to the 12th century. During the Spanish Civil War, local villagers hid the beloved sculpture from the Republican Army as the church was set on fire.
Today, the Church of San Cristòfol is usually closed. (It was closed when we went, and, supposedly, others have been unsuccessful). Visit the Valls Catalanes website (only in French and Catalan) for a tour, and let me know if you're able to book it!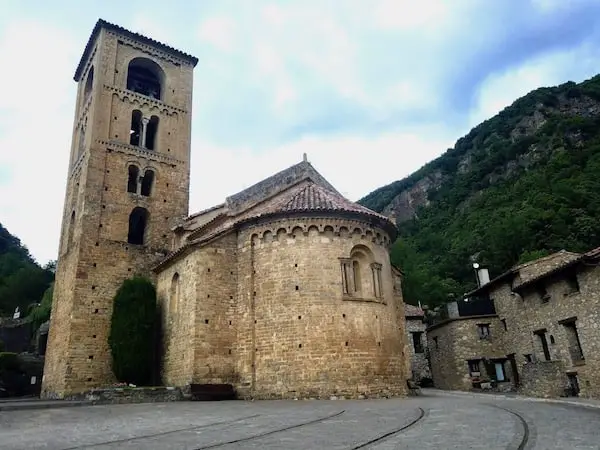 Walk along the bumpy cobblestone lanes
The lanes in Beget are narrow and gray and will make you feel like you've stepped into the medieval times. Look around, and you'll notice the spectacular green scenery surrounding the rustic homes, imitating a movie set. Every detail – the gable roofs, wooden balconies, and copper pipes – show how well-preserved and beloved Beget is to its people.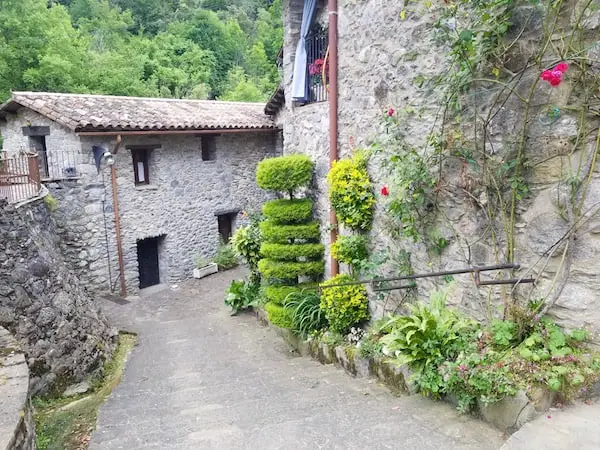 Bathe or play along the river
Within Beget runs two small rivers and brooks that make up a natural bathing area, perfect for even small children. Kids will love hopping over the rocks and poking sticks in the stream. It has two small medieval stone bridges that span the trickling stream.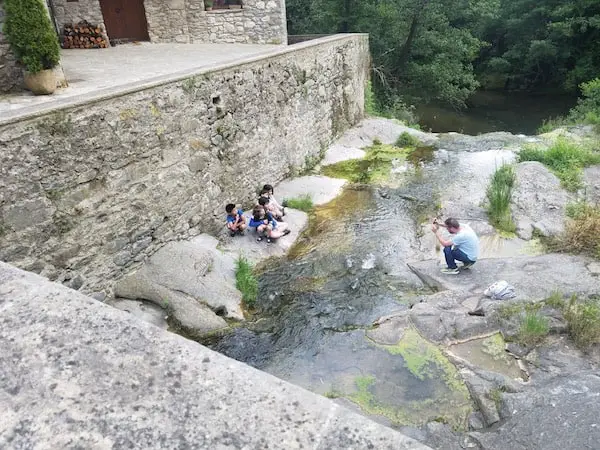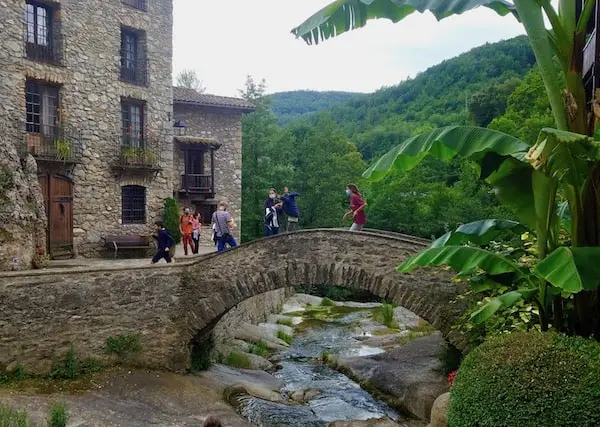 Take a hike around the stunning surrounding area
Beget is the starting and finishing point of different routes and excursions which can lead you to other towns like Olot, Prats de Molló, or Setcases. If you want to explore the area you can take the GR-11 or GR-83. Visit Rutas Pirineos for some itinerary ideas.
Food and restaurants in Beget, Spain
Beget, and the surrounding area of Alt Garrotxa, is famous for producing cheeses and cured meats. They are also known for having "volcanic gastronomy", which includes turnips, potatoes, beans from Santa Pau, and snails.
Can Jeroni – A 100-year-old restaurant with a beautiful view of the church, Can Jeroni impresses with its traditional Catalan and international cuisine. Enjoy the salad with foie gras chips and apples or deliciously roasted chicken with aubergines and plums. For an intimate meal, reserve the table beside the crackling wood fireplace, a romantic setting for a chilly day. Visit the Can Jeroni website for more info.
Restaurante el Forn serves traditional Catalan fare like rabbit with figs and scrumptious baked cod with raisins. With two dining rooms, Restaurant el Forn offers a rustic setting with paintings, photographs, and rustic objects from the beloved local Catalan countryside.
How to arrive at Beget, Spain
From Barcelona, the driving route is 2.5 hours. You'll pass through the town of Camprodón. You can also take a Teisa bus on a 2-hour ride to Camprodón.
From Camprodón, take the C-38. Shortly after the Els Solans campsite, take the winding GIV-5223 road to Beget. Park at the large parking lot at the entrance of the town. After, you have to climb some stairs.
From Camprodón by bus, it takes an hour via the TEISA bus company. A travel idea is to stay in Camprodón for a day or two, then take the bus to Beget, which takes about one hour.
Where to stay in Beget
You stay in Beget for a tranquil romantic getaway, a friend-bonding excursion, an adventurous family vacay, or to get that book written while solo.
4 Llars is a clean, pet-friendly, and family-friendly guesthouse. Each unit has a full kitchenette, a fireplace, and even a washing machine. Its countryside charm and the welcoming owner seem to leave guests impressed. It has chalets that can fit up to five. Find an available room at 4 Llars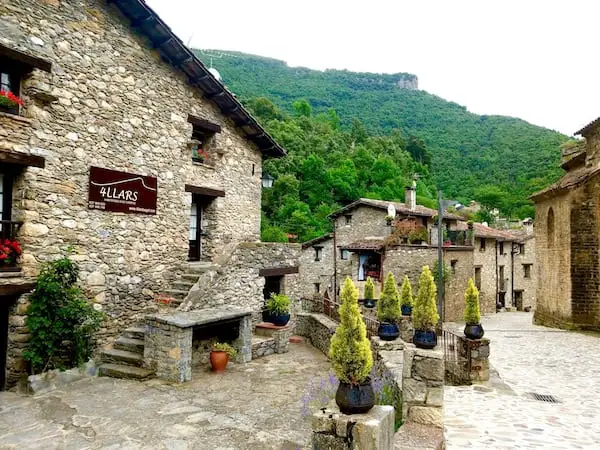 Hostal el Forn de Beget is a homely guesthouse with a few rooms. It has a beautiful garden and terrace area, great for relaxing and taking in the fresh air. You can also book for full board and enjoy your meals in the downstairs restaurant. Find an available room at El Forn de Beget
Can Criach is a 2-bedroom flat in rustic Beget style. With its views of the rustling river, it has a living room with a flat-screen TV, a kitchen, and a balcony. It sleeps up to four people with one queen bed and a bunk bed. Perfect for disconnecting! Check out the beautiful home of Can Criach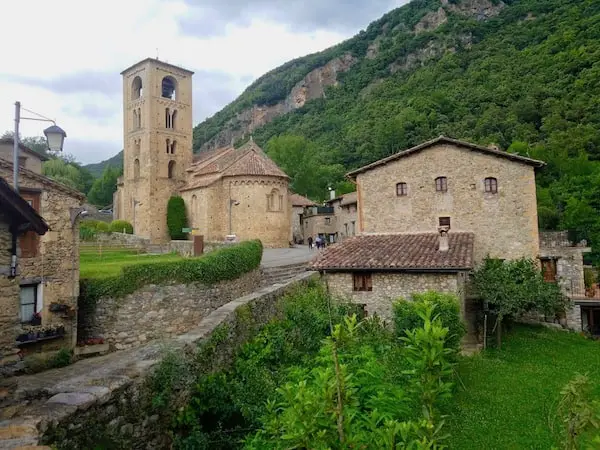 If you want to stay NEAR Beget like I did, stay at Camping Els Roures right below –>>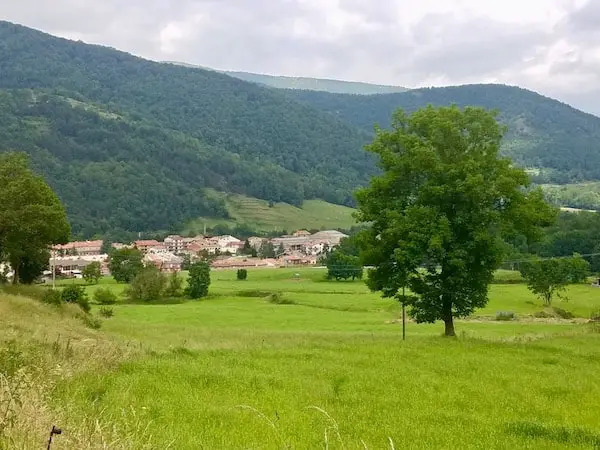 Read about it at the bottom of my post in Family-Friendly Campsites and Hotels outside Barcelona.
Tips for visiting Beget
While you have to weave through the road to get here, visiting this picturesque village is well worth the drive.
Beget is not ideal for people in a wheelchair, babies and children in pushchairs, or anyone with knee problems. A few sets of stairs are found throughout.
Be mindful of eating times if you plan on having a meal here. The only open establishments that are open are restaurants.
Nearby destinations include the villages of Oix or Rocabruna, Molló Animal Park, or the French border.
Want to visit a larger medieval town where you can visit longer? Read my post about the gorgeous Besalú. Or are you staying in Barcelona, and you need a closer destination? Read my ultra-detailed guide on day trips from Barcelona!
---
Does Beget sound like a place you'd visit? Leave your comments and questions below?