*This site contains affiliate links, which means I receive a commission when you buy. See my full disclosure.
Famous Landmarks in Spain: A Virtual Tour
Besides Antonio Banderas, what makes Spain a bewitching country? It's topped up with bouldered Roman aqueducts, golden Baroque cathedrals, elaborate Moorish fortresses, and museums full of Picassos and Dalís. Plus, Spain is a damn comfortable country to live (hello, 12 years).
If you know me, you'd know that my sick obsession with Spain started after returning from studying abroad in Salamanca and Seville. During my stay, I got to travel all over Spain. Today, as a Barcelona resident, I'm lucky I can unearth new places, mostly within Catalunya and sometimes Andalusia, my husband's hometown.
If you're trying to get psyched for a trip to Spain – or just need some Iberian escapism while devouring a bag of hot Cheetos (I'm not judging), this is your Spain bucket list. I'm lucky – I've been to 90% of these places 🙂 Step into my travel portal, which is this blog post. And allow me to transport you to visit Spain's highlights, which include notable and top-rated attractions. I've also curated the best videos and virtual tours that capture the essence of Spain. Check it out below!
---
SPAIN HISTORIC LANDMARKS
---
The Alhambra in Granada
Perched on a hilltop, this UNESCO World Heritage Site an ancient palace and fortress with evidence of construction dating back to 889 AD. Its layered history of Moors and Christian rule shows through its horseshoe arches, geometric tiles, and intricate stucco and plasterwork. The Alhambra is unequivocally one of Spain's most beautiful monuments.
Take a virtual tour: Navigate through the Alhambra and do not miss the elegant and decorous Patio de Los Leones!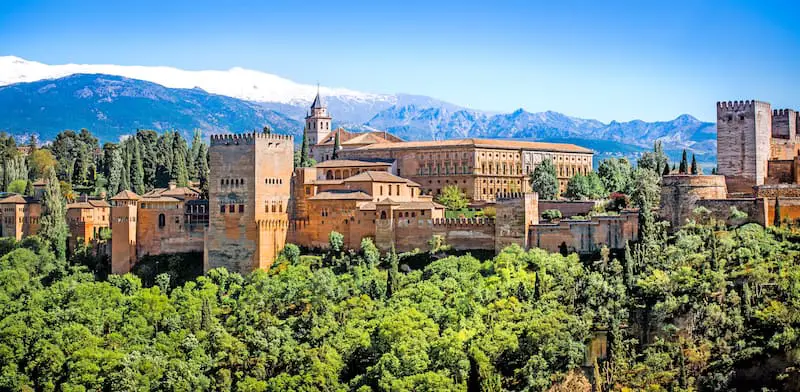 ---
Segovia Aqueduct
The ancient Romans built this 9-mile aqueduct almost 2,000 years ago as the town's main source of water. Its highest point rises to 28.5 meters (over 93 feet). Its wonder lies in its engineering ingenuity – no mortar is used to have the stones stick together. The aqueduct was used up until the 19th century, and locals say it could still probably work today.
Take a virtual tour: learn about the genius engineering of the Segovia aqueduct in this eye-opening video.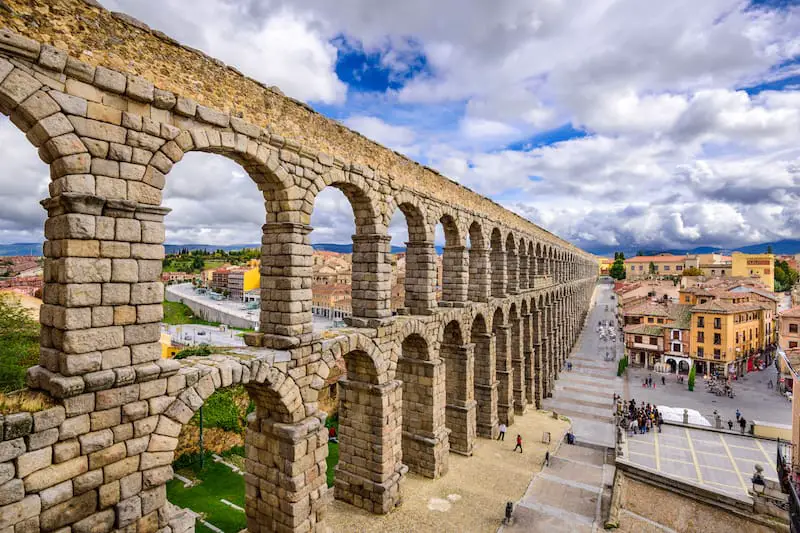 ---
Segovia Alcázar
A UNESCO World Heritage site, the Segovia Alcázar is the inspiration behind Disney's Sleeping Beauty Castle (the other being Neuschwanstein Castle in Germany). First records of it date back to the 12th century. But its real origins trace back to Roman times, and later was built a fortress by the Moors. Subsequently, it served as a palace, and now it's a museum.
Take a virtual tour: Watch this info-packed video of the Alcázar of Segovia, or take a virtual tour, through the ship-shaped castle.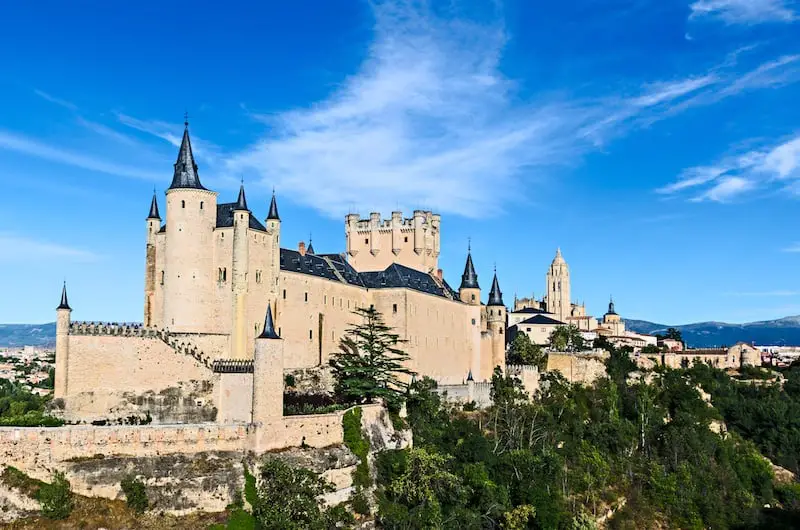 ---
Casa Batlló in Barcelona
A shimmery dragon-like roof, balconies that resemble bones, and an equally intriguing interior to match. Designed by Antoni Gaudí, the Casa Batlló shows that every curvy nook of this ostentatious modernist building is an art piece. (Related: read about my modernism tour with Context Tours!)
Take a virtual tour: Check out the 360 experience of the Casa Batlló, a quick video look through the building.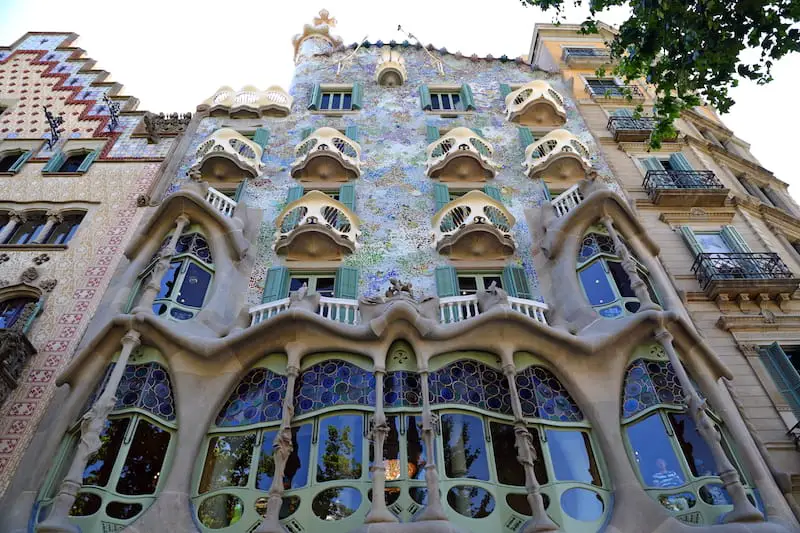 ---
Royal Alcázar Palace in Seville
This 10th-century palace and fortress are so decorative that it was a set for filming Game of Thrones. Its architectural influences include Islam, Christian, Baroque, Renaissance, and Gothic. The Royal Alcázar is also the oldest European palace still in use. (Going to Seville? Get your 3-day Sevilla itinerary here!)
Take a virtual tour: Watch this video on the beauty, or take a virtual tour here. Don't miss Salon de Embajadores and the Patio de las Doncellas!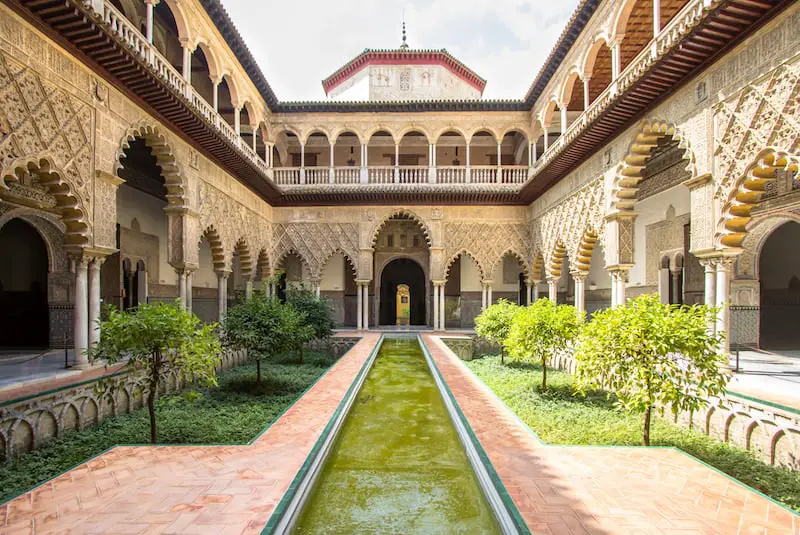 ---
SPAIN CHURCHES AND CATHEDRALS
---
Sagrada Familia in Barcelona
The Sagrada Familia, the most unique (and unfinished) Roman Catholic church, was designed by Catalan architect Antoni Gaudí. A basilica replete with Christian symbolism, elements of natural forms, and multi-colored stained glass often bring up one word when it's seen in person: breath-taking. On the outside, each facade tells a story of the life of Jesus Christ. On the inside, the white, lofty interior supported by tree-like pillars represents heaven. (Coming here? Read my tips on how to visit the Sagrada Familia.)
Take a virtual tour: See the in-depth video by Time magazine that captures its spirit. What will this church look like in 2026? See the time-lapse of the future Sagrada Familia here.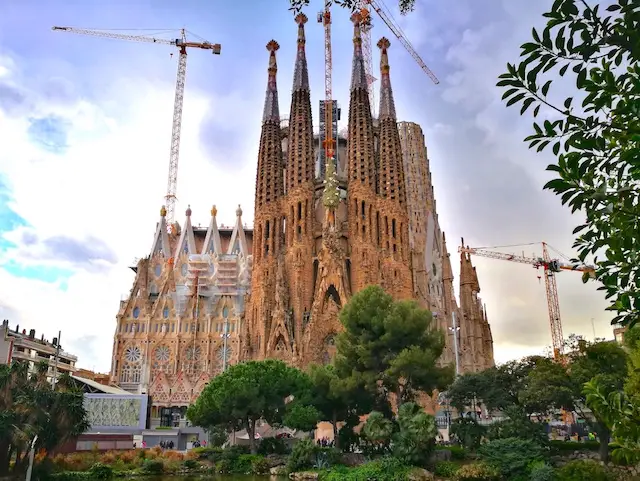 ---
The Mosque-Cathedral in Córdoba
The 10th-century Mosque-Cathedral of Córdoba is arguably one of the most grandeur structures of Spain, demonstrating Córdoba's riches at the pinnacle of its power. Like many Spanish monuments, its influences are the Romans, Moors, Visigoths, and Christians. Visit the Mihrab's scallop-shelled dome with tiny mosaics or the Villaviciosa Chapel with a Gothic nave and transversal arches.
Take a virtual tour:  See the building where Christians and Muslims worshipped – in the same place at the same time – in this virtual tour of La Mezquita-Cathedral. Don't miss the Patio de Los Leones Oeste to see the detailed stucco work!
---
The largest Gothic cathedral in the world, (surface area-wise), the Seville Cathedral feels colossal in real life. It started as a 12th-century Almohad mosque, but later expanded as an elaborate church to show off its wealth and power. (I lived in Seville for two years and my husband's from here; read my guide on how to spend 3 days in Seville!)
Take a virtual tour: Watch a quick video by my BFF Rick Steves to give you an informative tour of this decorous cathedral.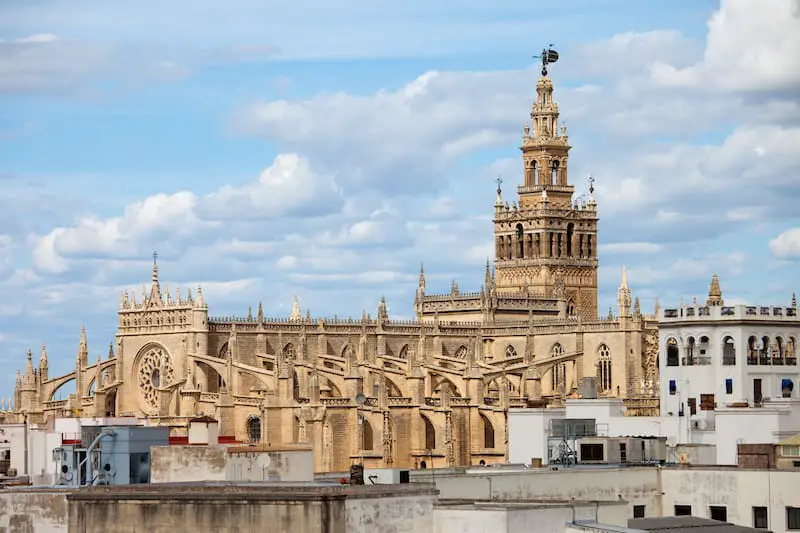 ---
Pssst…are you planning a trip to Spain? Check out my Spain trip planning guide to jumpstart your trip!
---
Cathedral of Toledo
A UNESCO World Heritage site, the Cathedral of Toledo (long name: Primate Cathedral of Saint Mary of Toledo) is the Illustrious, medieval Gothic architecture to the umpteenth degree. The grandeur is in its Baroque altarpieces, dark and emotive paintings by El Greco, and intricately carved stalls. It's the most Spanish cathedrals of all.
Take a Virtual Tour: Rick Steves shows you around the interior of this solemn, ornate monument.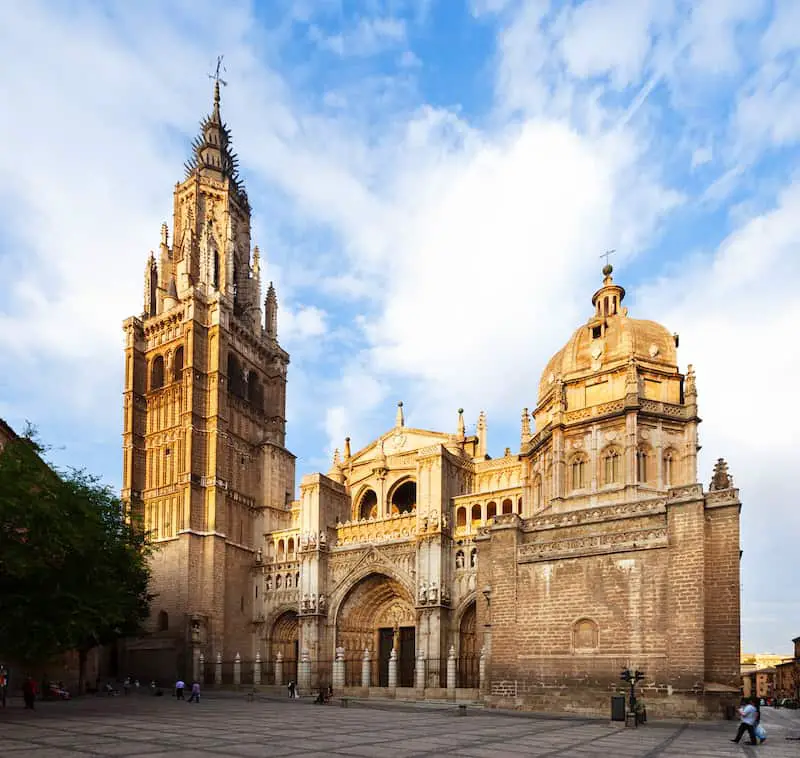 ---
FAMOUS MUSEUMS IN SPAIN
---
El Prado is Spain's national museum, which exhibits art from the 12th to the 20th century. It also holds the greatest collection of Spanish art, its most famous works include the Third of May by Francisco Goya or Las Meninas by Diego Velazquez. El Prado is considered one of the finest art museums in Europe.
Take a virtual tour: Take a quick look around in this welcome video by El Prado.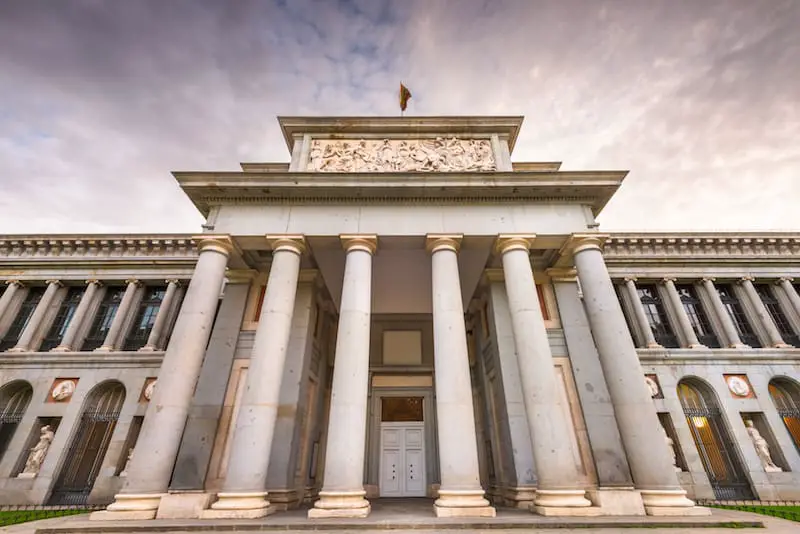 ---
This contemporary art museum holds pre-eminent works, spanning the 20th century until the 1980s. Among the works of Dalí and Miró is the behemoth, La Guernica by Pablo Picasso. 
Take a virtual tour: Watch this brief video of The Reina Sofia museum. La Guernica even has its own comprehensive microsite. Dive into the famous painting's history, timeline, and even zoom in on the fibers of the painting via the GigaPixel image. The studies done on this art piece is mind-blowing.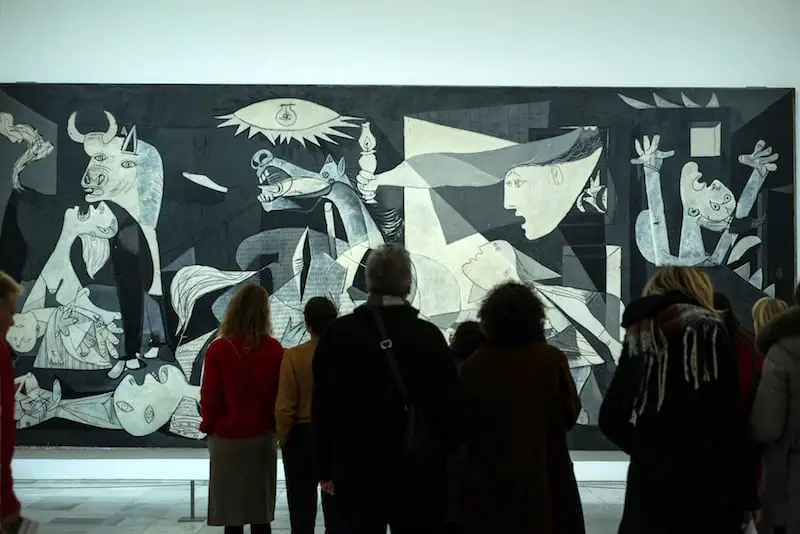 ---
Guggenheim Museum in Bilbao
There are a lot of reasons to come to the Guggenheim in Bilbao like to see its modern and contemporary art. But let's face it, tourists flock to see the Frank Gehry structure made of limestone, titanium, and glass – in all its radiant twisted glory.
Take a virtual tour: learn about the architecture of the Museo Guggenheim here.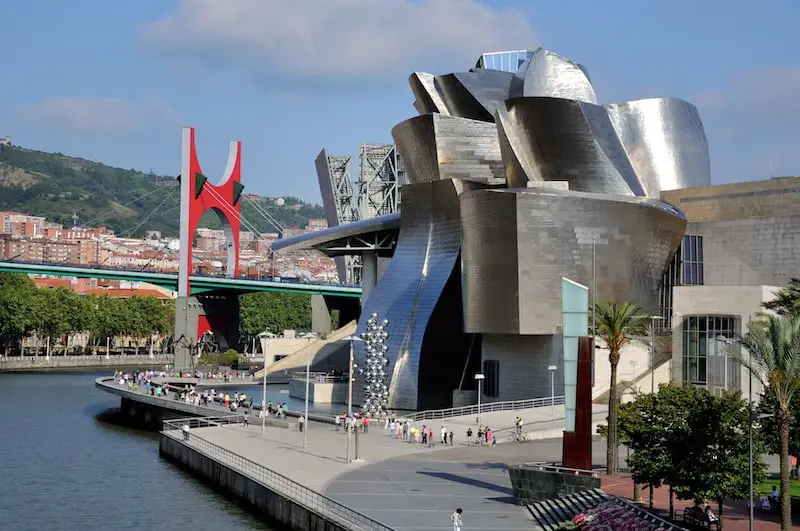 ---
Ciutat de les Arts i les Ciències in Valencia
Step into the futuristic Ciutat de les Arts i les Ciències (City of the Arts and Sciences). The cultural multi-complex opened in 1998 and is comprised of an IMAX Cinema, planetarium and laserium, an interactive science museum, an oceanographic park, an outdoor garden, and an opera house and performing arts center, a concert hall, and a sports hall. 
Take a virtual tour: Navigate the Ciutat de les Arts i les Ciències with your mouse here.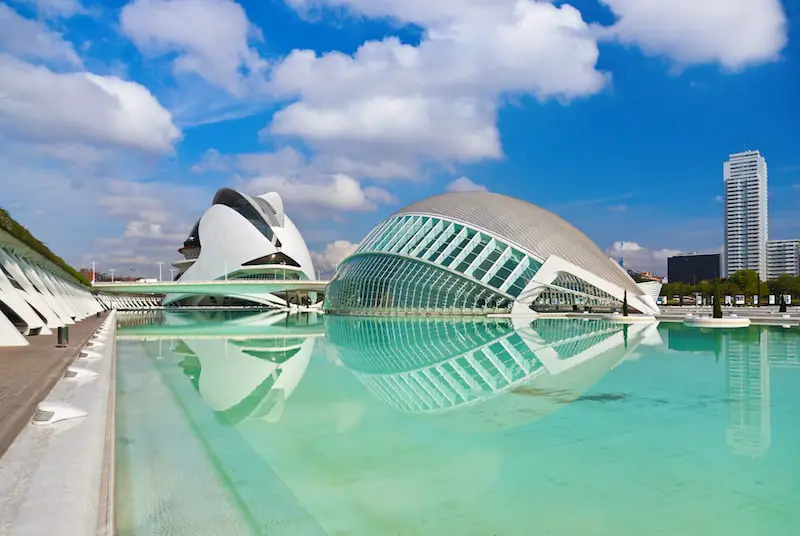 ---
Fundació Dalí Museum-Theater in Figueres
Expect some unexpectedness at Dalí's museum in Figueres, the town where the peculiar was born. The best of the Spaniard's surrealism is in the face of Mae West constructed by furniture and a photomosaic of Abraham Lincoln created in 1976, which shows Dalí was way ahead of the photomosaics which became popular 10 years ago. 
Take a virtual tour: Visit the funky Dalí museum on this virtual tour, and you can even pay virtual respects to Dalí at his crypt.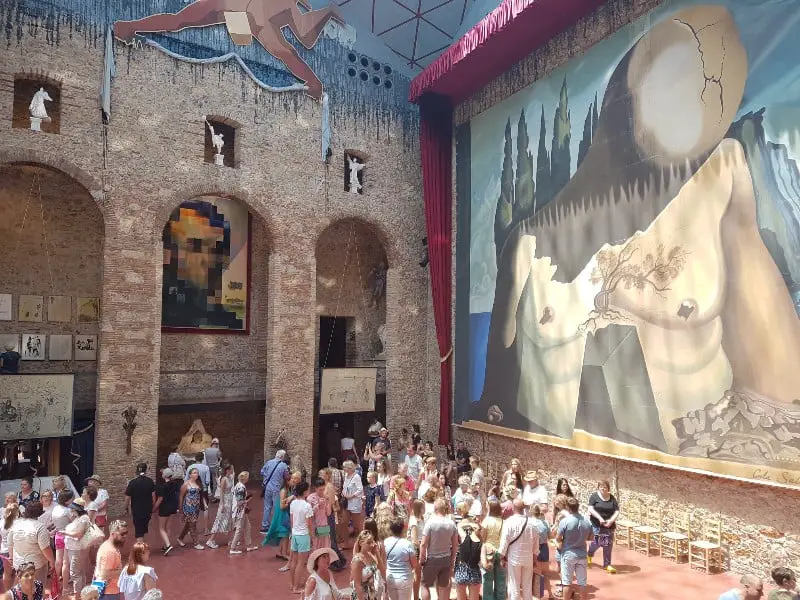 ---
NATURAL LANDMARKS IN SPAIN
---
Camino de Santiago
The Camino de Santiago, or, the Way of Saint James is a popular pilgrimage route that over 300,000 tourists and pilgrims make every year. The route starts on the French border and ends in the town of Santiago de Compostela in the North. It's about 500 miles and can take 30-35 days to complete. This is on my bucket list!
Take a virtual tour: See my friend Rick Steves show you the Camino de Santiago in this 3-minute clip.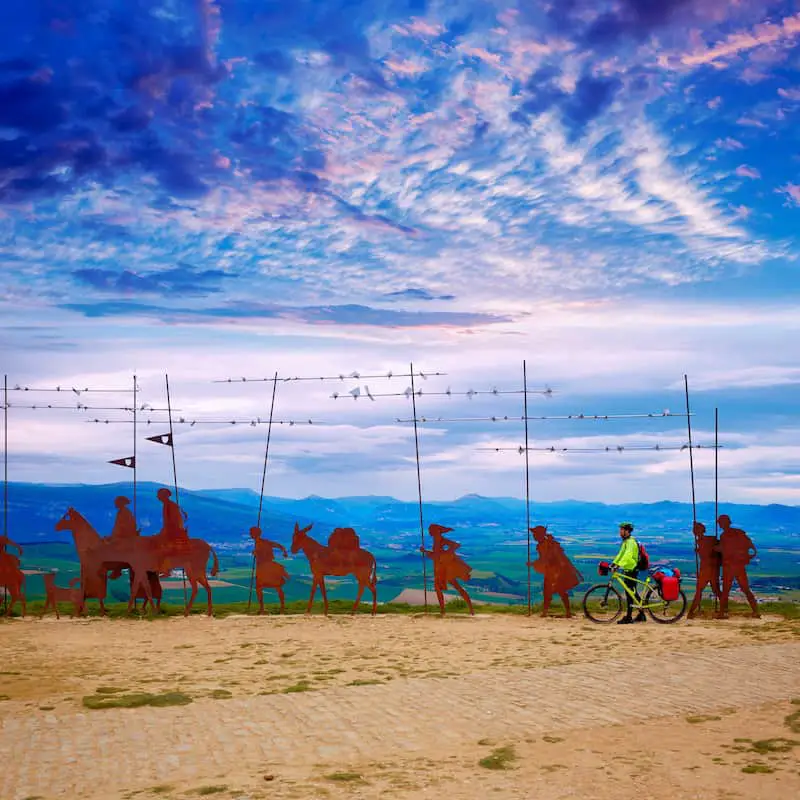 ---
Caminito del Rey in Málaga
El Caminito del Rey in Málaga used to be the most dangerous narrow footpath in the world. 300 kilometers long, it was built in 1905 as a walkway for workers constructing the hydroelectric plants. You had nothing to hold on to! After five deaths in 1999 and 2000, the Caminito closed. It reopened in 2015 with security measures like steel bolts and safety lines. But at 330 feet above the gorge, it's still pretty scary. 
Take a virtual tour: See some incredible footage of the El Caminito del Rey here.
---
Park Guell
As a resident, I'm partial to Barcelona monuments, so I can't not include this park – where art imitates nature. Multi-colored mosaics, playful gingerbread houses, and topsy-turvy footpaths make Park Guell one of the most famous parks in Spain. Antoni Gaudí, who designed this natural beauty for Count Eusebi Guell in 1900, was well beyond his time. (Read my post about how to see Park Guell!)
Take a virtual tour: Navigate with an online Park Guell virtual tour (tourists in the way, included).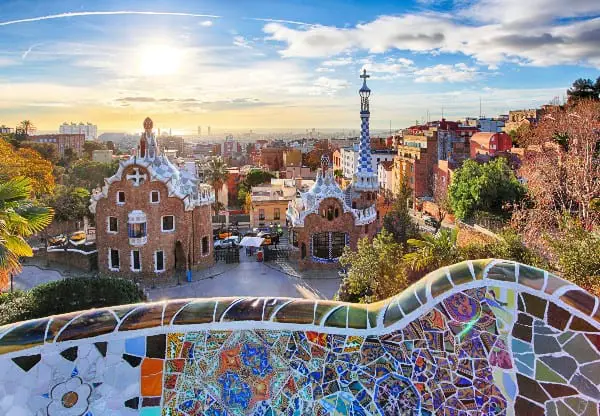 ---
That's it! Have you been to any of these Spanish landmarks? Got any to add? Let me know in the comments!