*This site contains affiliate links, which means I receive a commission when you buy. See my full disclosure.
Good Spanish Movies to Learn About Spain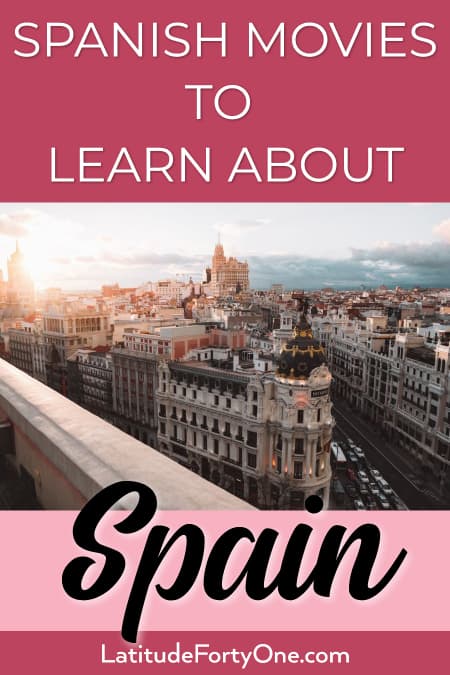 Spain has produced some international hits by big-name directors like Pedro Almodóvar or Alejandro Amenábar. And of course, we're familiar with Penelope Cruz, Javier Bardém, or Antonio Banderas, the most famous Spanish actors to hit Hollywood turf. But beyond these well-known names are a few other must-see films and actors that shed light on Spain's culture, history, and places.
Here's my recommended list of Spanish movies to watch before coming to Spain (to get you in the mood), or to watch any time you damn well please. They'll help you experience the realities of unemployment in Spain, understand the Spanish Civil War, or get to know Spain's crazy youth culture in the 80s. Most films on this list are in Spanish, but I threw in a few films in English for fun. Find these best Spanish movies to watch on Netflix, Amazon Prime, or wherever you can. These are 100% genuine recommendations by me!
<<Psst..planning a trip to Spain? Read my guide on how to plan a trip to Spain and learn what to wear in Spain so you don't look like a tourist!>>
---
Spanish Drama Movies
---
Volver (2006)
Volver is considered one of the best, classic Spanish movies set in Spain. Two sisters who live in Madrid return to the pueblo where they grew up – in La Mancha – for the funeral of their aunt. They also encounter the ghost of their mother, who died years earlier. Along the way, they unearth shocking secrets buried in their family. Directed by Pedro Almodóvar, Volver showcases strong women across generations, who experience loss and return while supporting each other. Volver was nominated for dozens of awards like the Oscars, Golden Globes, BAFTA, Cannes Film Festival, and so much more.
Why you should watch it: It's a moving, emotional film about women's survival. Also, get a glimpse into the rural, rustic way of life in a small pueblo in Spain, where gossip travels fast. Another reason to watch: Penelope Cruz's costumes are so bold and red, contrasting beautifully in the pueblo setting.
---
Todo Sobre Mi Madre (All About My Mother, 1999)
Also directed by Pedro Almodóvar, Todo Sobre Mi Madre is a character-driven drama of women with complicated lives. Manuela, a single mother in Madrid, sees her 17-year-old son, Esteban, die in an accident. In memory of her son, Manuela goes to Barcelona to find his father, who didn't even know he had a son. She's surprised to find he had changed his name and his gender.
Why you should watch it: It's an emotionally rich and compelling film about the tragedy of marginal women. Also, note that Todo Sobre Mi Madre was a revolutionary film in Spain when it was released – LGBTQ issues were taboo, but Almodóvar does it so compassionately and humanly.
---
A NOTE ABOUT ALMODÓVAR FILMS!
NOTE: Almodóvar's style of films are usually melodramas with complex relationships, usually with intense colors (often red) and tortured pasts entangled with the present. In his films, Almodóvar usually creates strong female characters break through their complicated situations. He's undoubtedly a powerhouse in Spanish cinema. See Almodóvar's long list of films on IMDB!
---
Mar Adentro (The Sea Inside, 2004)
Alejandro Amenábar directs this real-life heart-wrenching story, which won the Academy Award for Best Foreign Language Film. After a diving accident as a young man, Ramón Sampedro (Javier Bardém) from Galicia, Spain, is left a quadriplegic. Even though he has family and friends who love and support him, Ramón can no longer stand to live in the same room after 26 years. He fights for his right to end his life.
Why you should watch it: Touching, delicate scenes surround a controversial subject. Mar Adentro challenges you to ask the moral question: What does it mean to die in a respectful manner? And why should you be able to take your own life?
---
Los Lunes al Sol (Mondays in the Sun, 2002)
Los Lunes al Sol is a downbeat story of a blue-collar group of friends who were left jobless from the shipyard in Vigo, a northern town of Spain. While dealing with the crushing realities of unemployment – by drinking heavily or not being able to pay bills – the friends find some comfort with their routine of meeting at the bar. Los Lunes Al Sol was Spanish entry in the Best Foreign Language Film category for the 2003 Academy Awards.
Why you should watch it: It's a great script with strong characters and good storytelling of a common real-life struggle. While Los Lunes al Sol seems like a simple plot, we can all relate with the men's feelings of worthlessness and despondency. The film also doesn't paint pretty landscapes of Spain, but gives a more local atmosphere: middle-aged Spanish men sitting at bars, shooting the breeze.
---
The Way (2010)
"The Way" translates to "El Camino", as in El Camino de Santiago, an ancient pilgrimage route in northern Spain. This film (in English) is about Tom (Martin Sheen) as he travels by foot carrying the ashes of his son, who didn't complete the pilgrimage route. Tom meets other travelers from the Netherlands, Canada, and Ireland, among others, who are also searching for more meaning in their lives. Check out the breathtaking scenery of the Camino's 800 kilometers, starting at of the French Pyrenees to Santiago de Compostela, Spain. The Way is directed by real-life son Emilio Estevez.
Why you should watch it: The Way is an emotional story set in a beautiful setting, two beautiful journeys of soul and body, taking place. Plus, the endearing Martin Sheen.
Watch The Way on Amazon Prime Video or Netflix
---
RELATED: Want to transport yourself to other places in Spain? Take my virtual tour of famous landmarks in Spain!
---
Scary Movies in Spanish
---
Tésis (Thesis, 1996)
A debut film by director Alejandro Amenábar, this horror and suspense film is about Ángela, a university student who researches her thesis about violence in cinema. She finds a snuff film of a young lady being tortured and murdered. She then becomes friends with Chema, who's obsessed with violent films. They find out that the girl in the film was a student at the university, who disappeared a few years prior. Ángela becomes entwined in her research, in a gory kind of way.
Why you should watch it: It's a bloody horror film about a bloody horror film, and it also raises questions about the media's voyeurism and fascination with watching death. The technology in Tésis is also simple and low-budget, but it's greatly suspenseful, eerie, and terrifying.
Excuse the super grainy video: It's the only one on Youtube that has English subtitles.
Watch Thesis on DVD.com, or Apple TV
---
La Isla Mínima (Marshland, 2014)
Set in the post-Franco 1980s, La Isla Mínima is a mesmerizing crime thriller by Alberto Rodriguez. Two detectives attempt to solve a gruesome murder of two teenage sisters in a small town in the murky backwaters of Andalusia. The detectives are ideological opposites: leftwing Pedro, and the other Juan, a Francoist with a violent past. The two discover more hidden mysteries lurking in the marshland. La Isla Mínima won numerous European film awards, for best film, art direction, screenplay, cinematography, and more.
Why you should watch it: Beautiful aerial views of the marshland, details of the delta landscape, and a gripping story that emphasizes Spain's rough transition from dictatorship to democracy. 
Watch Marshland on Amazon Prime Video
---
El Laberinto del Fauno (Pan's Labyrinth, 2006)
Directed by Guillermo del Toro, this part-war, mostly dark fantasy film set in Spain, is set post-Civil War in the countryside. 11-year-old Ofelia and her pregnant mother move in with her stepfather, the fascist and sadistic Captain Vidal, who does not welcome the girl. Ofelia is led into a dark fantasy world of a mysterious garden with twisted trees, hidden beneath a labyrinth. She meets a faun (half-goat, half-human), who tells Ofelia she's a princess. And to remain a princess, she must fulfill three dangerous tasks. El Laberinto del Fauno was nominated and won several Academy Awards, BAFTA Awards, Golden Globes, and so much more.
Why you should watch it: Using CGI effects and animatronics, you'll be drawn into this visually wondrous, magical, but also a gruesome tale of a girl trapped in Spain's ugly Civil War past.
Watch Pan's Labyrinth on Amazon Prime Video
---
Spanish Comedy Movies
---
Ocho Apellidos Vascos (Spanish Affair, 2014)
Directed by Emilio Martínez-Lázaro, Ocho Apellidos Vascos is one of the funniest Spanish romantic movies from recent-ish years. Dani is from Sevilla in Andalusia (the south), and Amaia is from the Basque region (the north). The two meet for the first time at a bar and have a one-night stand, but Dani realizes he's enamored by Amaia, so he follows her to Euskadi. He pretends he's Basque (having eight Basque last names), entangling himself in unfamiliar Basque customs as he meets her family. Behind Avatar, Ocho Apellidos Vascos is the second-biggest grossing film in Spain. 
Why you should watch it: It's a lost-in-translation comedy, and if you have a general idea of Andalusian and Basque stereotypes, it will probably be funnier. But it's still good if you don't! Ocho Apellidos Catalanes (Spanish Affair 2) is a pretty hilarious follow-up too.
Watch Ocho Apellidos Vascos on Amazon Prime Video
---
Vicky Cristina Barcelona (2008)
Woody Allen knows how to make Barcelona look good on camera. Two American women, Vicky (Rebecca Hall) and Cristina (Scarlett Johansson), spend their summer in Spain, when they fall for the charming and mysterious artist, José Antonio (Javier Bardém). Trouble further ensues when his jealous ex-wife and artist (Penelope Cruz) comes back, entwining all characters in a romantic predicament. Vicky Cristina Barcelona was nominated for several awards for knockout performances: Penelope Cruz won an Oscar for Best Supporting Actress, and several categories for the Golden Globes, SAG awards…and more.
Why you should watch it: Watch Hollywood's A-list actors walk through Barcelona: Las Ramblas, Park Guell, and La Pedrera. Also, watch it if you like Woody Allen's style of simple, engaging cinematography and characters in relationship crises. 
---
Spanish Family Movies
---
Papá No Hay Más Que Uno (2019)
This PG-rated film's translation is  "There's Only One Dad". A busy mom of five decides to take a week-long vacation to the Caribbean, after attempting to plan an anniversary trip together (that he was supposed to take care of). It leaves Javier, the CEO dad who thinks he has everything under control, to manage the brood of kids and their busy schedules. The result: Javier really doesn't know his kids as well as he thought, as he manages disaster after disaster. This series is on their third movie, which came out in 2022. I saw in the theater with my kids, and we were rolling.
Why you should watch it: It's a family-friendly movie that you can watch with your kids and your parents (if they don't mind reading subtitles). It's also a too-real reflection of today's modern society where communication is lost on the day-to-day. Think you could relate?
Sorry, this is only in Spanish:
Have you seen any of these Spain-related films? What other Spanish films can you add?
Or, are you thinking, "What the hell, Justine? These movies suck." Then, show me what you got, hotshot. Let me know in the comments!