*This site contains affiliate links, which means I receive a commission when you buy. See my full disclosure.
Imagine this. You're cruising on your bike along a breezy promenade lined with seafood restaurants while momentarily glancing at the Mediterranean Sea. You see a colossal golden fish sculpture glistening against the sun, and the breeze runs through your hair. But before that, you've just taken an exhilarating bike tour, pedaling through the old Gothic Quarter, medieval Born, and the leafy Rambla de Poblenou. That's exactly what I did – on my complimentary ride with Steel Donkey Bike Tours.
I'm not a cyclist. In fact, I hadn't ridden a bike in years. But I'm in for new experiences. And it's good to know that Barcelona's one of the most bike-friendly cities in the world. Seeing Barcelona behind the handlebars can be a sweaty but fun endeavor. Read on for my experience!
Book your Steel Donkeys Bike Tour here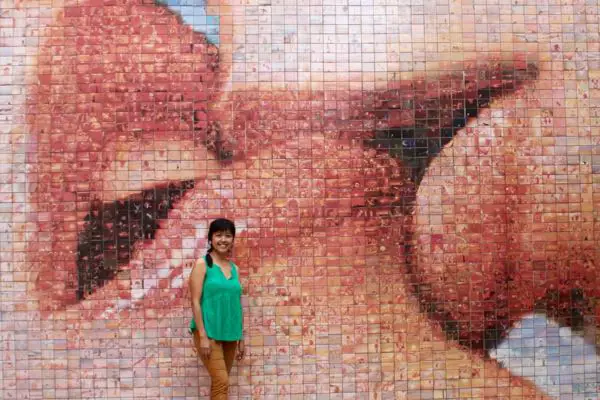 Steel Donkey Bike Tours: Biking Through Barcelona
What it is
Steel Donkey Bike Tours is the first and alternative bike tour in Barcelona. Your local guide shows you the sights but also lets you hop off your bike and enjoy them too. Each tour is semi-personalized, depending on the guide and guests' preferences. It covers between 6 and 10 kilometers and runs for 4 hours. Groups are 8 people or less.
Who it's for
– moderately fit adults and kids who want to see and experience the neighborhoods of Born, the Gothic Quarter, Poblenou, Glories, and more — in a short four hours.
– people who are interested in Barcelona's sights but don't want to waste their time with Advanced Catalan History 501, aka long-winded history lessons
– people who want to also interact with the sights: park their bike, go inside a building, and sit down for a drink as well
The Steel Donkey Bike Tour Experience
I arrived at the bike rental shop at 10am on a Saturday, seeing my new bike gang gathered together – cracking their knuckles, ready to jet around town. Our guide was the sweet and spunky Mariana. The five of us tour takers introduced ourselves, adjusted our seats, and hopped on our rental bikes. I said a Hail Mary and revved my engines.
Mariana led us through Barcelona's pedestrian streets of the Gothic Quarter, starting slowly and introducing us to a few monuments I was already familiar with. Some included the Plaça de Sant Jaume, the Temple of Agustus, Plaça de Sant Felipe Neri, and the Barcelona Cathedral.
Mariana's history explanations were swift and straightforward. The morning was still young before the throngs of tourists filled the Gothic Quarter's nooks and crannies. One of the first spots where we got off our bikes was Santa Maria del Mar Cathedral. Mariana asked us if we were interested in going inside, and the majority said yes. Of course, I'd been there about 29 times, but I went inside anyway. It was neat to drop in on a baby's baptismal ceremony.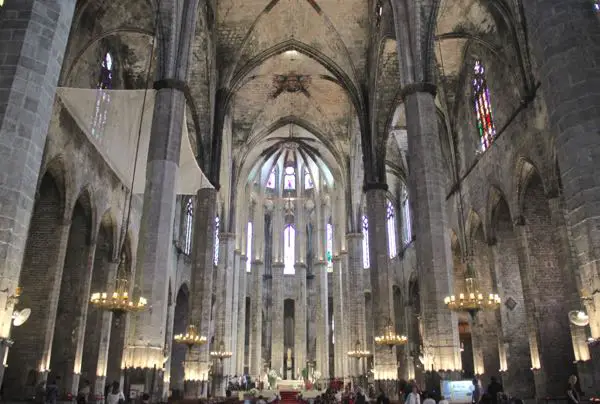 We jumped on our bikes again. I had to get used to maneuvering among pedestrians, making sure not to run over any selfie-taking tourists or turtle-paced grandmas with canes. Mariana led us confidently, weaving through crowds, not afraid to use her bell. During very tight spots, I hopped off my bike and walked it in the beginning. If any biker got tangled up and lagged (me), she waited. This was when I was thankful that our group was small.
As I got more comfortable operating my bike, I glided more easily around pedestrians.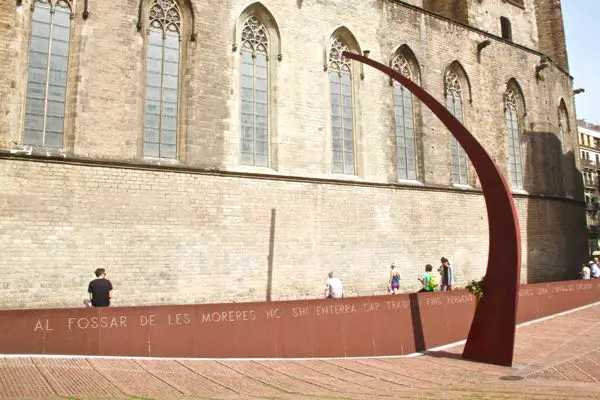 As the morning progressed, more tourists came out of hiding. If you live in Barcelona, you know how crowded the Gothic Quarter gets.
As a pedestrian myself, I've been peeved by bikers who zip through crowds. So, I was hesitant to use my bell without seeming rude. Do I do quick "beep beep", the same way that you do with a car horn? It just doesn't translate well with a bell, so I just didn't use it. #introvertproblems
At about halfway, we took a snack break at one of Mariana's favorite coffee spots, Clasico Born. She secured our bikes together and we ordered some empanadas, coffee, and other riding fuel for the rest of our ride. This was fun to get to know my fellow bike gang members. Coincidentally, 4 out of 5 of us were from the Orange County-Long Beach area!
We finished guzzling our organic juices then continued our path to the Palau de La Musica, La Casa dels Entremesos, and winded through the green Parc de La Ciutadella, stopping at the fountain seen below.
Book your Steel Donkeys Bike Tour here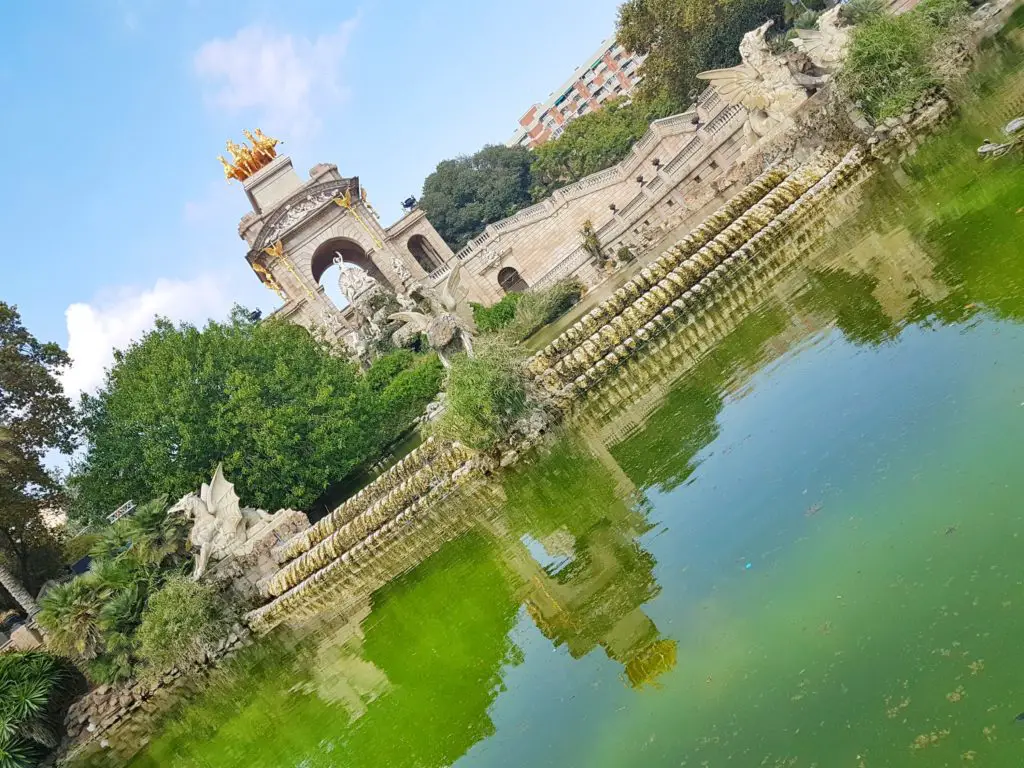 We pedaled to new territory on Avinguda Meridiana, which is a bigger and wider street — with cars! The thought of cars made me nervous, and I started to doubt myself. What the heck do the bikers' stop lights mean? I had no idea but just followed Mariana. We pedaled to our destinations: Glories and Poblenou. We then zipped through the under-the-radar Can Framis Museum, Rambla de Poblenou, Torre AGBAR, and even pedaled all the way to the end of Moll de Gregal, the dock of Port Olimpic that juts out of the shoreline. I wish I'd taken photos there!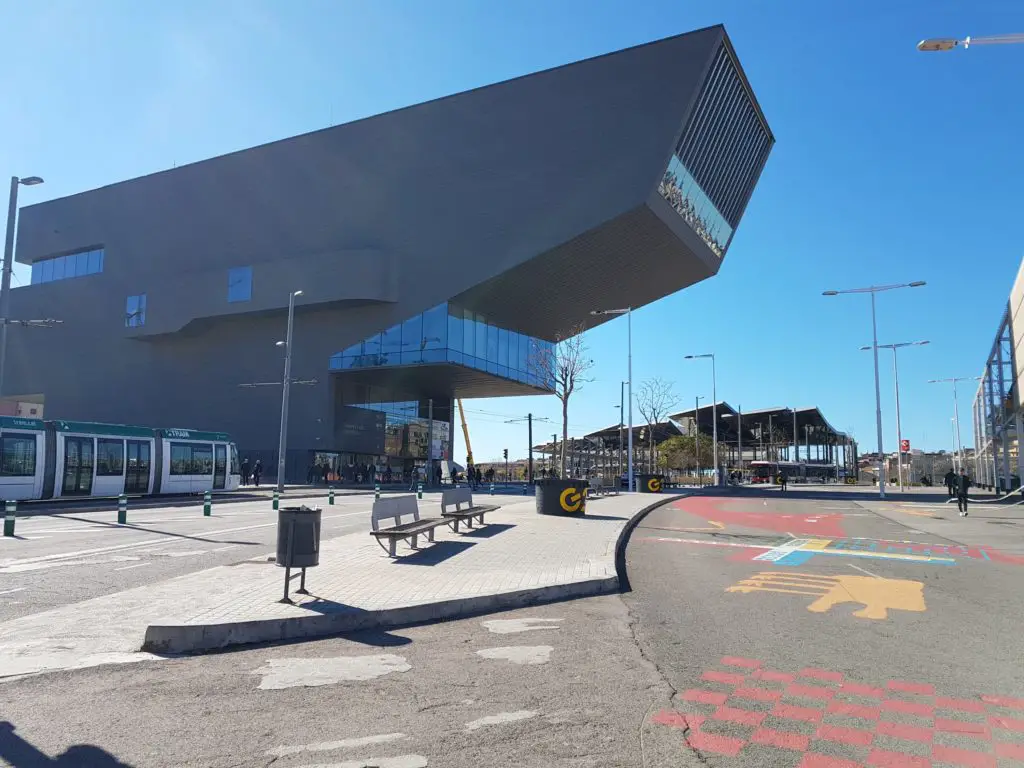 The last stretch of the bike ride was along the Passeig Marítim, which is a wide seaward promenade. We coasted quickly, passing the twin towers, xiringuitos (beach bars on the sand), and Barceloneta Beach. We zipped through, leaving dust in the faces of snail-like Sunday strollers. At this point, my butt was aching.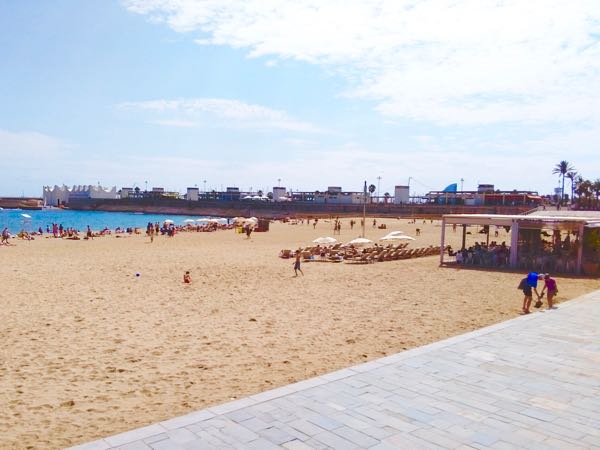 We arrived at the bike rental company, and our four glorious hours was up. I got off my bike, said goodbye to my bike gang and felt proud that I'd done my workout for 2018. I was surprised how many sights I saw (many not mentioned) in a condensed four hours. In the end, Steel Donkey kicked my ass.
Conclusion (DR;TL)
The Steel Donkey Bike Tours is an invigorating experience to see the different personalities of Barcelona. You'll cover Gothic Quarter, Born, Glories, Poblenou, Barceloneta and the beach area. The entire route is flat, so you won't have to do any vigorous uphill cycling. Because groups are small, they feel more personal, like you're having a friend show you their city. The most challenging part is getting through the crowds.
Tips
Bring sunglasses, money for a coffee/snack break, and a bottle of water. You'll get thirsty.
If you're keen on getting some stunning shots, be sure to take out your camera or phone as soon as you get off the bike for a stop. If you're trying to get that perfect shot, you may feel pressured to hop on the bike quickly.
A helmet is available if you want, just ask. I didn't ask for one and almost no one wears one, but it's there for you.
Bring a small backpack. Don't be a dumb-dumb like me and bring a heavy bag that slings across you diagonally. I brought my DSLR camera and wanted easy access from the front. However, it kept sliding and got caught several times while turning.
For bike stoplights: Green is "go", red is "stop", of course. A blinking bicycle light means "yield to pedestrians".
More Info
Steel Donkey Bike Tours run on Tuesday, Friday, and Saturday at 10am. Private bookings can also be made. Kids are also welcome. Spaces are limited to 8 people.
Price: 35 euros
Bikers meet at the eBike Rent Store on Cervantes, 5.
Book your Steel Donkeys Bike Tour here
Have you done a bike tour before in Barcelona? In another city? Would you do it again? Let me know!