*This site contains affiliate links, which means I receive a commission when you buy. See my full disclosure.
If you're visiting this beautiful Mediterranean country, you don't want to look like a tourist. For one thing, dressing like a tourist could make you a target for pickpockets. So how do people dress in Spain? It's easy to fit in and dress like a local in Spain if you follow these "dont's".  As a US citizen residing in Spain since 2008, I'm happy to share general tips on what not to wear in Spain.
How to dress in Spain so you don't look like a tourist
So in writing this blog post, I noticed how much bad advice is given about what men and women wear in Spain. The Internet shows Instagram photos of women wearing tons of accessories – from hat, sunglasses, and carrying a tiny handbag. Sure, there are very stylish women in Spain. But they don't dress to the nines every day. So if you're studying abroad in Spain, or if you're a future tourist, read on so you know what NOT to include in your Spain packing list. (If you want to know WHAT TO WEAR, read my guide on what to wear in Spain according to season!) Then read my basic packing list of essentials to bring to Spain!
Don't wear a flamenco dress.
Despite Spain being the hometown of flamenco dresses, locals do not walk around dressed like this, not even on the weekends. As a Barcelona resident, I find it ridiculous when tourists walk around with ruffled, fluttery skirts in Barcelona. I get it – you're in Spain, and you want to embody the passion that is Spain. But, as I said above, if you look like a tourist, and you may be a target of pickpockets or other weirdos.
Don't wear skimpy clothes.
Women tend to dress fairly conservatively in Spain. It's true that women, especially young women, dress in revealing clothing in the past few years. It's my observation that young women also like to wear tight workout clothes even if they're just buying eggs at the supermarket. I think it's like in many places in the Western world. But, for the most part, Spanish women do not wear outfits that expose a lot of skin.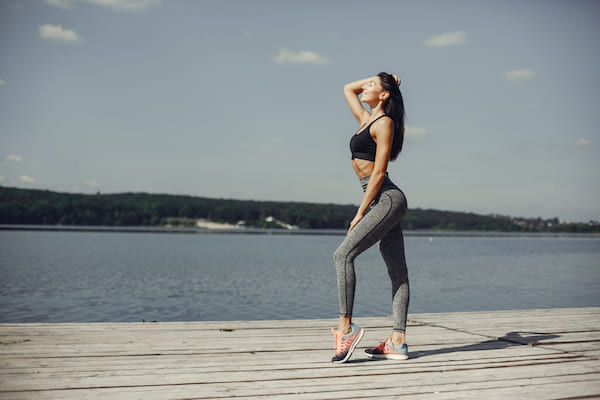 Don't wear flip flops.
While you'll see a few locals walking around in the supermarket wearing rubber flip-flops, Spaniards usually don't wear them unless they're at the beach. Yes, they may wear an attractive leather sandal, but they usually won't wear the ones that are flimsy and don't provide any real support.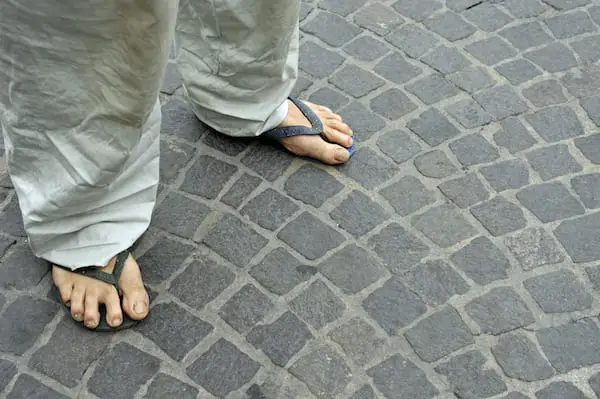 Don't wear a big, floppy hat.
A large straw hat can be cute, make a great accessory, and also shades you from the sun. They also complement your Spain outfit. But if you include a floppy summer hat in your Spain clothes, it is very obvious that you're a tourist. So what do people wear in Spain when it's sunny in the city? Maybe a straw hat with a more subtle brim. Or a baseball-style cap. But lots of times, they wear nothing.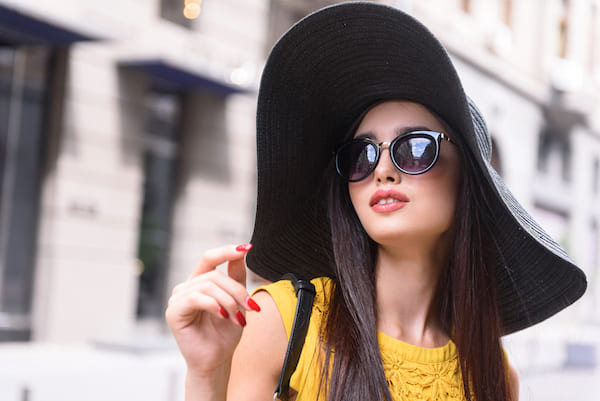 Don't wear excessive makeup.
Spanish women are very subtle when it comes to wearing makeup. If I compare Spanish women to women of other countries, I notice that Spaniards will just wear a little eyeliner and maybe some lipstick. That is it. I also notice that women from other countries tend to focus on defining and darkening their eyebrows. When I go back to my hometown in southern California, I also notice women have an eyelash obsession. Makeup trends seem can seem regional, and for the most part, Spanish women use cosmetics very minimally.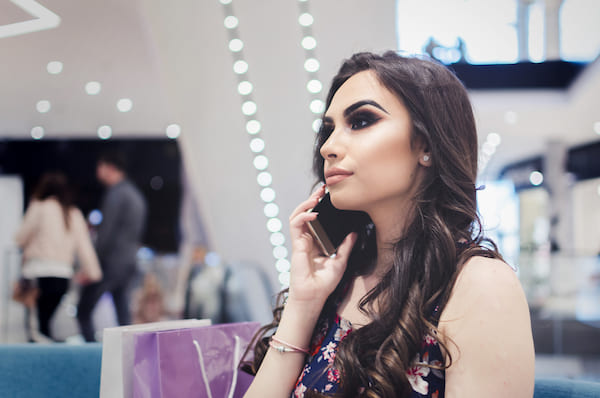 Don't carry a purse that can be ripped from your hands.
Do not carry a purse that you hold in your hands. Don't wear it on your shoulder either. If you are visiting any of the major cities like Barcelona, Madrid, or Seville, I advise you carry a crossbody purse. This is a purse that has a long strap and can be worn diagonally across your body. These larger cities have more pickpockets than most. Therefore, it's smart to carry a purse that can be worn across your body. If you come to Barcelona, you'll notice almost all women wear a crossbody purse.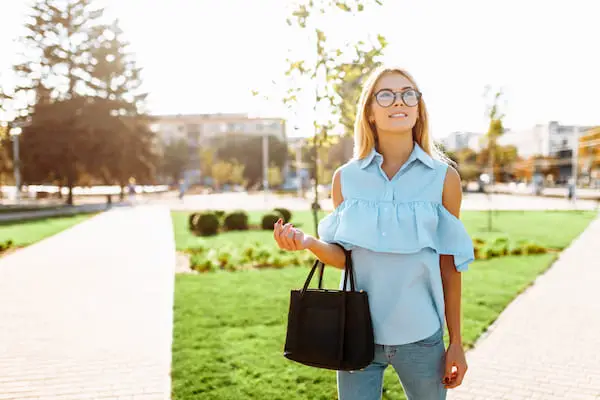 Don't wear clothes that are not in season.
In Spain, the climate is that of traditional seasons: winter is the coldest time, summer is the hottest time. Spring and fall temperatures are in between. Spaniards wear warm coats, scarves, and jackets in the winter. They wear shorts and sleeveless tops in the summer. Listen up: if it is sunny in the winter, Spanish locals do not wear shorts or espadrilles. It doesn't matter if it's 80°F / 27°C outside. Only tourists wear summery clothes in the winter!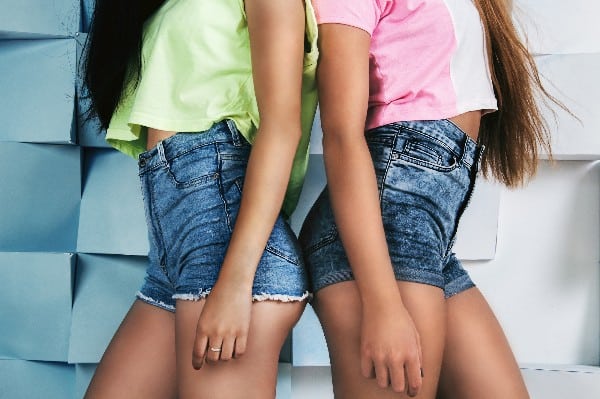 Other clothing items to avoid wearing in Spain
Outfits that that show excessive skin
Baggy, oversized basketball shorts
Baseball caps with huge sports logos
Glasses worn over a baseball cap
Now that you know what NOT to wear. Read my post on what you SHOULD wear in Spain. I've organized this blog post based on season and region! Also, if you are coming to Barcelona specifically, read about what to wear in Barcelona.
FAQs
Can you wear shorts in Spain?
Yes, it is acceptable. Shorts are worn in the summer months of June, July, and August. Locals also wear shorts in late spring and early fall if it's hot. Even if you get a random hot day in the winter, Spaniards will not wear shorts. They dress for the season we're in, and not the weather.
If other websites tell you Spaniards never wear shorts, they have never been to Spain.
Do people wear sneakers in Spain?
Yes, they do. The sneaker is becoming more and more common, not just among young people. While many Spaniards still dress traditionally, I also see many locals in their 70s sporting their sneaks.
Can you wear leggings in Spain?
Yes, you can wear leggings. As I mentioned, while many young women wear the trendy leggings that look like they're painted on the butt, it's not the norm.
How do you dress like a Spaniard?
Dress stylishly. For example, a well-fitted pair of pants and a V-neck sweater, with leather boots would like nice in the fall. Don't wear clothes that are too tight or too baggy. As I mentioned, read more in my blog post: how to dress in Spain.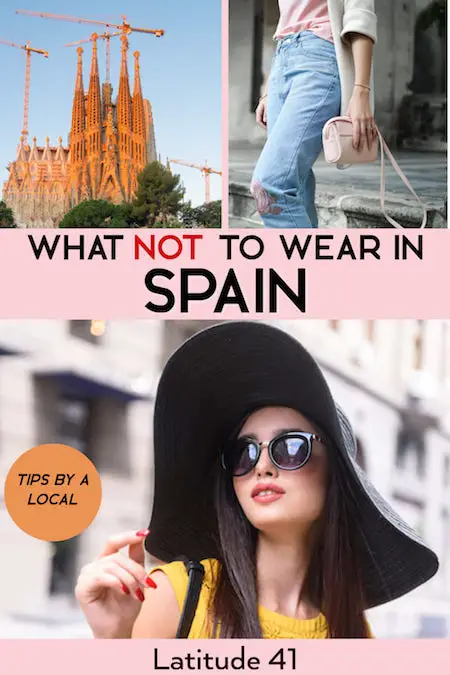 So those are my fashion tips on how not to dress in Spain. Don't like them?  It's your life and your Instagram account, so dress however you want. The world is your oyster! Have any questions about clothes for Spain? Let me know in the comments. I read all of them!