*This site contains affiliate links, which means I receive a commission when you buy. See my full disclosure.
Strappy tank tops, flowy bohemian skirts, a straw hat…these are all the pieces you imagine wearing on your summer vacation, right? While sporting all the pretty summer outfits makes for a beautiful Instagram feed, some pieces are more practical to wear than others. So what about in Barcelona? Well, let's see. If it's your first time visiting the city, you'll probably be walking around the cobblestoned Gothic Quarter, hitting the beach, or maybe taking a day trip outside Barcelona. Basically, you'll be moving around a lot. As a 10-year resident, this guide will give it you straight. Hint: In Barcelona, a straw hat is best worn at the beach. Continue reading to find out what to wear in Barcelona in the summer – to look stylish, stay comfortable, and not look like a tourist. 
What to wear in Barcelona in the summer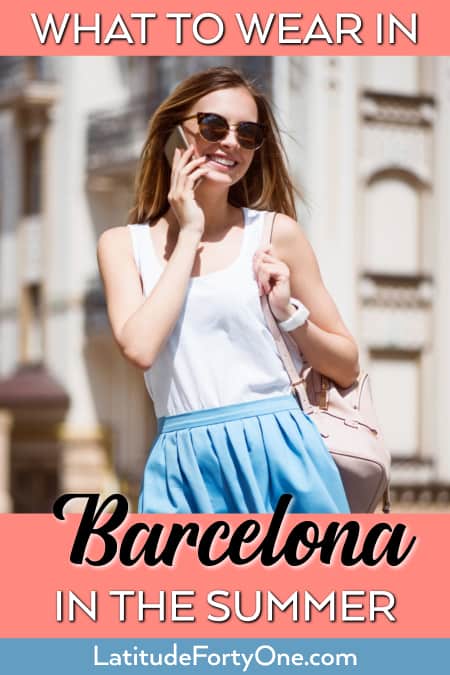 <<Are you coming to Barcelona, and you're a dude? Or your coming with a dude? Then read my ultimate post for guys too: How to Dress in Barcelona According to Season >>
Barcelona fashion in general
In general, Catalan locals dress pretty conservatively. They stick to mostly dark colors during the winter (e.g. black parkas), then wear lighter fabrics and colors in the summer – without going overboard by showing too much skin. Even in the summertime, you probably won't see a lot of exposed midriffs and micro-shorts unless, let's say, you're under 19 years old.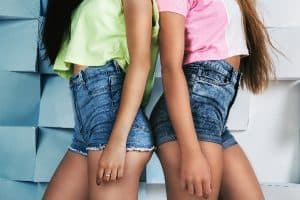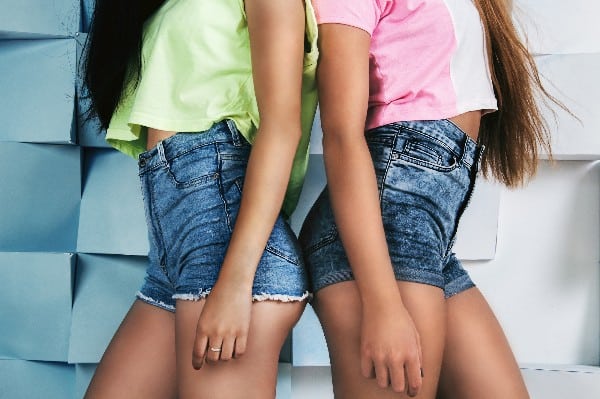 How can I describe the fashion street style? The Barcelona fashion panorama is very casual. That is jeans, a blouse or t-shirt, and sneakers/trainers with everything! And honestly, Barcelona street style is a mix of everything else…a little bit of bohemian, a little bit of chic and styled.
It's important to note that Barcelona is also broken down into distinct neighborhoods, which have their own fashion profile. The neighborhoods of the Zona Alta (Sarria, Sant Gervasi, Les Corts), are more "posh", so their clothing is more tailored and chic. The Raval neighborhood has a more casual vibe,  so you'll see more tracksuits and caps.
---
Want a PRINTABLE BARCELONA PACKING LIST?
Sign up for my emails and get a free PDF of everything you need. CLICK BELOW to get it! [thrive_link color='orange' link='https://jrancheta.activehosted.com/f/7′ target='_blank' size='small' align='aligncenter']I WANT IT![/thrive_link]
---
The summer weather in Barcelona
The summer season in Barcelona is June 22 – September 21. The beginning of June is warm and gets warmer gradually. According to Wikipedia, the month of June is around 26°C (79 °F) during the day and 20°C (68°F) at night. You'll most likely need a light sweater at nightfall. By the end of June, you won't need any sweaters at all.
July and August are the hottest months. It's 28–29 °C (82–84 °F) during the day and 22–23 °C (72–73 °F) at night. The feeling is hot, humid, and sticky. In contrast, the south of Spain (like Seville) is dry. If you're hanging out in the city center like at Born, the Gothic Quarter, or Raval, it's really hot! But it's cooler if you're hanging close to La Barceloneta or Poblenou neighborhoods because they're closer to the Mediterranean Sea. Here are my suggestions for summer outfits:
Summer basics checklist
Blouses that keep you cool
Don't think I'm exaggerating when I say it's going to be humid. If you bring a tight blouse and it sticks to your body, it will be very uncomfortable. Try to stick to cotton and make sure your top has breathing room. This ruffle blouse is nice and loose, looks good on almost all figures because they give you a natural waist.
Check prices for this breezy blouse
Sleeveless tops
Seriously, in the summer, I LIVE in my sleeveless tops. This best-selling tank top is cute as it is functional. It lets your sweaty skin breathe! It gets almost 1,000 positive reviews. Owners of this top have used it even for work, so its style is versatile too!
Check prices for this sleeveless top
Two to three bottoms: Shorts, skirts, or breezy pants
Shorts
It's 2022, and, YES, locals in Barcelona wear shorts. I have no idea why the Internet says no! These bowknot shorts come in different colors and are cozy too.
Comfortable pants
As I mentioned, it's hot and sticky in Barcelona. I suggest you stay away from jeans because they're too thick. If you must wear pants, choose a light material so you don't get all sweaty. Also, they're lighter and more compact to pack. How about these 100% linen pants with pockets? One reviewer says they were the perfect pair for her European trip. She could also dress them up or down!
Check prices for these comfortable travel pants
A summer dress (with pockets!)
This sleeveless, loose-fitting dress is also versatile and can be dressed up or down. Pair it with sandals in the summer or with boots in the spring or fall. Light and airy, you can slip some spare change in your pocket when you don't have time to put it away right away.
Check prices for this versatile summer dress
A beach hat
If you want to shield yourself from the beachy sun rays, you're going to need a proper beach hat! This beach hat is foldable and comes in different styles. You can also wear the brim up or down. It also has an SPF factor of 50, so you definitely won't get burned!
Check prices for this cute beach hat
DRESS LIKE A LOCAL TIP: But if you want to blend in, don't wear it in the city if you don't want to look like a tou
rist. Say what? (Case in point: two pickpockets in Barcelona were caught by cops in the metro, and they were wearing straw hats! Pickpockets here dress like tourists, so that just proves my point, in a way.) Now, will you see a local wear it? Yes, maybe if she's on her way to the beach! Don't take these tips overly seriously, either!
Comfortable shoes or sandals
It's super important to wear comfortable traveling shoes. While all those pretty shoes look great, you don't want to get any blisters or aches after a long day of walking. Case in point, I own the cutest colorful sandals from India that I bought from San Francisco. I can only wear them 100 meters walking to the supermarket. After that, they hurt! So please, get something cute and COZY! Think: arch support! Your feet will thank you.
Check prices for these adjustable travel sandals
A sarong that doubles as a beach blanket and airplane blanket
Call it what you want – but a sarong or pareo is always handy for traveling. It has so many uses. You can use it as a light blanket on a chilly airplane. You can use it as a swimsuit cover-up when you're going from the pool to the hotel room. You can also use it as a beach blanket or a picnic blanket at the park! Read the reviews of how different women have used them. This one is soft, cozy, and non-see-through.
A crossbody purse
While straw totes are darling in the summer, they are impractical in Barcelona. Bring a stylish purse, by all means. BUT, please make it be a crossbody so that bag snatchers can get away with your stuff. Nothing can ruin a trip like getting your stuff stolen. And sadly Barcelona is a city of pickpockets. I highly suggest this anti-theft travel purse by Travelon! It's stylish in black, and it also has gold elements that make it look expensive.
Check out prices for this Travelon anti-theft travel purse
<<Also, please read my practical tips on how to avoid pickpockets in Barcelona! I'll tell you where the hotspots and common scams!>>
A fast-drying microfiber towel
 If you'll be hitting the beach, you'll need a towel that dries fast. What about this extra-large beach towel? It's roomy enough for you all your limbs on top, and it dries in a snap.
Check out prices for these fast-drying microfiber towels
A money belt
Excuse me while I drill it into your smart brain a little bit more: Be wary of your belongings in Barcelona! I hate to tell you this, but I prefer that you're prepared than to become a victim of pickpocketing. Hide your stuff with this money belt. It's slim and hides right under your shirt.
Check prices for this versatile money belt
<<Want to find sneaky ways to wear and hide your money? Check out my post on pickpocket-proof clothing with hidden pockets!>>
A Type C Plug Adaptor
If you need to charge your external batteries or phones, and you're from the US, this is the kind of adapter that you need. It's an EU Type C Country plug adapter.
Check prices for this plug adaptor
An external battery for your phone
It's the worst when you're out all day, and you have to save the last 10% of your battery. And it's only 2pm! So if you're going to be out all day, you'll need some portable juice for your smartphone.
Check prices for this light external phone battery
Barcelona Packing List for Summer
– Short-sleeve tops
– Light, sleeveless tops
– Light trousers / pants
– Shorts
– Skirt
– Dress
– Swimsuit
– Comfortable Shoes/sandals
– Swimsuit
– Bras
– Underwear
– Socks
– Purse
– Sunscreen
– Sunglasses
– Hat
Practical tips to prepare for summer in Barcelona
1) Check the weather forecast.
It's an obvious tip, but most people don't even bother checking. As I mentioned, summertime weather is pretty predictable in Barcelona. But we do have random days of rain in July 2017. You can't be too sure!
2) Make safety your #1 priority.
I don't want you to be paranoid. But summer is high time that pickpockets are on the loose. Please, please be very careful with your stuff. It's not that you can't go anywhere, or shouldn't use the metro. But if you are an obvious target, and you happen to be in the wrong place at the wrong time, your stuff could get snatched in a millisecond.
3) Watch the mosquitoes. 
Mosquitos come out in the summer. Some Barcelona residents don't have any problems with mosquitoes. But if you're like me, they'll have a feast on your blood! The easiest, quickest fix I found for sleeping at night is to buy an anti-mosquito plug-in. Obviously, they'll have to have the 2-prong type. You can find them in any Barcelona supermarket. Italways does the trick for me and my kids. And that's if they sleep with the window open!
Have any doubts about what to bring to Barcelona? Let me know in the comments! I will read them!