*This site contains affiliate links, which means I receive a commission when you buy. See my full disclosure.
Don't know what to pack for Spain? If you're planning a multi-city trip, assembling your Spain outfits can be tricky. You may have to dress for different types of weather! After all, Spain is the 10th most climatically diverse in the world. If you're from the US or another Western country, you'll be glad to know the Spanish "dress code" isn't radically different from other Western countries. And if you're a first-time visitor, it's likely you'll be walking through cobblestone streets, sitting in sunny plazas, or discovering solemn churches. So you'll have to dress practically too! This guide is for women and men (mostly for women though). Keep reading to know what to wear in Spain – so you can fit in with locals and NOT stand out like a tourist!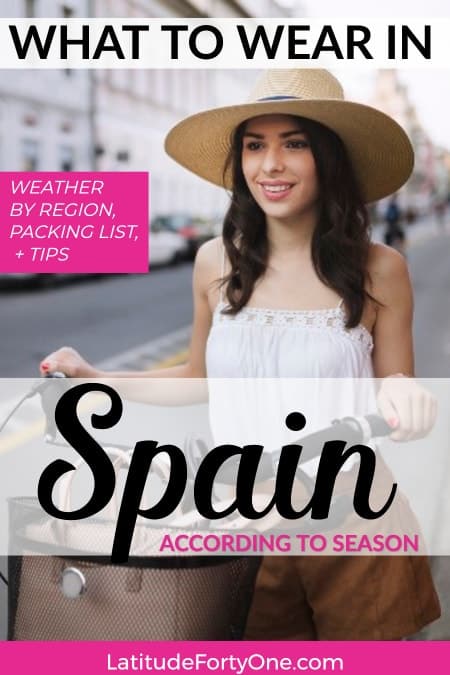 What to wear in Spain
I hate to make sweeping generalizations about Spain fashion because it's such a diverse country. From my experience of living in Salamanca, Seville, and Barcelona, styles can vary. For instance, Catalan people can be very creative with their hairstyles. (So. Many. Hair salons.) Have you ever seen grandmas with sky-blue hair? I've seen it so many times here in Barcelona! This isn't so customary, for example, in Seville.
I'm also lucky to have traveled around Spain to Santander, Cáceres, Ávila, Toledo, and other cities. And it's no secret that weather and local culture influence their everyday style. So how do people dress in Spain in general? Welp, it's 2023, and we've all witnessed how fast fashion and social media is trending towards a monoculture: same street style, same TV shows, same ideals, driven by social media. Take, for example, today's fashionable athletic shoes. People aren't reserving them for the gym anymore. The Spanish attire – male and female – shows that "athleisure" and "activewear" have been popular for years. And it's hit the older generations! I was just observing this morning here in Barcelona: 70-year-olds walking around with their slacks and double-breasted coats…and their sneaks! Ten years ago, it wasn't acceptable. It's just changing. So please don't take this guide as gospel – but as a general guideline to help you plan your things to pack for Spain!
Different climates in Spain
Let's check out the different climatic zones in Spain. In general, Northern Spain is rainier than the rest of Spain. The interior / continental zone is the coldest in the winter. Southern Spain is the hottest. Peek at this general map of the different climates of Spain.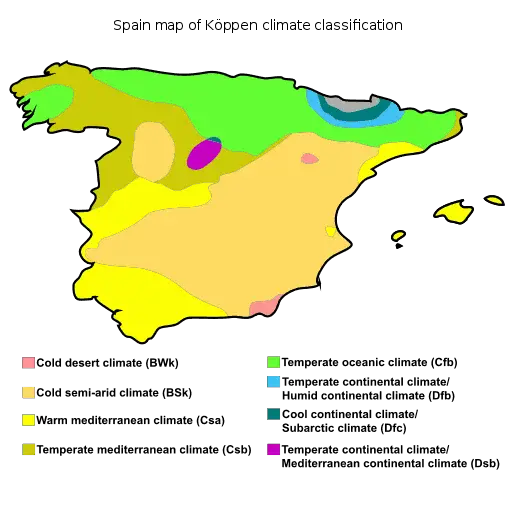 Here's a handy chart that I've created so you have a better idea of what the weather's like:
| | | |
| --- | --- | --- |
| SPANISH REGION | SUMMER | WINTER |
| North (Asturias, Cantabria, Pais Vasco: Santander, San Sebastián, Bilbao) | Very warm and sometimes rainy | Mildly cold and rainy |
| Northwest (Galicia: La Coruña) | Very warm and rainy | Mildly cold and very rainy |
| South (Andalusia: Seville, Córdoba, Granada) | Very hot and semi-arid | Mildly cold |
| Continental / Central (Castilla-La Mancha, Aragon, Castilla Leon, Madrid, Extremadura, Valencia) | Hot and semi-arid | Cold |
| Northeast (Costa Brava / Barcelona) | Hot and humid | Mildly cold |
| Mountains (Sierra Nevada, Pyrenees, etc.) | Warm summers | Very cold |
| Southwest (Murcia, Almeria) | Hot and arid | Cold |
<<Coming to Barcelona? Check out my post on How to Dress in Barcelona According to Season!>>
Winter
The weather in December, January, and February, March
The official winter season is from December 22 to March 20. December is cold, but January and February are the coldest months.
Northern / Northwest Spain: Mildly cold and rainy, this region gets the most rainfall, even more so in Galicia. The average temperature in Bilbao is 13ºC-15ºC / 55ºF-59ºF. It can snow in the North, but it's rare. Don't expect a winter wonderland like Toronto or Moscow.  It rains the most in Galicia!
Continental / Central Spain: The middle part of Spain is the coldest area and covers the largest climate area. In Madrid, it can be as cold as 1ºC/34ºF in February to 16ºC/61ºF in March. It's also pretty dry, so it doesn't get much rainfall. It can snow also, but it's rare.
Mediterranean / Southern Spain / Catalonia: It's cold, but milder than in Madrid. Sunshine can be tricky! It might be beautiful outside, but it's freezing cold in the shade. In Seville, lows are around 6ºC / 43ºF and temps reach around 17ºC / 63ºF in March. Barcelona is very similar: it has sunny days but it's still cold.
What to wear in Spain in winter
If you look at Spanish people walking down a random street, you'll just see a general "dark colors" theme. So with colors, think neutral shades: gray, brown, black, or cream. These are shades that can be paired with anything. The winter snow bunny look is not in the Spain dress code (white fur coat, wintery hat, with snowflake designs).
Women
– Medium-weight coats and jackets like peacoats and parkas. Even if the sun is shining, and maybe it's warmed up a bit in the afternoon, people will still have on their winter jackets. Even if the sun is out, locals like to wear their warm jackets!  A wool parka or peacoat would work. For anywhere in Spain, aim for wearing three layers: A base layer, a cotton top or sweater, and a jacket. (Psst… Want to know what to wear in Seville, Spain? The Sevillana women wear their (faux) fur beautifully.)
– Dress or skirt WITH winter leggings
– A warm scarf in wool, cashmere, or even a soft acrylic that you can wrap in different ways.
– Long-sleeved tops, forget short sleeves!
– A thermal top, or warm camisole as a base layer
– A thick cardigan sweater or hoodie for top layering
– Optional! On very rare days, mittens and gloves are necessary, but just in the morning or at night, or unless you get cold easily.
– Also optional: a hat. I wore them once last winter, and everyone commented, "You're wearing a hat! (Gah. In other words, it was a big deal.) If you're NOT visiting the North, I would forego a hat to avoid extra weight.
Men
Jeans and medium-weight pants like corduroys will keep you warm. Again, a base layer of pants isn't necessary. Good leather shoes or cool sneaks. Wear a medium-weight to heavy jacket like a leather jacket, wool coat, or parka. Men also wear their clothes fairly fitted, but not tight. Baggy, oversized clothes are for teenagers!
Winter Packing List Suggestions
Here are a few practical and fashionable items to put in your suitcase:
A thermal tank top that doesn't stick out of your blouse
A good idea is to have a base layer under your blouses and tops. But don't you hate it when the neckline peeks out? I have a v-neck one and I'm limited on tops! This one hides discreetly!
– Organic Merino wool and silk to keep you warm
– Scoop neckline and sleeveless so it's unnoticeable
– Great for everyday wear underneath clothes
– Can be worn alone, can add accessories for indoor bars and clubs in the winter
Check out prices for this thermal tank top
– 1,000+ 4-star Amazon reviews from all-sized women
– High-waisted for a smooth butt and tummy profile
– Warm and fleece-lined without looking bulky or thick
– Can wear it under tunics, skirts, or dresses. Or alone because it's not transparent!
Check out the latest prices for these leggings
For a classic puffer jacket, Amazon Essentials has its own version (You know it has a good return policy!)
This jacket is a classic, and it will last you for yea
rs.
– Water-resistant, lightweight, and packable for your suitcase
– Versatile for its slimming contour: can be dressed up with a cute scarf, or down for a more sporty look
– Comes in 14 colors!
See the latest prices for this lightweight winter jacket
Okay, people, I'm seeing this look all over Pinterest, and I love how versatile this scarf is!
–
This blanket scarf can be worn as a scarf, shawl, or poncho
– 30 different designs
– Soft, warm, and cozy
Check out prices for this beautiful blanket scarf 
If you'll be traveling in the big cities, especially Barcelona or Madrid, get an anti-theft travel purse! I own this one, and I use it every day. I've been using it for about 2 years EVERY DAY.
– Lockable zippers of the main compartment and front pocket. TRUST ME – it will give you peace of mind!
– Cut-proof straps and body material to prevent slash-and-run theft
– Enough pockets to keep you organized, not too many to get you confused
– Super roomy! I fit my DSL camera in here.
Spring
The weather in March, April, May, and June
The spring season is from March 22 to June 20. In spring, the weather warms up, but the temperatures are more erratic and less predictable. Sunshine hours extend a little longer, and sunny days are here. You can expect showers in April or May all around. The Spanish have a saying, "Hasta el cuarenta de mayo, no te quites el sayo." In other words, don't take off your coat until you're absolutely sure that it won't rain. Spanish people dress for the seasonal mood and NOT the weather.
Atlantic / Northern Spain: It's likely that it will rain here, especially in Galicia. The weather averages around the low 50s (F), (around 11-12ºC) then it gets warmer in June until the low 70s (around 22ºC). Remember, it's colder in the north, and cold and wet in the Northwest!
Continental / Central Spain: You'll have a wider range of temperatures from beginning to end of spring. Expect to about the 40s (F) (6ºC) in late March, then warming up to 80s (F) (28ºC) in May and June. Madrid, especially, is warmer than Barcelona because it's inland. April and May get some rainfall, but nothing torrential. Expect nights to be cooler though. June starts to warm up. In Ávila, the average low in June is 51ºF / 11ºC and a high of 75ºF / 24ºC.
Mediterranean / Southern Spain / Catalonia: The southern region of Andalusia is the warmest of all Spain. In March, it's about mid-40s (F) (7ºC) then climbs to about the 60s (F) (17ºC) in April and about mid-70s (24ºC) in June! Barcelona is similar, but expect more humidity. It does cool down in the evenings in both regions. In Barcelona, I wear a heavy sweater during the day (although many are still wearing their puffy parkas!). At night, wearing a jacket or coat will keep you warm.
What to wear in Spain in Spring
How to dress in Spain in the spring? People are still wearing dark colors in March  – although the brighter colors creep in their spring wardrobes by April. If you're out all day until evening, bring another layer in your purse or backpack. Tourists stick out if they're wearing strappy dresses with sandals in April. I see it ALL the time. Save your head-to-toe summer ensemble for summer. Locals usually don't show a lot of flesh even if it's sunny outside. Chances are – that sunshine lasts for random spurts throughout the day – so locals lean towards dressing warmly.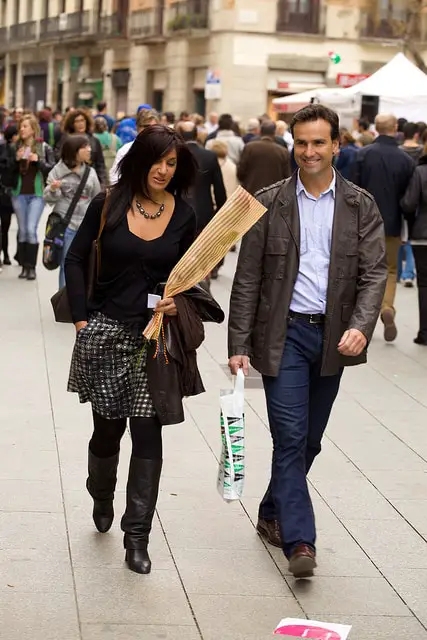 Women
– Long-sleeved tops, mostly for March, April, and May
– Short-sleeved tops, for April, May, and June
– Tank tops, at the end of May and June
– Pants or jeans. I don't wear jeans in the summer in Barcelona. They're too thick for me, and I feel sticky!
– Shorts in May or June. Women wear all lengths. But be aware of dress codes when visiting churches or other religious sites.
– If you wear skirts, pair them with leggings underneath. I will not forget the times I started living in Barcelona wearing my knee-length dresses in March, only to "feel naked" after a few hours of walking around the city. The breeze!
– A cardigan or hoodie on when you hit the shade. Dress in layers! You may be able to wear only two layers comfortably without feeling cold. Think: onion! Peel off the layers as you sit in the Plaza Mayor of your visiting town.
– Comfy flats or short boots, or sneakers. You may be able to wear sandals starting in late May, but make sure they're stylish and classy. Rubber flip-flops in April or May look weird unless you're near the beach.
– Scarves, scarves, scarves are the key to protecting you from the breeze and accessorizing your outfit. Go for a lighter material like cotton, jersey, or linen.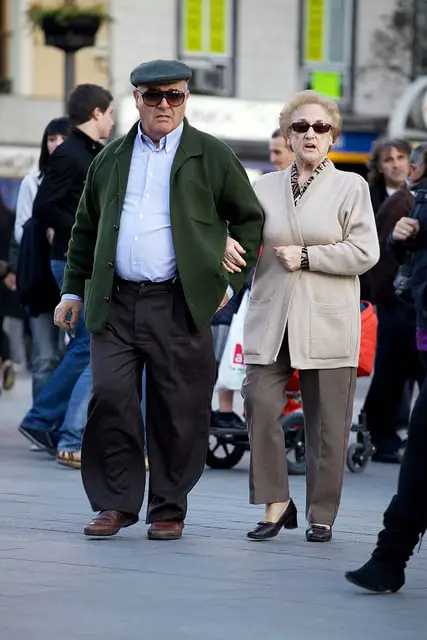 Men
Long-sleeved shirts, sweaters, cardigans, and hoodies are all a go! Men wear scarves mostly if it's necessary i.e. it's cold!, so you'll see fewer male scarf-wearers in the spring. It's more acceptable for men to wear more fitted tops and bottoms, and not so baggy like American men wear their clothes. You can also start wearing shorts in May (if it's warm) or June.
Also, guys, do you want to tote around your wallet and keys more comfortably? Here, you can wear a man purse. ("It's a satchel!" – Seinfeld) No one will bat an eye.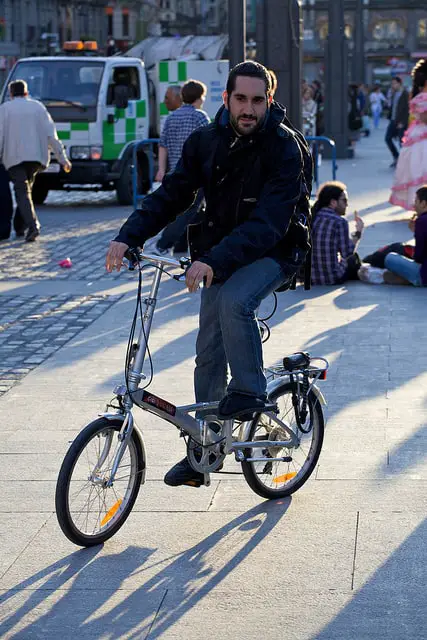 Guys, check out this leather crossbody satchel! It's still masculine and would fit everything you need to travel.

Check prices for this manly man satchel
Spring Packing List Suggestions
– Fitted and tapered at the waist for a feminine shape
– Great for layering or wearing alone
– Comes in over a dozen colors!
See the latest prices for this spring cardigan
A versatile dress with pockets
A dress that looks good on any shape (check out the girl's video in the description!)
– Soft, flowy, and stretchy so you can move around easily
– Pockets! Pockets are power. Slip in spare change when you're in a rush
– Can be worn alone or with leggings. You can dress it up or down!
Check out prices for this dress
Infinity scarf with a SECRET pocket
– It has a hidden zipper pocket! Perfect for hiding your money from pickpockets
– Great if you go out at night and don't want to bring a purse
– Easy to carry with you in case you run into a cool breeze
Check out prices for this scarf
Summer 
The weather in June, July, August, and September
The official summer season starts on June 21 and ends on September 23. June is warm but not OMG-take-me-to-the-beach-I'm-dying weather. July is full-force summer everywhere. The hottest month of the year is undeniably August. This is when most Spaniards take their vacations, and some take the whole month off! It's warm weather everywhere!
Atlantic / Northern Spain: You can expect June to reach the high 70s (F) (26ºC) and August to be around high 80s (32ºC). Again, it's the coolest part of Spain, so it won't get to be unbearably hot.
Continental / Central Spain: Madrid is very hot and dry in the summer. It starts in the low 80s (F) (28ºC) to a high of 90s (F) (35ºC) in July and August. It doesn't cool down too much at night!
Mediterranean / Southern Spain / Andalusia: It's very hot in the south. (In 2004, I could literally CUT the heat with a knife.)  Remember that Seville, Granada, and Córdoba are in the south, but inland, which makes the heat is semi-arid. The temperature starts in the 80s (F) (30ºC) in late June, and in August reaches 90s (F) (34ºC) or more! Locals stay indoors like vampires and close their shades until 5pm during siesta time, then they're back outside again having their beers.
Mediterranean / Barcelona / Costa Brava: I'm separating this out because the summer heat in Barcelona is different from the South. Barcelona is less hot than the south but more humid. It reaches the high 80s (F) (32ºC), but it feels like MORE because of the humidity. At least in Barcelona, you have the beach nearby, where you can cool down!
What to wear in Spain in summer
By the end of June, sleeveless shirts, shorts, and sandals are typical clothing in Spain. Leather sandals are usually the preference vs. beachy flip-flops. For local Spain summer fashion, many people have espadrilles or menorquinas, which are traditional in many parts of Spain. Pick some up as a souvenir while you're here!
Let's talk flip-flops real quick. They're more acceptable at the beach. They don't look so bad on a bunch of young people in a crowd (like below). No one will stare at you, but the rubber beach-type sandal looks too casual in a bar. If you must wear a flip-flop thong sandal, why not opt for something dressier? 
In early to mid-June, be sure to bring a light cardigan or scarf as it cools down a little – you'll still need that extra layer.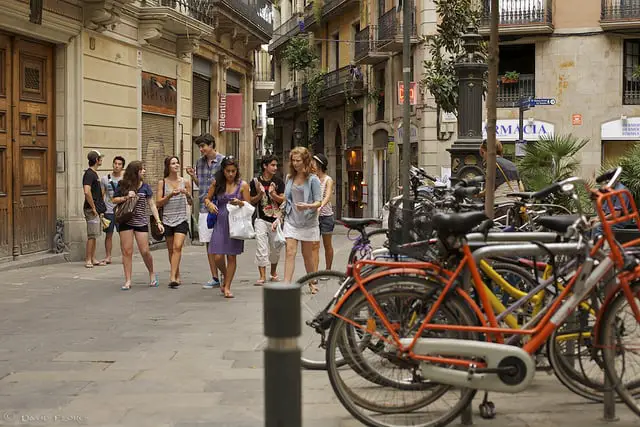 Women
Locals are pretty conservative when showing flesh. You'll see more tight, skin-revealing outfits like mini cotton dresses and workout-style bras on the 16-25 age group. What not to wear in Spain? Avoid wearing your swimsuits in public unless you're at the beach, on the sand. Even then, many locals cover up when they're inside a beach shop.
– Short-sleeved tops. For traveling, stick to non-sticky synthetics as they can be dressed up or down. My favorite blouse is a 100% polyester top that can pass for silk! They also don't wrinkle as easily as cotton and keep you cool.
– Sleeveless tops
– Shorts. Wearing shorts in Spain is not a sin – it just has to be appropriate for the weather!
– Dresses or skirts
– Light pants or jeans. I don't wear jeans in the summer because they're too sticky paired with the Barcelona humidity!
– Light sweater (in Northern Spain). I don't wear a sweater at all in Barcelona, even at night.
– Athletic shoes, flats, or sandals
– Swimsuit if you're hitting the beach or pool
Men
Summertime is great for going casual. T-shirts, shorts, polo shirts are all acceptable. As I mentioned with the ladies, save your rubbery flip-flops for the beach. Guys, it's also acceptable for men to wear pink. Men can wear short-sleeved tops, polo shirts, or t-shirts. I see a lot of men wearing tank tops too. They also wear long shorts and sneakers or leather sandals. Men don't really wear baseball caps or visors unless they're doing sports or are at the beach. This is how I can spot an American, honestly! Again, men's clothing is more fitted in Spain.
Also, swimwear: local men don't really wear those long surf shorts. They wear mid-thigh swim trunks. Speedos are not to be made fun of either here. Spanish men embrace their manhood!
 Summer Packing List Suggestions

– Customers have ordered multiple prints of these shorts
– Packs neatly
– Looks fantastic on any body size (see the customer photos!)
– Comes in 12 colors and 40 prints
– Wide waist and pleats for a flattering fit
Fall / Autumn
More Spain fashion tips
What to wear when going out / partying at night. A general rule of thumb: If you're hitting a dance club, you can wear your heels and mini-skirts. Guys, no t-shirts. For regular bars, shoot for dressy-casual.
What to wear in a church to Spain. It's acceptable to wear "normal" shorts and a sleeveless top to a church in Spain. I haven't been to ALL the churches in Spain, but I also have never been encouraged to cover up when entering. If you show up in a super-tight crop top, I don't know what will happen, but I don't suggest it.
Storing your wallet and other goods. In large cities, especially Madrid and Barcelona, be wary of pickpockets. I highly suggest you wear a cross-body purse. Get an anti-theft purse! I have two, and I use mine every day, not just for traveling. Basically, you can "lock" your zipper so pickpockets can't easily get into your bag. It will give you extra peace of mind! Check out my buyer's guide on the best anti-theft purses on Amazon. Also, read my post on how to not get robbed in Barcelona for more tips!
Blend in with the locals. You can tell if someone is a tourist based on their skin tone, hair, what they're doing while out, or their attitude. On top of that, your attire can make a difference. In general, the more athletic look that you have, the more likely you'll probably look like a tourist. It can go the other way too. I saw a woman was wearing "military chic" (fashionable double-breasted military jacket with dressy heels) around the Sagrada Familia the other day. Obviously, she stood out. Go for middle-of-the-road to not stand out.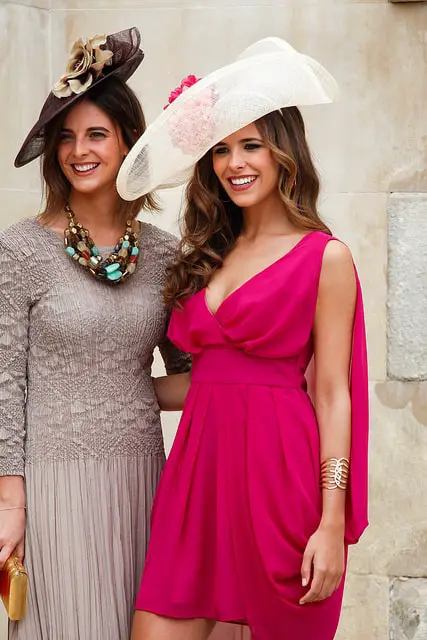 If you're coming for a formal event like a wedding, dress SHARP like the Spanish. Have you ever seen guests at a Spanish wedding? OMG, the guests are sooo beautiful to look at. The general rule is to wear a short dress for a day wedding, a long dress for an evening wedding.
Electronics in Spain. This can be confusing, especially for Americans. Here, the current is 220-240 volts and the adapter is a rounded two-prong outlet. Most North American appliances are 110 volts and will need an electricity converter. Check out this adapter which works within 150 countries, and it has 2 USB ports also. It works with phones, iPads, and tablets, etc.
Read my post on how to prepare for a trip to Spain!
Clothing stores in Spain
If you want to know what clothing shops they have for local taste, the mega conglomerates are Zara and H&M, where you'll find international fast fashion. Other fashion brands in Spain are (both international and Spanish) are Massimo Dutti, Bershka, Desigual, Intropia, Stradivarius, Adolfo Dominguez, Pull & Bear, and Mango.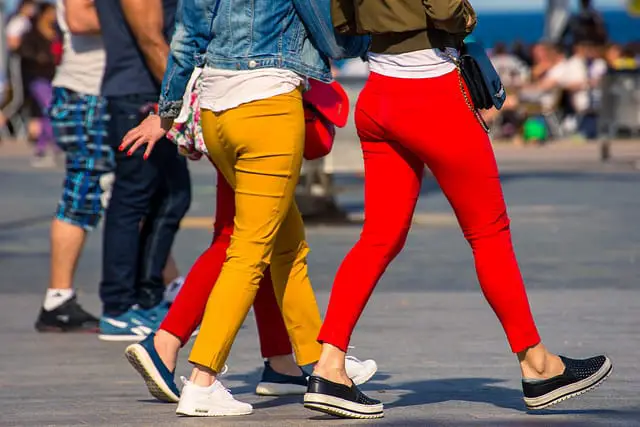 Mainstream fashion icons from Spain
So, if you want to know who's who in mainstream fashion, Princess Letizia Ortiz is the most heavily mentioned "fashion icon". Granted, you'll never see her in jeans, instead mostly dresses and skirts. You can also spy on Penelope Cruz (of course), Paula Echevarria, Cristina Pedroche, Sara Carbonero, Adriana Ugarte, Blanca Suarez, Inma Cuesta, or Amaia Salamanca, for starters. For men, I can only think of Cristiano Ronaldo lol! Only he's Portuguese and lives in Spain. Who would you suggest for guys?
There you have it! Hope this gives you a firm grasp of what to wear in Spain! Read this if you want to know what not to wear in Spain. Hit me up with questions! Or tell me I'm sooo wrong! Hasta luego!