*This site contains affiliate links, which means I receive a commission when you buy. See my full disclosure.
"Umm. I'd to like paint some of my art for your walls. I like chillin' here with my artist buddies, it's fun, " a 17-year-old Pablo Picasso says to Pere Romeu, the owner of Els Quatre Gats.
"Sure. Maybe this place will be famous one day. And you'll be famous too. Hahahaha!"
That's what I imagine Picasso said when he got his first paid gig, desperate to have someone, other than his mom, recognize his paintings. Picasso went on to do pretty well for himself. So much that his name is synonymous to spectacular art, as in, "You don't have to paint a Picasso!"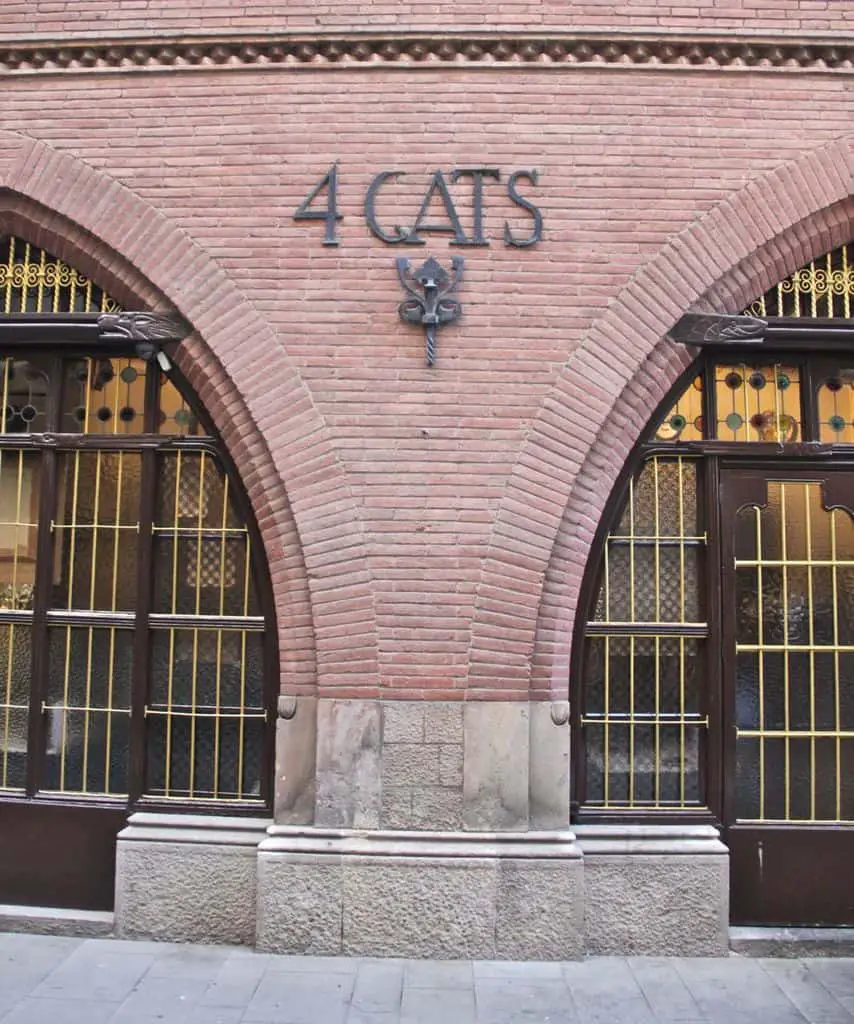 Els Quatre Gats, though, hasn't always been so successful.
It opened in 1897 as a café, cabaret, hostel, pub, and restaurant, inspired by the famous Parisian "El Chat Noir". In fact, the owner had been an entertainment presenter and waiter there, and he decided Barcelona needed its own sin-making center. Skirt-lifting ladies, absinthe, and booze? Oh yeah. Debauchery City attracted famous artists such as Ramon Casas, Antoni Gaudí, Enric Granados, and the list goes on.
But Romeu was a crappy businessman. He barely charged his friends, and the place closed down in 1903. It stayed closed for decades, gathering dust. And the owner was blown off as "that poor Pere Romeu who tanked his business." Womp womp…
However, the Quatre Gats' legacy did not die there, my friends. Three savvy businesspeople in the 70s proposed to resurrect this beloved artists' haven from the dead, reclaiming it as a Barcelona cultural landmark. The café opened in 1978 and the building was restored in 1991, now operating as a booming restaurant it once was.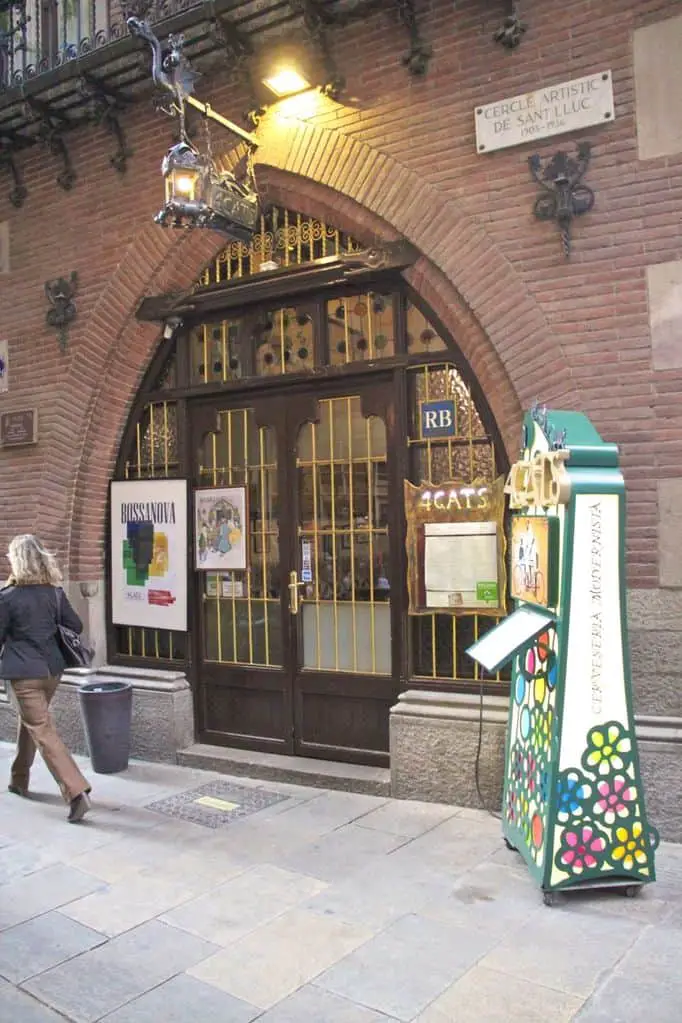 Call it irony. The name "Quatre Gats" translates to "four cats" and stems from both a Catalan and Spanish expression. So if someone asks you, "Dude! How was the party?" You'd answer, "Ehhh…there were only four cats there," meaning that few people or no one important was there.
Was it a self-manifested omen for this restaurant? Yeah, for a while. But now? Check out any big-name Barcelona guidebook, and it makes the must-eat, must-fawn-over-Moderniste-architecture list.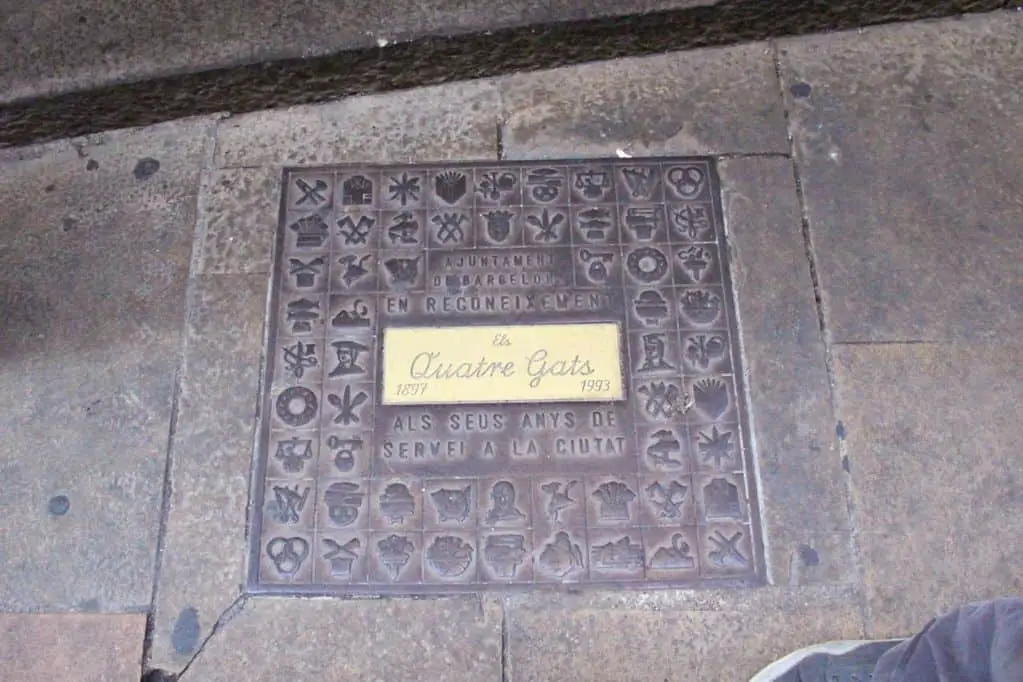 Now, let's step inside, shall we?
The place is quaint. Glass chandeliers, traditional decor, representative of what you'd imagine the place would look like in the 1920s.
On a Monday afternoon, I ate with locals doing business lunches + tourists with their selfie sticks. But it doesn't feel "tourist trappy". The waiters wear traditional, crisp white shirts with black vests. And they're busy. Attentive. Hustlin'.
The not-so-great: the tables are too tight for my liking. I've never managed to completely embrace the "packed sardines" space mentality in Europe. And I bet I'd feel a little trapped if I were to come here on a really busy evening.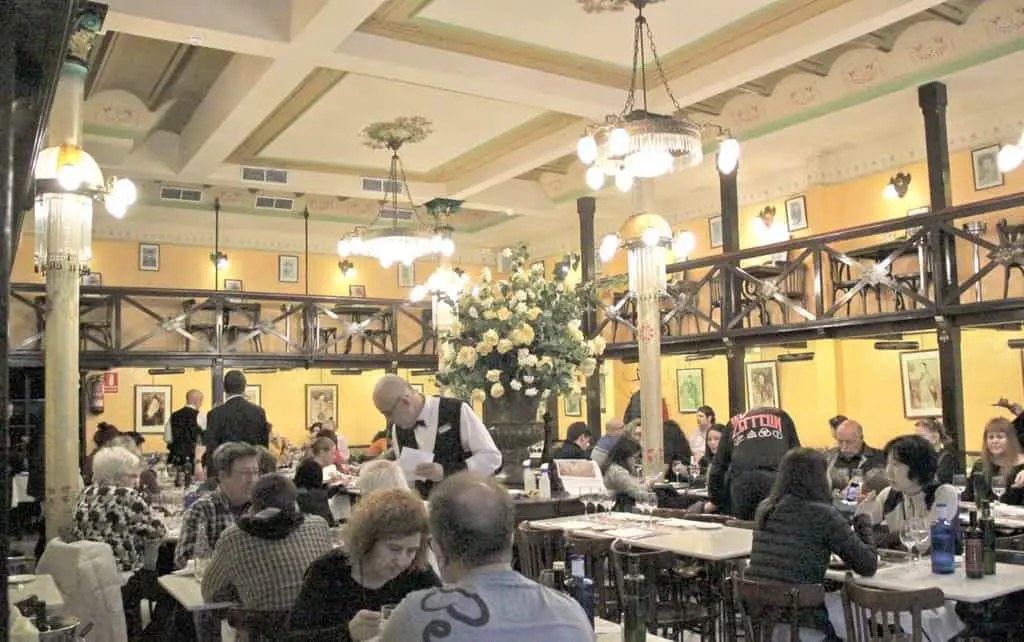 On a normal weekday, the menu (fixed-priced lunch menu) wasn't out-of-this-world expensive. You get about 6 choices each for an appetizer dish, a main dish, and dessert. And also white or red wine and bread. The price? 16.97 per person, not including taxes.
For lunch, my first dish was a delicious warm creamy rice with octopus and clams. It exploded with flavor.
For the second / main dish, I devoured tuna steaks with caramelized onions, wild rice, and roasted peppers.
My man had a white bean casserole for his first dish (amazing).  And a rib-eye steak with salsa París (also delectable). But that Parisienne sauce — I'm going to look up the recipe right after I publish this post!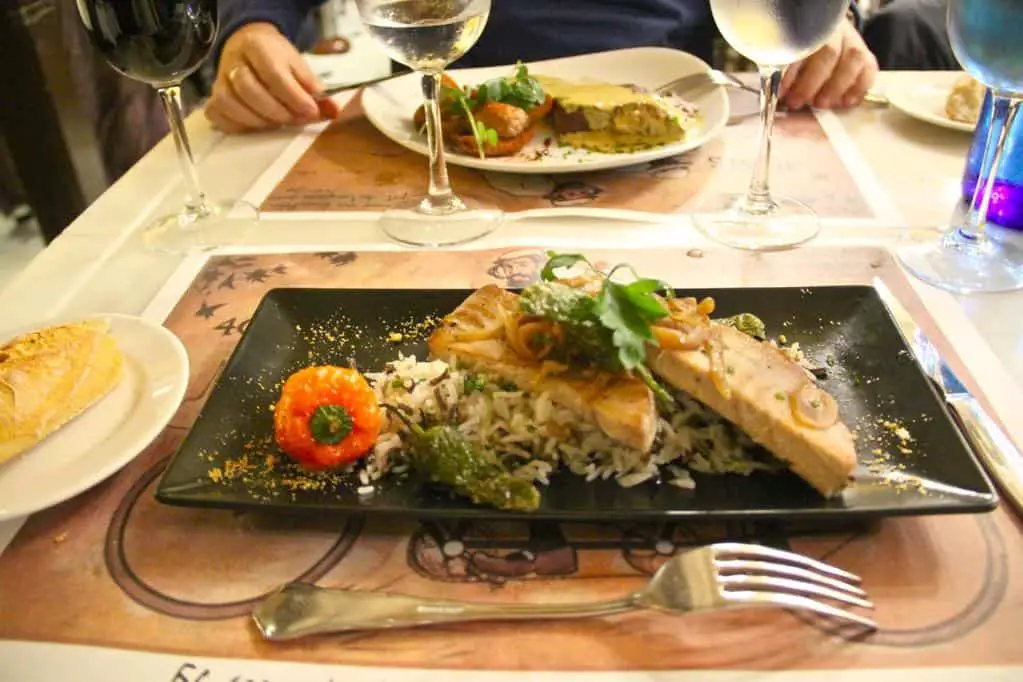 Dessert: a crustless apple pie with vanilla bean ice cream and a chocolate wafer. Hubs = tarta de San Marcos, a traditional Spanish layered sponge cake with cream, chocolate, and eggs. To get gastronomically technical = BOTH VERY YUMMY.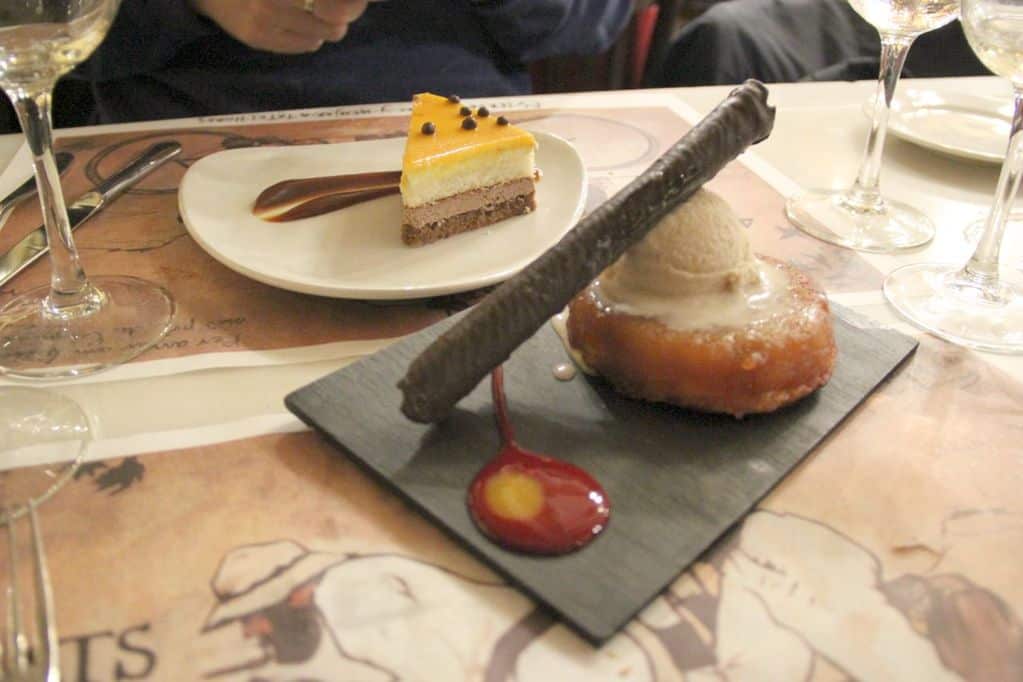 We left the place feeling satisfied and content:
…in our tummies (delicious food),
….through our minds + emotions (cozy, attractive place wth uniformed waiters),
….culturally (we learned a little bit of history and stepped into a place where Picasso and other avant-garde masterminds frequented)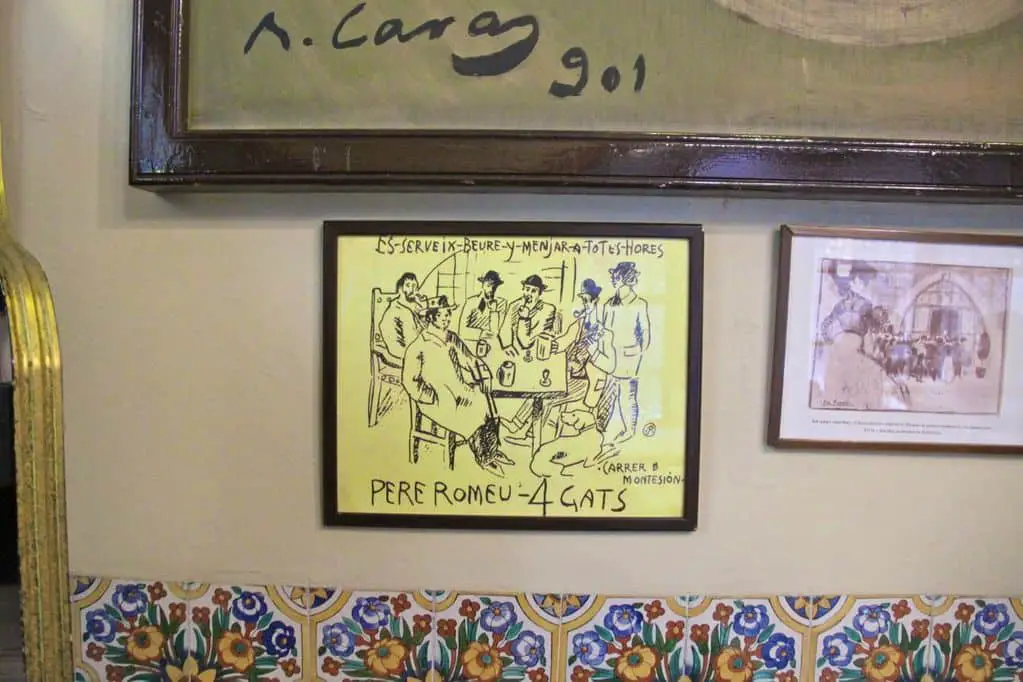 Overall, great experience. I would definitely come here again mostly for its historical / cultural value. But of course, I'd come early (because I HATE waiting for tables! I get hangry!). It's located near the Plaça Catalunya, so I can imagine how busy it would get in the summer. Go here!
More info:
Els Quatre Gats, Carrer de Montsió, 3 08002 Barcelona
Have you been to Els Quatre Gats? If so, how was your experience? If not, would you go here? Talk to mama!