*This site contains affiliate links, which means I receive a commission when you buy. See my full disclosure.
What to wear in Barcelona in the winter
December, January, and February are those cozy months when you can peruse the Barcelona Christmas fairs, check out the festive street lights, and hit up the exciting Three Kings' parade. Or just get to know Barcelona's culture and history for the first time! Dress comfortably when you're walking around the Sagrada Familia, through the bumpy streets of the Gothic Quarter, or near the breezy Barceloneta beach. But it's also important to fit into the general fashion panorama and not stand out as a tourist, which would make you a target for pickpockets! As an 15-year resident of Barcelona, I hope to help you prepare for your trip in this practical, stylish guide to what to wear in Barcelona in the winter!
Winter weather in Barcelona
January and February are the coldest months.
Here's a general idea of how cold it gets month by month, according to Holiday-Weather.com:
| | | | |
| --- | --- | --- | --- |
| Month | Average | Low | High |
| December | 11ºC / 51ºF | 5ºC / 41ºF | 15ºC / 60ºF |
| January | 10º C / 49º F | 5ºC / 41º F | 14ºC / 57ºF |
| February | 10°C / 49°F | 6°C / 42°F | 14°C / 57°F |
The early morning, until about 9am, is pretty cold, then it warms up. Dusk is around 6pm, and it cools down quite a bit. Don't let the sunny days in the winter deceive you! It might be a bright, gorgeous day, but it's still cold, especially in the shade. Only crazy people lay out on the beach! A nice stroll along the port and Barcelona beaches is very pleasant in the winter when it's sunny. (If it's a sunny winter weekend, expect to see lots of locals!) It does NOT snow in Barcelona.
How locals dress in Barcelona
If you want to blend in with the crowd, stick to neutral colors like black, brown, grey, white, or beige. Do not wear short sleeves, shorts, or flip flops. And don't call me Captain Obvious – because you'd be surprised to see tourists around the city dressed like their going on a beach picnic in the winter!
So even if it's a sunny day, locals will still not wear short sleeves and "soak in the sunny day". They'll still have their coat on, even if it's warmed up in the afternoon. More on what to wear below! But first, check out these people on the Barcelona streets during winter: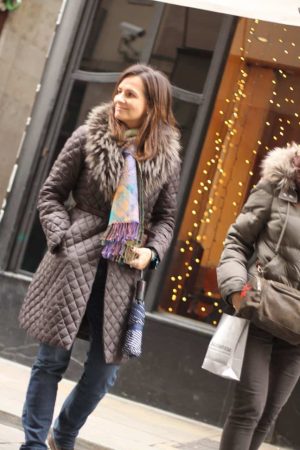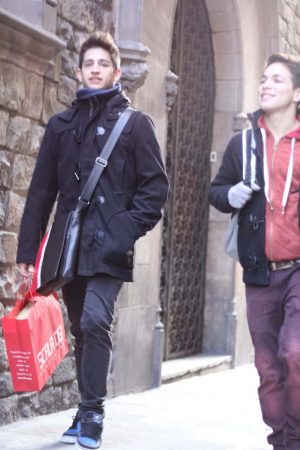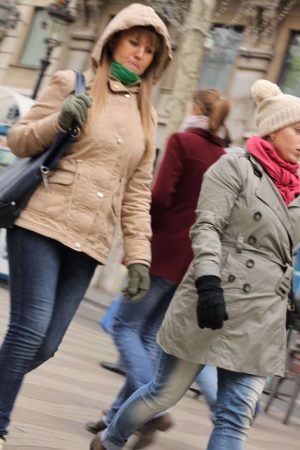 ---
Want a PRINTABLE BARCELONA PACKING LIST?
Sign up for my emails and get a free PDF of everything you need. CLICK BELOW to get it!
---
Now read on for what to wear in Barcelona during the winter!
Winter basics checklist
Outerwear
A medium-to-heavy jacket or coat. A warm coat like a peacoat or a puffy coat would work. A denim jacket would be too light. A motorcycle jacket would work with a sweater underneath. Or something like this cute coat here!

Check prices for this cozy, warm jacket
A cable-knit sweater for extra layering in case it's really cold. This cozy sweater is perfect for that winter-y look. The cut is so unique that it won't go out of style! This one has over 18,000+ positive reviews!


Check prices for this cute cowl-neck sweater!
Tops
Long-sleeved tops.  I don't recommend bringing any short-sleeved tops as it's too cold to wear in the winter in Barcelona. Long-sleeved only! This V-neck line adds a slimming effect to the waist. It's also not paper-thin nor too thick and bulky – perfect for indoor cafes or shopping!
Check prices for this versatile  top!
A NOTE ON HOW LOCALS DRESS AT NIGHT
Generally, locals don't get too dressed up in high heels and short skirts. Unless you're going to a nightclub like Opium Bar, which is mainly for tourists and college kids. Otherwise in bars in Barcelona, "goin' out wear" is almost as casual as daywear.
But still like wearing dresses? Here's a warm sweater dress that gets high ratings. It's flattering on various body shapes and has cute button details along the side. It also goes well with heels, boots, or flats!
Medium-weight pants or trousers. Basic jeans or a medium-weight pants work. You do NOT have to wear longjohns or thermal pants underneath. If you like the snug look and comfort of leggings, check out these warm winter leggings. They also have a pocket for when you need to quickly stash some change!
Check prices for these warm winter leggings
Undergarments
A base layer. If you don't want to wear too many layers, try this warm, fleece-lined cami! It's thick and stretchy, and it can be a cozy layer under your sweater.
Check prices for this thermal fleece-lined cami
Warm winter tights are a must under a skirt or dress. These are warm, fleece-lined tights that will keep your legs warm! They're soft and thick, and keep their shape after several washes.
Check prices for these warm winter tights
Shoes and accessories
A crossbody purse with a long strap so that you can wear it diagonally across your body. Better yet, get an anti-theft purse (see my guide). An anti-theft purse is cut-proof to prevent thieves from slashing your straps. It also has zippers that lock! I have this one below, and I love it. Highly recommended!
Check prices for this anti-theft purse
A warm scarf. I almost always wear a scarf every day in the winter in Barcelona. And when I don't, I feel naked. I recommend always having your neck covered.
So, what's better than a warm scarf that's fashionable? This scarf that has not one, but TWO hidden pockets! This would be great to stash some extra cash or hide your credit cards or wallet if you don't feel like carrying a purse.
Comfortable shoes. Of course, if you plan on doing lots of sightseeing. People here wear leather boots, and those fashion-y ugly sneakers! Shoes made of canvas made by Vans or Converse may not be warm enough during the coldest months. Check out this leather weather-proof boots! They're great because you don't have to worry about getting your feet wet in case it rains. They're also casual enough for the day and dressy enough for the evenings.
Check prices for these travel boots
Regarding mittens, gloves, hats, and other accessories
Unless you're a child, an elderly person, or someone who thinks you get colder than most people, I don't find mittens, gloves, hats, beanies, or earmuffs to be necessary during the day. But, if you plan to go out in the early morning or stay out late at night, your hands may be cold. So if you want to bundle up more, bring mittens or gloves at the least!
As a person who doesn't like to overpack, I wouldn't bring rain boots, a raincoat, or even an umbrella. It rains in Barcelona, but no more than a few days at a time at the most. Check the weather forecast to see if it will rain, then decide to bring these accessories or not. A waterproof jacket would work nicely! Just make sure your shoes are weatherproof if you're concerned about water getting in them. You can always by a cheap umbrella as a souvenir if it does rain!
Travel accessories
An external battery for your phone

I'm sure you'll be taking tons of photos in Barcelona. So don't get caught running out of juice. This external battery is light and handy in case you need to recharge.
Check prices for this light external phone battery
An EU Type C Plug Adapter
You'll need an adapter when you're here, as Spain uses the EU Type C Country plug adapter with two round prongs. This is the only adapter you'll need when you travel – anywhere in the world!


Check prices for this universal plug adapter
Barcelona winter outfits ensemble
Need a Barcelona winter wardrobe idea? The ensemble below is for about 10 days, assuming that you won't be doing any laundry. It's smart urban style that's classic but not boring. If you've seen my post on how to dress in Barcelona according to season, I still stand by my advice of wearing neutrals: grays, browns, blacks, and splashes of white. You can always play with color through your accessories.  When packing, think of pieces that are indispensables and can be mixed and matched easily.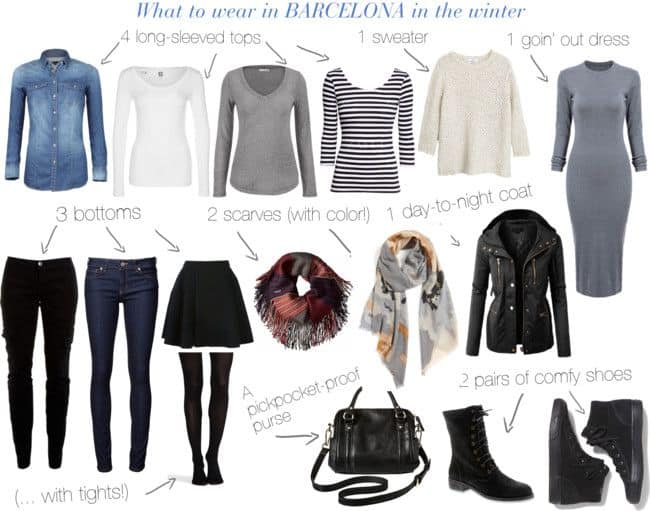 Barcelona packing list for winter
Long-sleeved tops. If you have thin tops, make sure you wear a warm base layer underneath and/or a sweater over it.
One sweater. It's good for layering in case it's extra cold.
A warm coat jacket. It's a must! Remember, it should be much thicker than a denim jacket, something warm and cozy.
A skirt. If you like to feel fem and flirty, bring a skirt! Warm winter tights are necessary.
Jeans or medium-weight pants. Again, just one layer is just fine!
A scarf. This is a must to keep your neck protected.
A robber-resistant purse. Please, please be careful with your valuables. An anti-theft purse is just another thing to make you feel at peace when you've got a lot on your mind while you travel.
Comfortable shoes for when you're sightseeing
An umbrella (optional). If you want to pack light, pass on it.
A warm camisole will keep your body warm.
If you want to know how you can HIDE your money, check out my smart suggestions for pickpocket-proof clothing with hidden pockets!
More photos of real people in Barcelona in the winter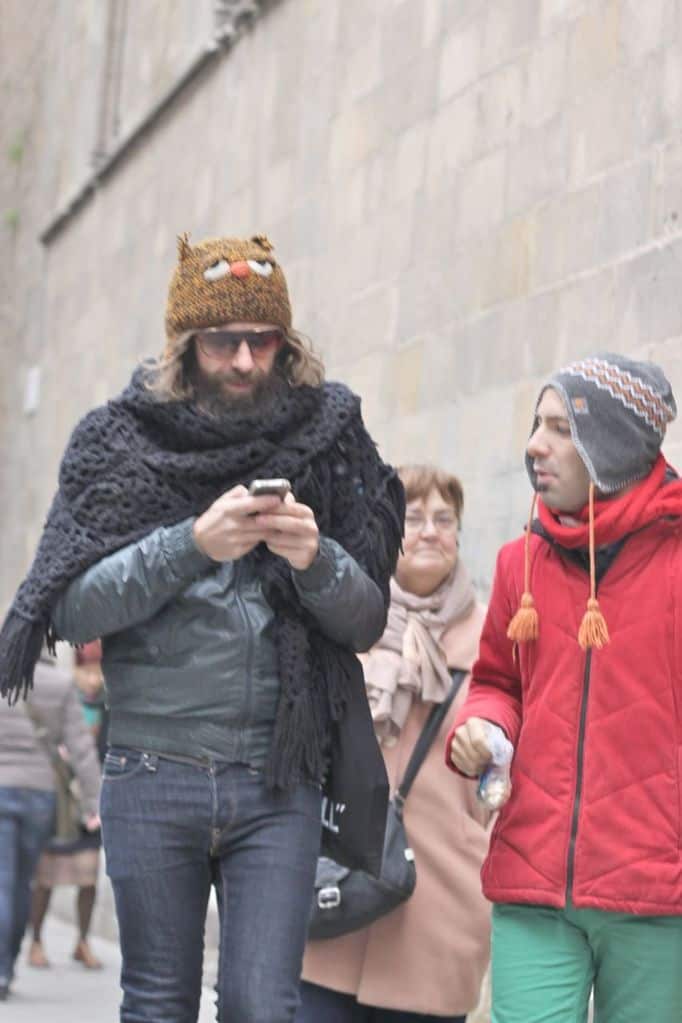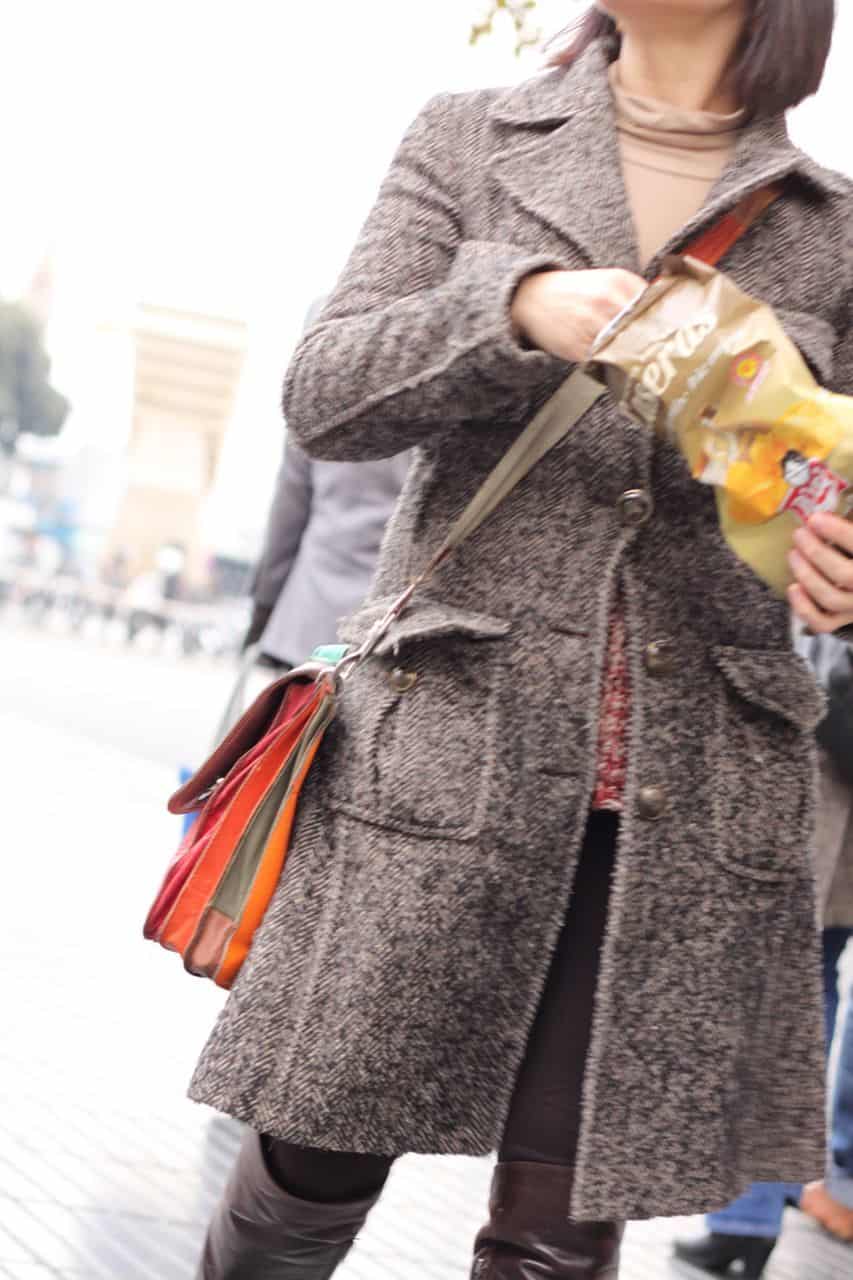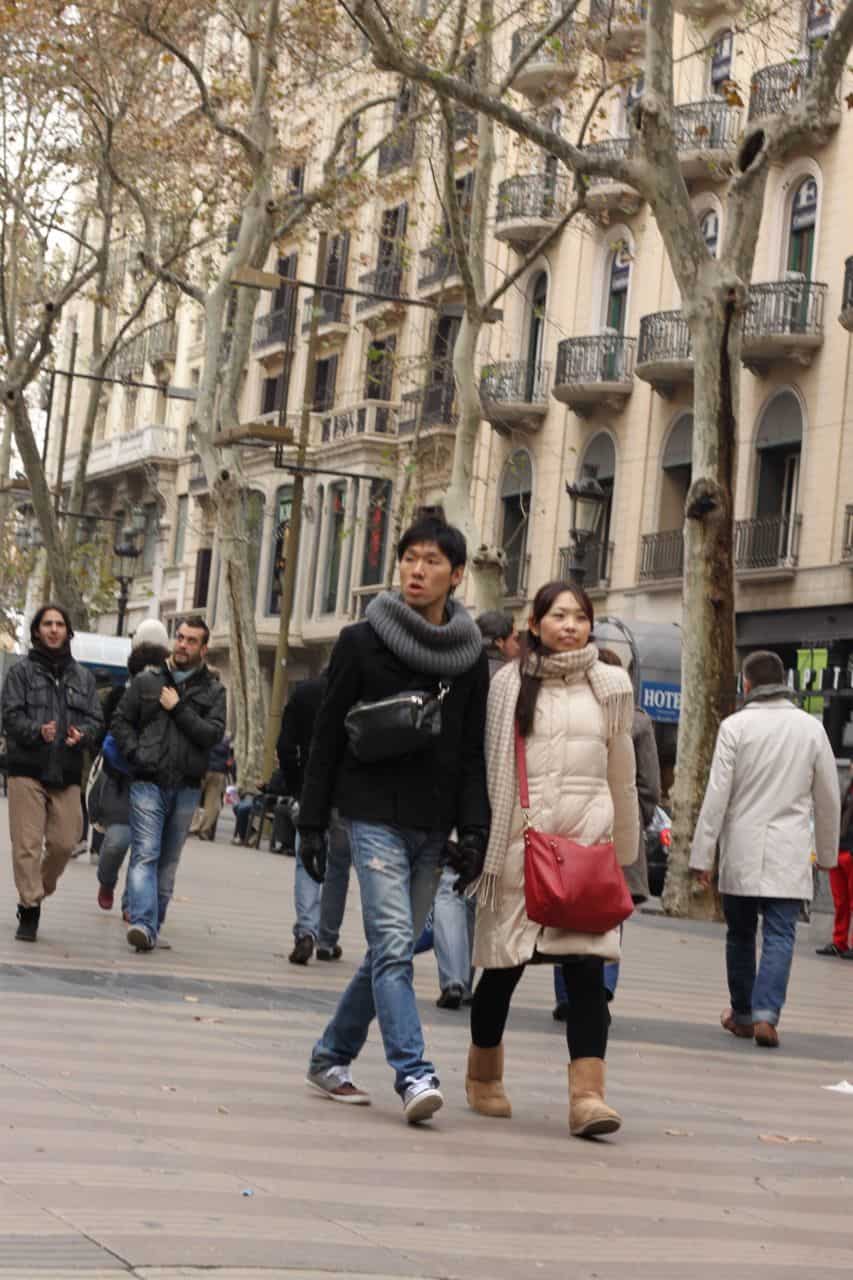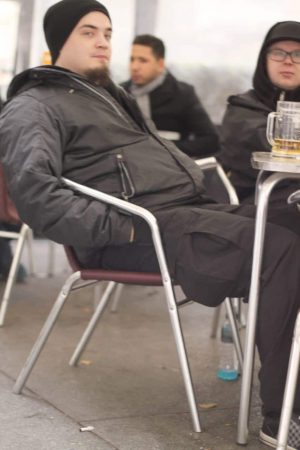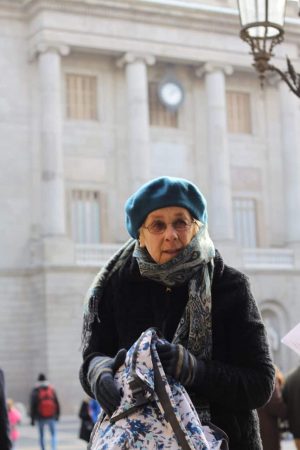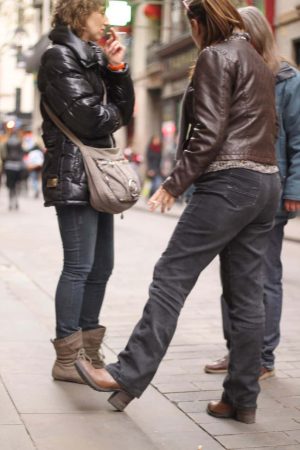 What to wear and packing tips
– Wear at least three layers when you go out. It could be a base layer, thick blouse, and a coat. Or a shirt, sweater, and jacket.
– Remember that pickpockets are always lurking in Barcelona. Check out ideas for travel clothing with hidden pockets to foil thieves! I own a few anti-theft purses and money belts myself 🙂 Also, be sure to read my in-depth guide on how to avoid pickpockets in Barcelona.
– Beware of drastic temperature changes when moving around the city. If you're constantly using the metro, you'll experience lots of temperature changes. It can be really warm underground, but once you come up at ground level, you get hit by a strong breeze. And like your mama says, "You'll catch a cold!" Keep yourself warm. I didn't really know about this when I first arrived. So during my first two years of living here, I kept getting sick.
Have you been to Barcelona in the winter? Would you agree with my tips? Do you have any more to add?