What to wear in Barcelona in the winter
Winter is just around the corner, dolls and dudes.
I'm talking about December, January, and February —  those cold months when you peruse the Christmas fairs, check out the festive street lights, and hit up the Three Kings' parade. Or just move around the awesomeness that is Barcelona.
And of course you want to dress appropriately — warmly, comfortably, but also fitting into the general fashion panorama. i.e, not being a target for pickpockets.
But for the sake of helping those who've never been to Barcelona, this is a practical, stylish guide to dressing in Barcelona during the winter. When you have no idea what to wear and you don't want to stick out as a tourist. Suit to your own tastes!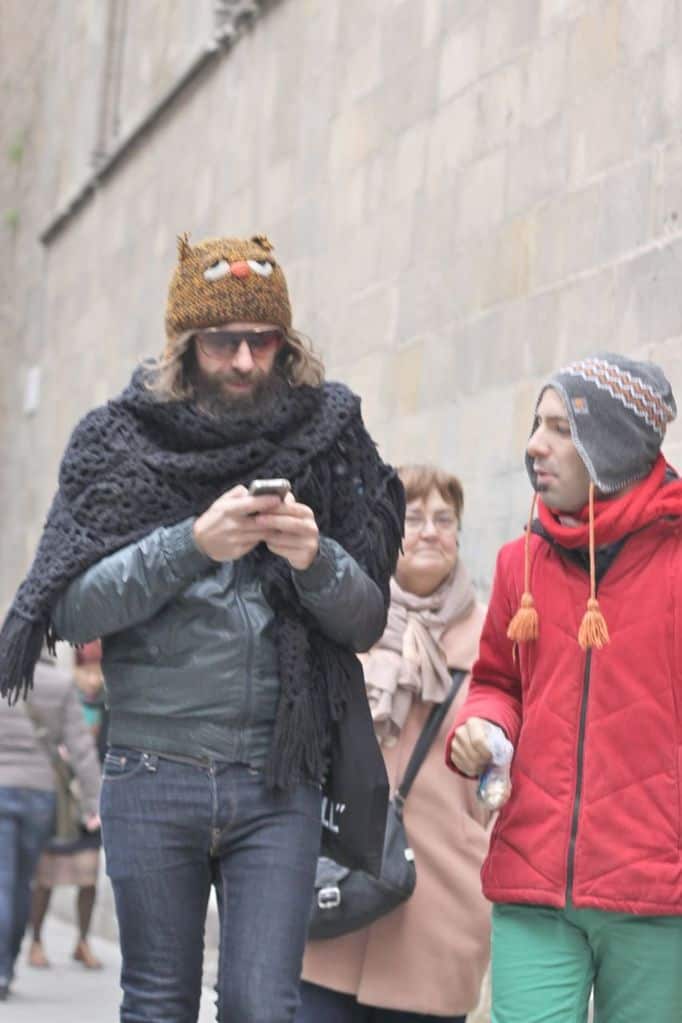 Before I go on, I'll add this:
DISCLAIMER: In no way, shape, or form, am I a fashion expert. I have never worked in the fashion industry. I am not a fashion blogger or a fashionista, i.e. I've never taken photos of myself while looking wistfully at the floor in a big floppy sunhat and a maxi-dress. These fashion opinions are solely my own, based on my observations from spending winter in Barcelona for 7 years. Please take this advice lightly and with a sense of humor.
A few ideas on how I came up with this ensemble:
I'd label it smart urban style. Classic but not boring. If you've seen my post on how to dress in Barcelona according to season, I still stand by my advice of wearing neutrals: grays, browns, blacks, and splashes of white. You can always play with color through your accessories! That's what I do.
I combined comfort and style. I assumed that you'd be walking a lot around Eixample, through the Raval streets, and down the breezy Barceloneta.
I've also follow some insightful tips from The Pocket Stylist by Kendall Farr. It balances trends with traditional. The pieces I chose are indispensables that can be mixed and matched easily.
The ensemble is for about 10 days, assuming that you won't be doing any laundry. Each top or bottom would be worn about 2 times. Or more. Just give it the smell test like I do.
Winter basics checklist
Four long-sleeved tops. Three neutral colors and one striped top. I chose the stripes as a basic patterned piece, which are versatile to mix with other patterns.
A medium-to-heavy jacket or coat can be worn casually for the day and slightly dressy for evening. It's all about multi-use and versatility when traveling 😉
One sweater for extra layering in case it's really cold. It can also be worn just over a tank top.
A warm, fitted dress if you want to wear something a little more dressy at night. Generally, locals don't get too dressed up in high heels and short skirts unless you're going to Opium Bar, which is a nightclub mainly for tourists and college kids. Otherwise in bars, goin' out wear is almost as casual as daywear.
Three bottoms.

Black jeans. Black goes with everything, as they say.
Dark wash jeans can be casual and dressy. 
A black skirt. Sometimes I want to feel a little girly and feminine in a skirt. Plus they're more comfortable than thick jeans. Lately, I've been pairing skirts with thick leggings. And…shhhh…some biker shorts over them in case it catches wind, or I feel like moving around more freely.

Medium boots. This fall I've been looking around, and I don't see many people wearing tall boots this season. I love the dressiness of boots, but they must be comfortable. And for me, that means wearing flat ones or having a minimal heel — especially if I'm going to be walking around the city or in any cobblestoned areas in the Gothic Quarter.
Casual shoes. Again, if you're going to be doing lots o' walking, pick something comfortable. I've seen lots of cute New Balance athletic shoes, which would be paired nicely with some jeans.
Two patterned scarves. Spanish women love their scarves, and I've definitely adopted the style. You'll see them being sold inexpensively everywhere. You may feel inspired to take a few more home as souvenirs.
Warm winter tights are a must under the skirt and dress. It's not cold enough that you have to wear them under trousers or jeans.
A purse with a long strap so that you can wear it diagonally across your body. If you've seen my post on how to not get robbed, I explain it here!
Cotton tank tops or camisoles (shown later) to go underneath it all. I usually wear two layers of clothing indoors (tank top + blouse), and three outdoors, which includes my coat.
A few outfit ideas
Good for walking around on day one. Casual and cozy:
Another comfortable look:
You can wear the sweater over a tank top or one of the long-sleeved tops on colder days:
A romantic outfit for having a meal or coffee at El Nacional:
A night out for some drinks:
I could probably think of 15 more ways to wear these pieces. Making these fashion sets are addicting…
And also, undergarments! Pack as much of these as you see fit:
A few notes about practical ways of dressing and packing:
1) Check the weather forecast first (duh, I know).
The weather varies. It rains in Barcelona, but no more than a few days at a time at the most. And it doesn't snow here. I wouldn't bring rain boots or rain coats. Just make sure your shoes are weatherproof if you're concerned about water getting in them. And you can always by a cheap umbrella if it does rain.
Also, regarding mittens, gloves, hats, and animal-themed beanies. I didn't wear them at all last year. However, I saw some photos I took on November 30, 2013. (It was a personal photo project I called "Barcelona from the hip").
That was almost two years ago around this time, and people are not bundled up like this right now. I checked that the temperature that day was  9ºC / 48º F. So check the temps yourself! That cold day:
2) January and February are the coldest months.
A general idea of how cold it gets month by month, according to Holiday-Weather.com:
| | | | |
| --- | --- | --- | --- |
| Month | Average | Low | High |
| December | 11ºC / 51ºF | 5ºC / 41ºF | 15ºC / 60ºF |
| January | 10º C / 49º F | 5ºC / 41º F | 14ºC / 57ºF |
| February | 10°C / 49°F | 6°C / 42°F | 14°C / 57°F |
3) Beware of drastic temperature changes when moving around the city.
If you're constantly using the metro, you'll experience lots of temperature changes. It can be really warm underground, but once you come up at ground level, you get hit by a strong breeze.  And like your mama says, "You'll catch a cold!" Keep yourself warm. I didn't really know about this, so during my first two years of living here, I kept getting sick. Maybe it's just me and a few people I know, but you can weigh in here.
A few more images of real people in Barcelona in the winter from my "from the hip" project:
Of course, don't forget to pack your toiletries, warm pajamas, pretty undergarments, laptop, camera, selfie stick, and your coziest teddy bear!
Have you been to Barcelona in the winter? Would you agree with my tips? Do you have any more to add?
(Visited 5,688 times, 4 visits today)