*This site contains affiliate links, which means I receive a commission when you buy. See my full disclosure.
"We're all virgins here!", says Teresa, our host and chef debonaire.
My friend, Ben from Driftwood Journals, invited me to join this "dine with locals" food experience with BonAppetour. Yes, it was my first time to dine with a local chef in their home.
And, no, it didn't hurt one bit.
Because God knows I never, ever pass up an invitation to eat seafood paella. Ever.
The menu? This: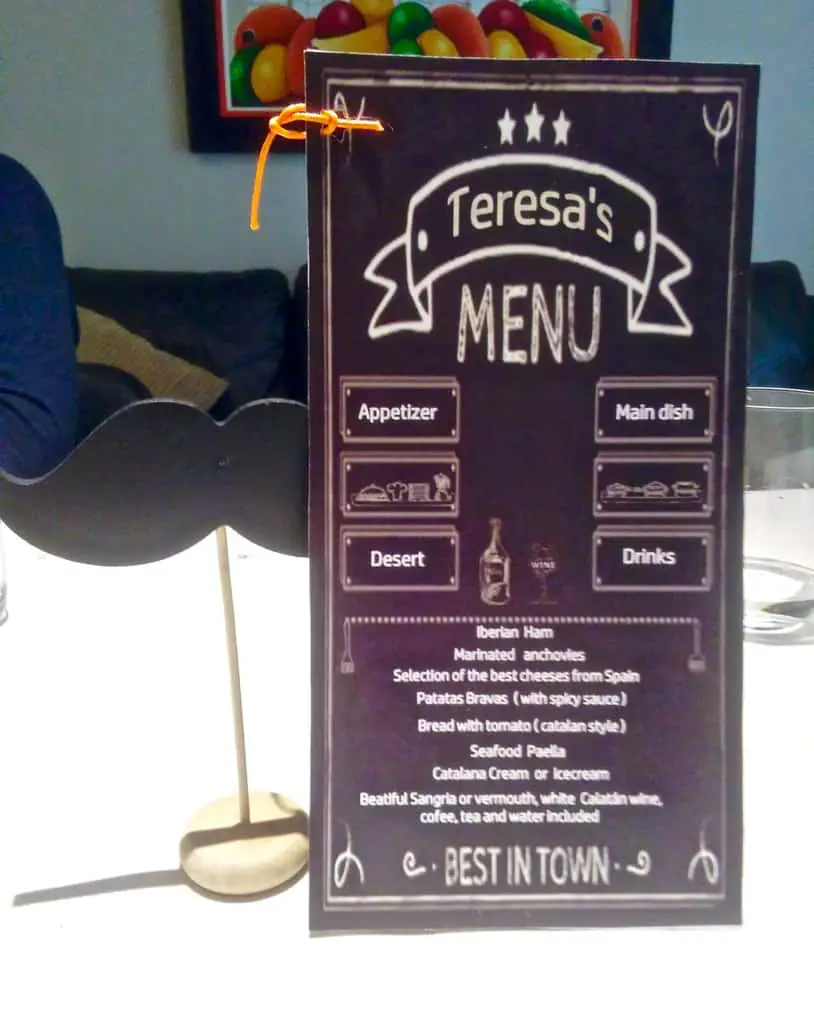 But this is just skimming the surface. There was a delicious appetizer plate with queso payoyo con membrillo (an Andalusian cheese with quince), chorizo (sausage) with touches of figs and grapes to sweeten the deal. And Teresa even marinated the anchovies herself!
I took a peek into Teresa's cocina to see how she was whipping up her paella.
Now. There are as many recipes of paella as there are cooks in the kitchen. Teresa says she doesn't put any onions or saffron in her sofrito (stir fry base) for the rice because, well she likes it like that. She started cooking about 12 noon while the guests munched, drank, and rubbed elbows.
But, you know, preparation for a paella goes waaaay before an hour or two beforehand. First of all, you gotta…
get your ass to the market to buy the freshest, freshest ingredients. Because every chef knows it's all about the ingredients.
Grate your tomatoes so you have a nice tomato base
Soak your clams in salt water for a few hours so those suckers release any sand inside
Clean off the beards off the langostines so no hairy bits get into your food
…and more, I'm sure. So much more than I have patience for, dear God.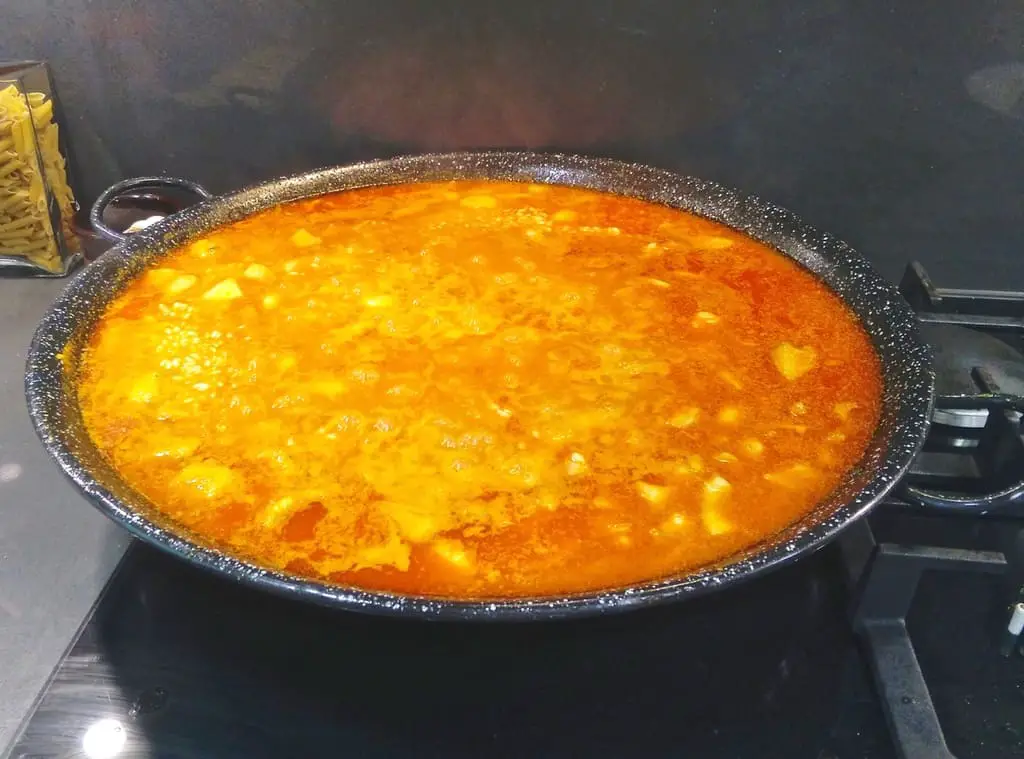 But let me tell you: when it comes to making a seafood paella, Teresa does not skimp on the seafood. She loaded that baby with prawns, mussels, clams, cuttlefish, langostines, and squid. I tried to pace myself as I slurped my seafood and carbs even though I was already full from the appetizers. Come to mama….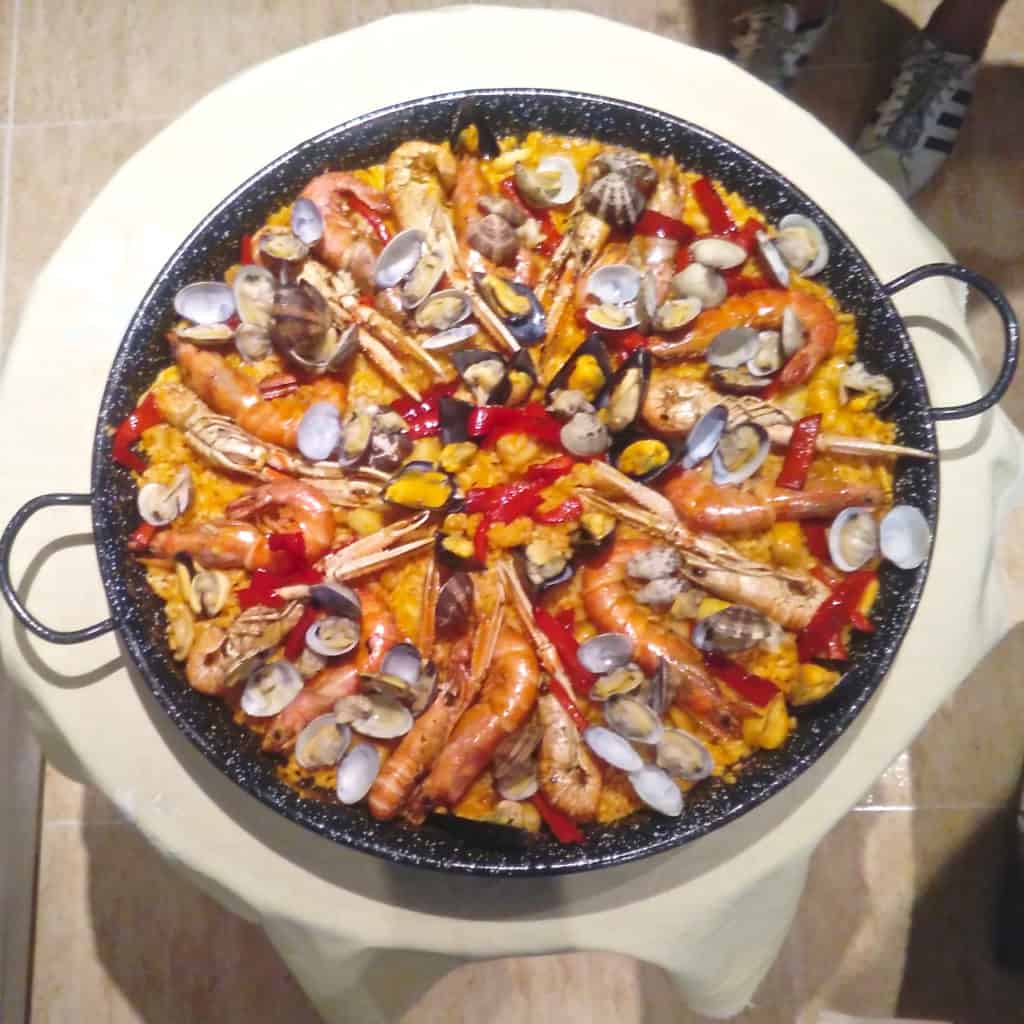 And, yes, it was delicious. Did I want a second helping?
To improvise off of R. Kelly's lyrics from the song "Bump and Grind":
"My mind is telling me no. But my body…my body is telling me YES." Better yet, I said,
"My stomach us telling me no, but my taste buds….my taste buds are telling me YES."
So I did it – I had that second serving. And even though my stomach was busting at the seams, my pants weren't. Because I WAS WEARING MY FAT SHORTS with the elastic. So there was plenty of room to expand, baby. (Plus I'm already 4 months pregnant!). Score.
Now this is my favorite part of the paella. And this is not the first time I mentioned this on this blog. The holy goodness of the rice part? The socarrat. That is, the crusty bottom of the pan, where the rice just hardens so beautifully, it goes crunch-crunch-crunch in your mouth.
Dare NOT call it "the burnt part" and discard it. Or you are committing a mortal paella-eating sin, my friend.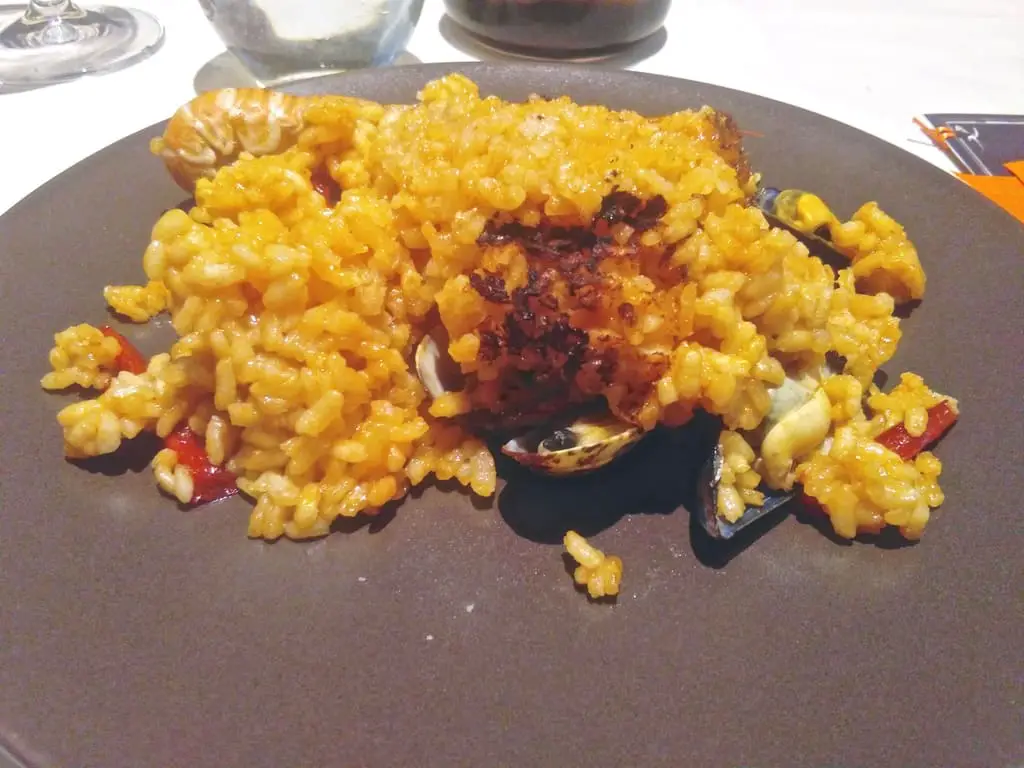 Up next? Dessert! Crema catalana is a rich, custard-based, creamy dessert with a hint of lemon and cinnamon and topped with caramelized sugar.
Teresa said her fridge was so full that it was convenient to put the crema catalana in those trendy, hipster mason jars because you can stack them. Traditionally, they're served in those brown, wide, clay containers, but the presentation definitely worked for this hip crowd.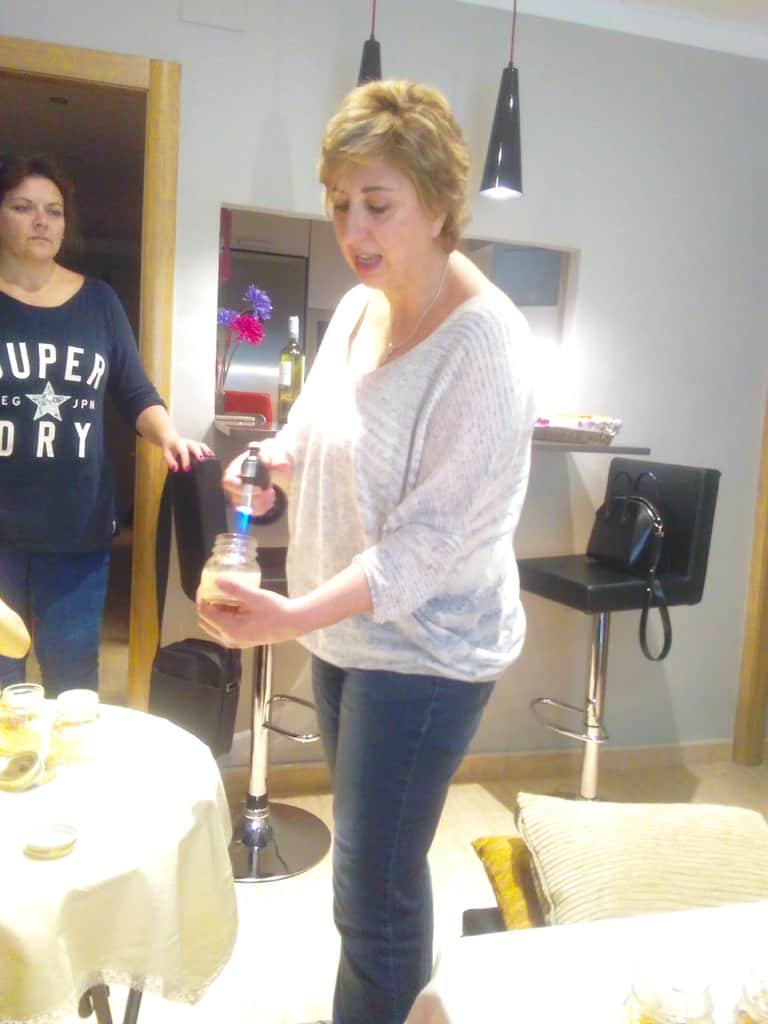 The moment of truth. I stuck my spoon in that crema catalana just as satisfyingly as Amelie does to her creme brulee.
And I'm not lying when I say it was probably the most delicious crema catalana I'd ever had. It was so good everyone was clinking their teaspoons around the mason jars trying to get every last bit. And I could tell — we all wanted to swipe it up with our fingers too.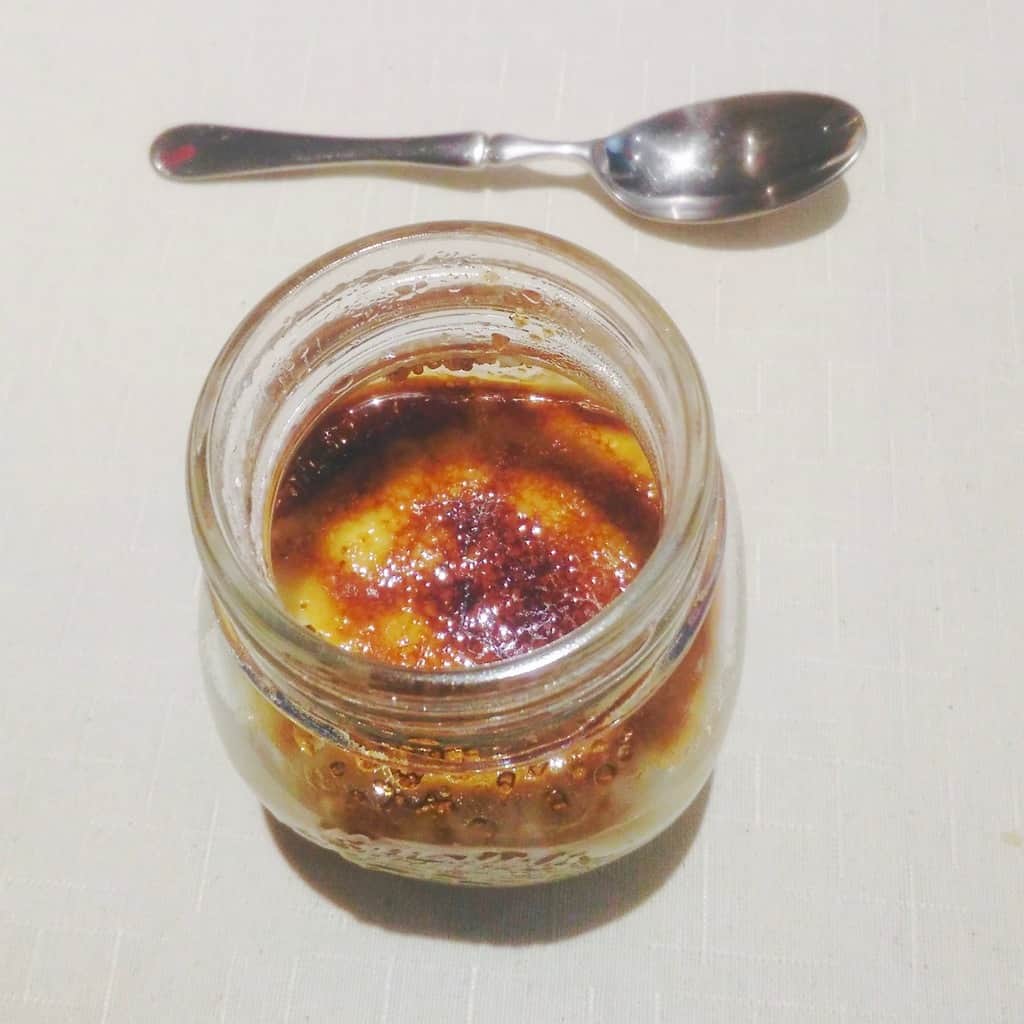 The very end of the meal. For me, I got a foamed-up cafe cortado (short coffee) with some purty chocolate powder on top. PLUS everyone got a homemade white chocolate in the shape of a spoon. Teresa doesn't miss one detail!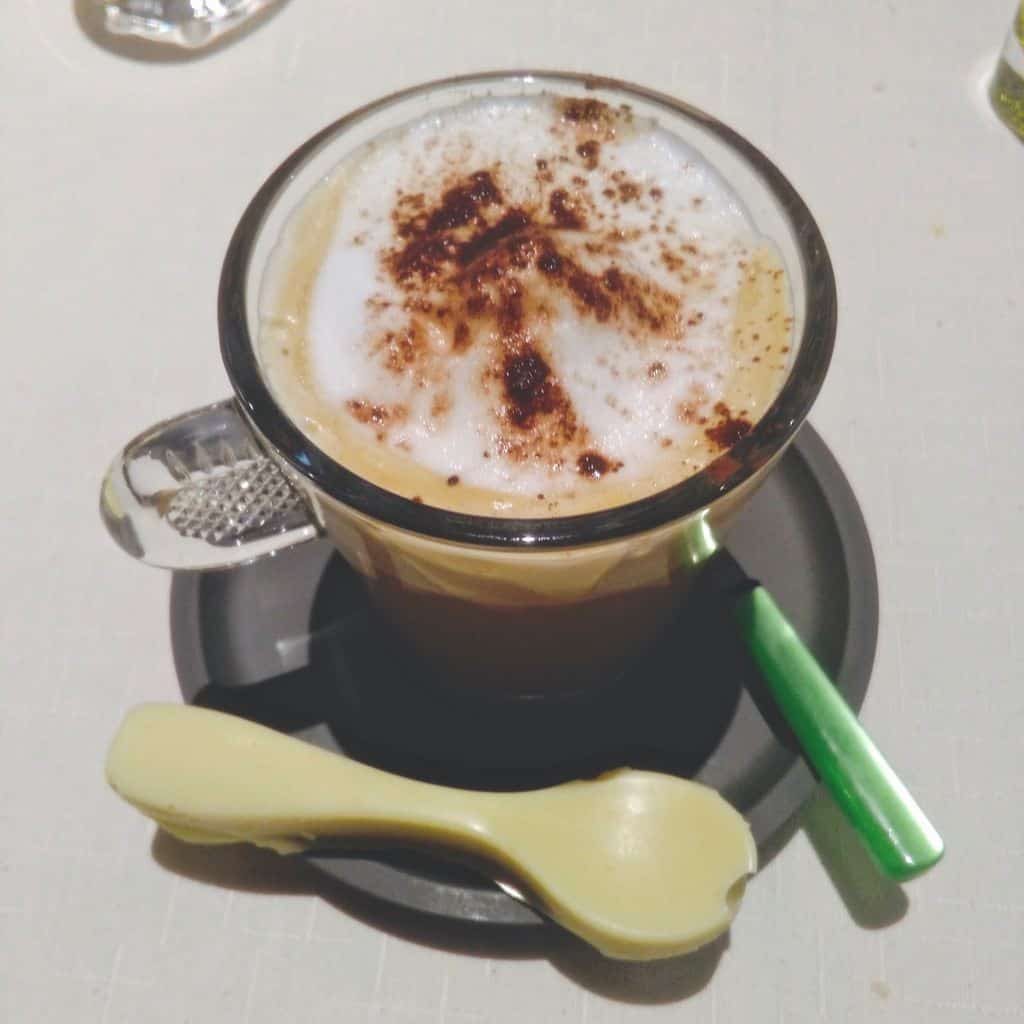 The verdict? Totally worth it!
I'm pretty sure at this price, you can't get the same service and quality of food at a restaurant. You get full attention AND Teresa is a lovely host and such a pro. And she does speak plenty of English well.
In other words, have a lovely dining experience at Teresa's! You won't regret it!
Book it here — > BonAppetour with Teresa
Have you ever dined with a local?