How to Dress in Barcelona According to Season
About 10 years ago, a Spanish girl friend told me, "I can tell who's American by just looking at their back side." How could she tell? Perhaps it was because Americans walking together as a group are a multicultural bunch — blonds with fair skin, black-haired Asians with yellow undertones, Latin Americans with thick curls.
 But it's also obvious because of their clothes: sporty North Face jackets and white running sneakers. Eeeks! Mind you, fashion and mindsets have changed since then, but now in Barcelona, being able to point out tourists can be pretty easy.
I'm going to generalize how people dress in Barcelona for the sake of having a visitor blend in — without looking like an obvious tourist.
Of course in this cosmopolitan city, an array of diverse people give Barcelona that special energy. You have the fashionistas, the hipsters, the pijos, los hippy, the rugged adventurers and more! And then there's the majority, the laid-back people who like to dress comfortably but like to be a little bit stylish also.
 I'm no fashion editor of Vogue magazine, so I'm basing these suggestions on my observations. Ready for me to get all Stacy London on you? Let's start with our current season:
Winter
The weather in December, January and February: 

S

ome years have been colder than others. 
The average temperature is about 10°C/49°F, with January and February being the colder mont
hs. Some winters have been overcast everyday (2009 was a major downer), but overall it's sunny and slightly cloudy, and there are occasional rainy days.
What to wear: Medium-weight coats are great as well as the more casual puffy jackets and coats. Even if the sun is shining, and maybe it's warmed up a bit in the afternoon, people will still have on their winter jackets. It doesn't matter what it feels like! It can be 25ºC/77ºF under the sun, but once you hit a block of shade under a building, all of a sudden it's cold and breezy. In the afternoon when temps go up, I've seen people just wear heavy sweaters. But if you're out all day, it's wise to have an extra layer just in case. Some days, mittens and gloves are necessary, but just in the morning until about 9 or 10am.
With colors, think dark shades. Black, gray, midnight blue, and fifty shades of brown! If you look at the general fashion panorama of clothing in a crowd in Barcelona, you'll see lots of dark colors.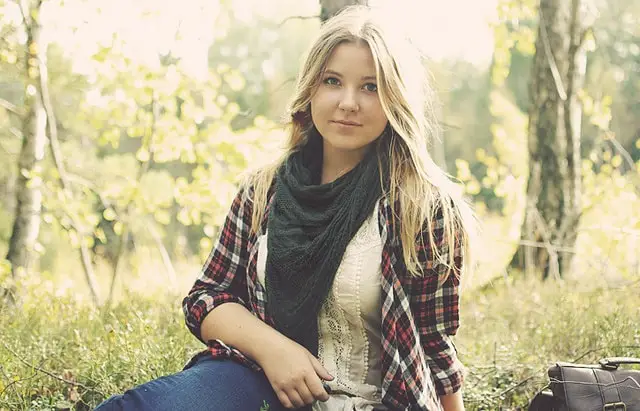 Women: A warm scarf (of any color) is a great accessory because you can darken or brighten a whole ensemble. Jeans or thick leggings will keep your legs warm. And leather boots are always in style. Sporty shoes like a classic style like low-top Converse are okay, just as long as their not white athletic Nikes with that thick sole!
Me — I'll wear three layers: a blouse, a light sweater and a coat or my puffy jacket. I'll just put on some comfortable boots, but I am shopping for some cozy, classic sporty shoes to complete a hip, urban look 😉
Men:  Jeans or a medium-weight pants like corduroy will keep you warm. Dark leather shoes or dark sports shoes work also. Try a medium-weight jacket like a leather jacket or sports jacket over a shirt and sweater. Since guys dress a little more casually than gals, it's more of an urban sporty, and not wide and baggy.
Spring
The weather in March, April, and May: There are longer hours of sunshine, and the temperature is 12°-16°C / 53°-60°F.  It's warm and lovely. But it's not so warm that you can go in the sea, although I've seen people do it! Some days are gray and overcast, so spring showers can also be common.
What to wear:  How can I point out tourists in the spring in Barcelona? Because they wear colorful, light-colored strappy dresses or bright-colored shorts and sandals in April in Plaça Catalunya. While, yes, it could be a totally glowing day without a cloud in the sky, but locals just aren't ready to show off their sexy shoulders just yet. And it's not quite shorts season!
People are still wearing dark colors in March, although the brighter colors are beginning to show in their spring wardrobes. There is often a light breeze running through the city (depending if you're close to the beach), so having a light sweater, hoodie or jacket will come in handy.
Women: Jeans and leggings on the bottom, and lighter jackets and sweaters on the top are comfortable. Flats come back! You can wear the strappy sandals if it's warm, but maybe it's paired with a long skirt or pants. Don't go full summer! Women love their scarves here, so lighter fabrics in colors across the board also come in handy.
Men:  Jeans or casual slacks are good in earth tones and dark shades work well. A casual button-down shirt or a polo-style shirt are okay during the day. T-shirts are okay, but keep it tasteful, guys. Certain graphic tees in English can be a dead giveaway!
Summer 
The weather in June, July and August: June can vary from warm to very hot already, depending on the year. July is hot, and August is a sticky, sweaty furnace of a month. Temps go up to 32º-ish C / 90º-ish degrees, but remember to add the humidity factor!
What to wear: Usually by late June, people have brought out their sleeveless tops and shorts. Sandals and T-shirts are more common. In general, people wear mid-thigh to knee-length shorts. Some nice leather sandals are good. Flip-flops are okay if you're heading somewhere like the supermarket (or better yet, the beach), not so much in a restaurant setting. In June, you'll need another layer on top for evenings.
Women: I think all colors are a go. Make sure your clothes are light and airy. Strappy dresses, tank tops, medium-length shorts and skirts are everywhere. No daisy dukes (unless you're in your teens, then that's a whole other thing!). In general, women are conservative when showing off skin in the city. Also if you're taking the metro or the bus, it's not comfortable to be always adjusting and watching how you sit if you're wearing a short skirt. Right, ladies?I've made myself a personal rule: no jeans in the summer. I always feel like a sticky mess. On the other hand, my husband doesn't mind it so much.
Men: Men wear short-sleeved shirts, and tank tops are hard to pull off without looking shabby. They also wear long shorts and sneakers or leather sandals. Sporty is more acceptable in the summer, just don't pair your outfit with a sunhat, visor, or baseball cap. I know the American casual look is to wear their clothes baggy, but locals wear clothes more fitted, and that doesn't mean feminine, just slimmer.
Caution! 
A few years ago, 
signs from the city hall 
were popping up around Barcelona, constituting what was acceptable and respectful clothing in public places. It's considered tacky to walk down Las Ramblas in a bikini top. Don't you agree?
Fall / Autumn 
The weather in September, October, and November: Fall seemed short last year. Everyone was hot and sweaty and still wearing shorts until early October! Other years, temperatures dropped in September, so it just depends. Average temperature is between 13º-22ºC/55º-71ºF. Like spring, the climate is a mixture of warm during the day and cool at night.
What to wear: This is when the muted colors come back into season, and you can bring out your light scarves and boots. Just think earth tones and darks again. You'll probably be warm enough with two layers: a short- or long-sleeved shirt or blouse and a layer over that. It can be cool at night, so a jacket or a thick sweater would work.
Women: It's the season to go back to the dark colors and break out the light scarves, and boots. It's a fun time to layer!
Men: A light jacket or medium-weight sweater are good for this transitional season. Dark leather shoes or sneakers are good. A few more ideas for guys: down vests, light sweaters, and some chinos, maybe? American guys, try a slimmer fit like I mentioned!
More tips
Going out / partying. I found a few links on how to dress when going out to clubs and bars here and here.
Storing your wallet and other goods. I know that a backpack is essential if you're touring Barcelona all day. But you can always go with something stylish like this:
It's the whole package when blending in. Sometimes it's hard to not be categorized as a tourist because you're sitting casually in a plaza looking at maps, taking photos, etc. I carry my huge DSLR camera around town too. But I try to look dressy casual in general. Remember, the more casual and sporty your look, the more likely you'll stick out.
Again, dress modestly. In Barcelona, locals don't go overboard with showing flesh, especially in the city during the day. Save it for the beach or hitting the clubs!
And at least wear suspenders or a belt if you're pants are falling, and you're not following my other rules. 😉
One more thing…just make sure you at least wear something!
Granted, you may never look like an olive-toned Spaniard with hair of color castaña (chestnut),  you can be one step closer to not being the noticeable tourist that makes you stick out like a sore thumb.
Am I right? Anything to add?
(Visited 58,821 times, 29 visits today)